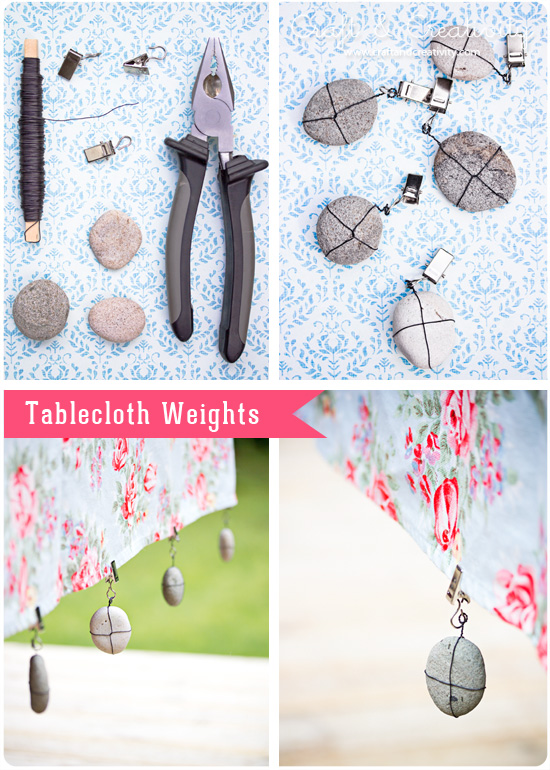 Inspirerad av duktyngderna som jag fick upp ögonen för på konsthantverksgruppen Kaos i Södra Mellby har jag gjort egna varianter. Jag vet inte om ni har samma problem som oss, men här hemma tar vinden alltid duken när man försöker duka fint på altanen. Nu har vi en lösning på detta (lilla men dock irriterande) problem. Stenarna är reseminnen som jag samlade på stranden utanför Simrishamn.
—
Inspired by the tablecloth weights that caught my eye at the handicraft store Kaos in Södra Mellby, I've made my own versions. I don't know if you have experienced the same thing as we have, but at our home the tablecloth always blows away in the wind when you're trying to set a nice table on the patio. Now we have a solution to this (small, but still annoying) problem. The pebbles are souvenirs that I picked at the beach on our recent trip to Simrishamn, Skåne.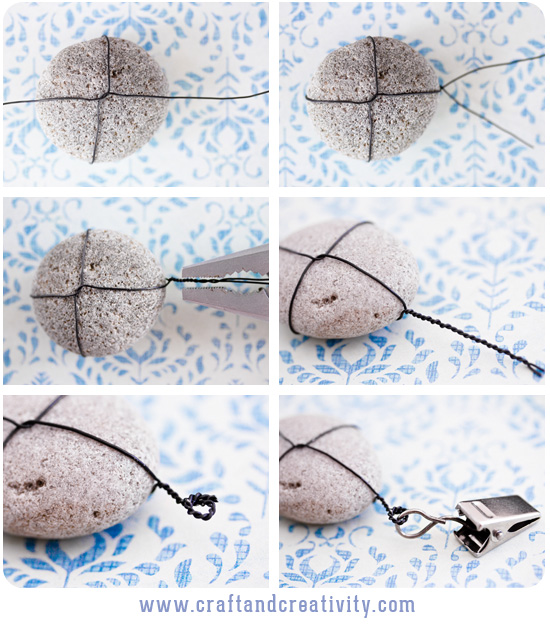 Du behöver: Stenar (från stranden kanske?), ståltråd, en tång och klämmor. Klämmor kan man säkert köpa på järnaffären. Mina kommer från Ikea och heter Deka.
Gör så här: Sno ståltråden runt stenen som illustrerat i bilderna ovan. Snurra ihop ändarna och forma en ögla. Sätt på klämman och du är klar!
—-
You need: Pebbles (from the beach, perhaps?), wire, pliers and clips. Clips can probably be found at the hardware store. Mine are from Ikea and called Deka.
Do like this: Wrap the wire around the pebble as described in the pics above. Spin the ends together and form a loop. Attach the clip and you're done!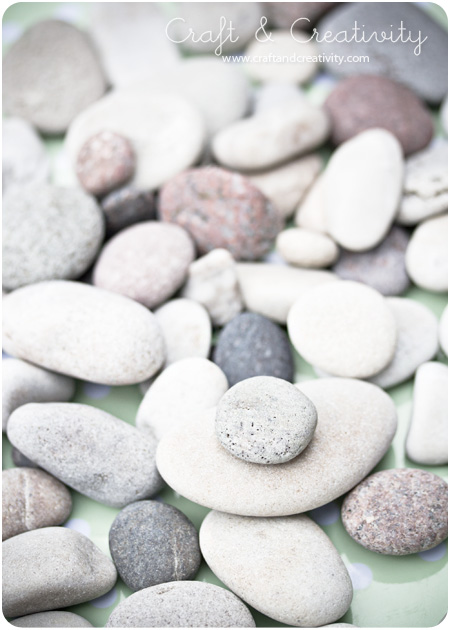 Jag har ett gäng vackra stenar kvar som jag har andra planer för… Fortsättning följer. /
I have a bunch of beautiful pebbles left that I have other plans for … To be continued.