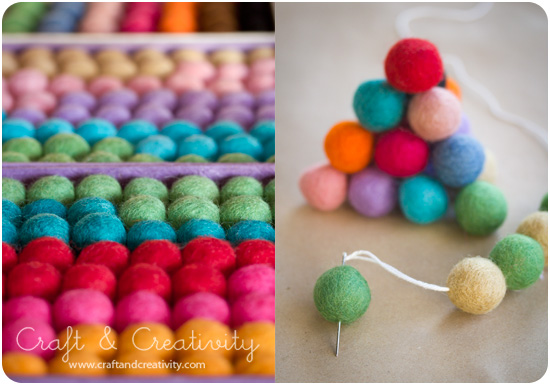 Nu har vi äntligen fått in ullpärlor i lager igen på Make & Create! Det var många av er som frågade efter dem när jag visade våra små ullbollskransar som vi gjorde tillsammans med Karin & Freja från Pysselbolaget. Då, innan jul, hade vår leverantör slut i lager på ullpärlorna (och vi trodde vi skulle få vänta till mars/april…) men nu har de kommit in igen!
Det kanske är lite sent (eller tidigt) att göra julkransar, men det finns mycket annat roligt man kan göra med ullpärlor, t ex: Grytunderlägg, en girland, en matta, smycken, ett draperi, på hårspännen eller kanske som knoppar till lådor?
——
We have finally have wool beads in stock again at Make & Create! I had several inquiries about them before Christmas, when we made our tiny wool bead wreaths together with Karin & Freja from Pysselbolaget. At that time our supplier was out of stock on wool beads, but not any longer! 
It might be a little late (or early) to make Christmas wreaths, but there are so many more fun crafts you can make with wool beads, for example: Trivets, a garland, a rug, jewelry, a curtain, put them on hair clips or why not use them as knobs on a drawer?