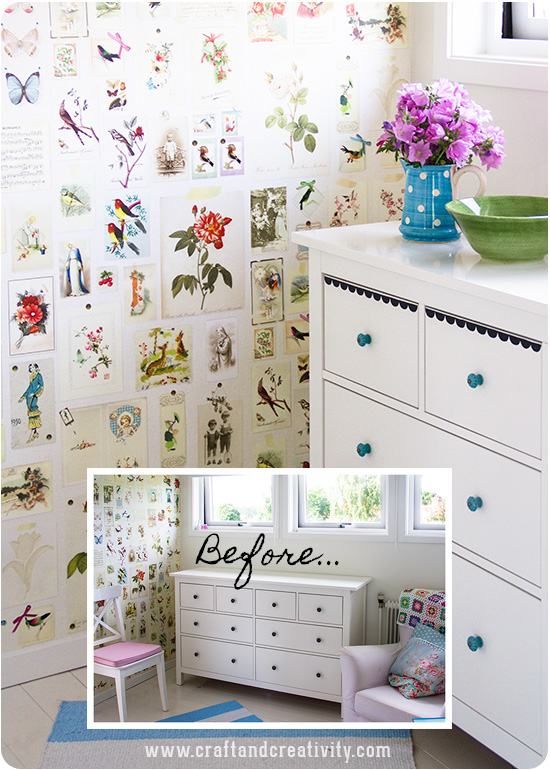 Jag har länge tänkt att jag skulle byta ut knopparna på vår vita byrå till några med mer färg. När jag väl kom till skott under semestern passade jag också på att piffa till byrån lite extra med dekorplast/tavelfolie. Jag hade en hel del kvar på rullen efter mina tidigare projekt. Ni som följer craft_and_creativity på Instagram har kanske redan sett resultatet på bild men här kommer fler bilder och en snabb beskrivning.
Jag klippte ut halvmånar i plasten, tog bort skyddspapperet och placerade ut dem jämnt fördelat på rad för att skapa min bård med runda uddar. Dekorplasten är avtagbar och om du ledsnar är det bara att dra bort den.
———
I've been thinking of replacing the knobs on our white dresser for some time now. When I finally came around to it I also took the opportunity to decorate the drawers. I used blackboard foil since I had some leftovers from my previous projects. Those of you following craft_and_creativity on Instagram (only in Swedish) might have seen the result already. I thought I'd share this with you blog readers too, with some additional pictures and a quick tutorial.
I cut my blackboard foil in half circles, removed the protective paper from the back and placed them evenly to create a scallop border. Blackboard foil is removable, and if you get tired of the pattern you can take it off.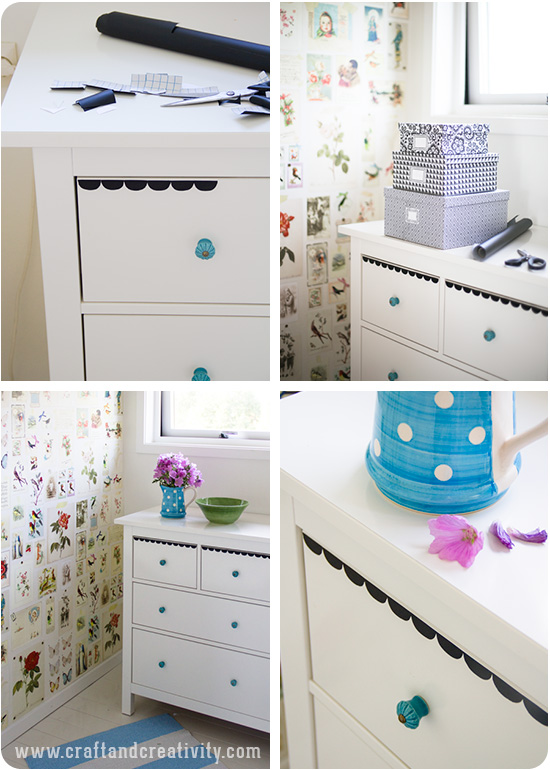 Ikea-byrån heter Hemnes, tapeten kommer från Pip Studio och knopparna från Indiska. De svartvita askarna har jag klätt om själv, mer om det i ett annat blogginlägg.
———
The Ikea dresser is called Hemnes, the wallpaper is Pip Studio and the porcelain knobs are from a Swedish chain of stores called Indiska. I dressed the black and white paper boxes myself, more about that in another blog post. 
Med tavelfolie/dekorplast kan du göra mycket annat skoj som t ex göra egna griffeltavlor, dekorera kyl/frys, pimpa dina kakelplattor, skapa en suddbar girlang eller göra etiketter till burkar.
————
You can make loads of fun stuff with blackboard foil – for example make your own blackboards, decorate your fridge or freezer, make erasable garlands, pimp your kitchen tiles or make jar labels.