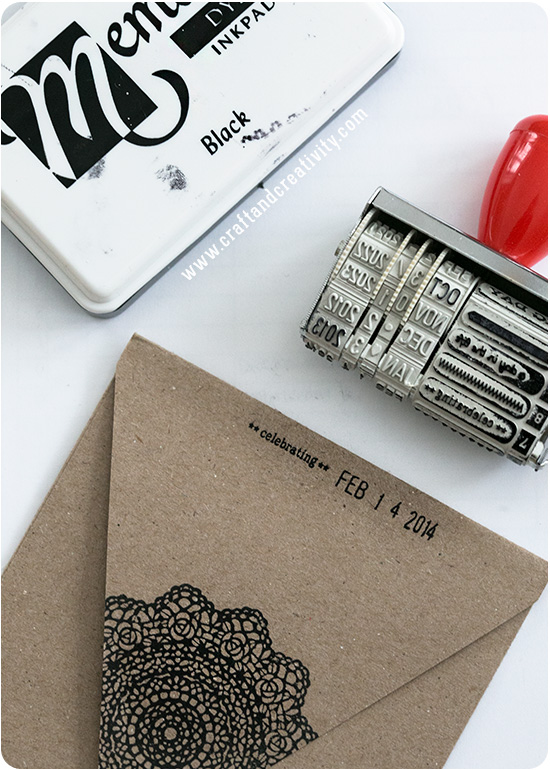 För två veckor sedan besökte vi mässan Creativeworld i Frankfurt, världens största mässa för pyssel (endast för företag tyvärr). Förutom att leta nya roliga produkter & intressanta leverantörer till Make & Create gick vi runt och tittade på trender och lät oss inspireras av alla workshops och av de kreativa människor som gästade mässan. Rygg och fötter ömmade men vad gör väl det i en sådan miljö? På mässan finns en speciell avdelning för trender och där hade man stämplat kort och kuvert med spetsmönstrade sillikonstämplar, s k clear stamps. Väl hemma igen gav jag mig på att testa detta själv.
———–
Two weeks ago, we attended Creativeworld in Frankfurt, the world's largest trade fair for crafts. In addition to searching for new fun products and more interesting suppliers for your shop Make & Create, we did some trendspotting and got really inspired by all the workshops and the creative people at the fair. At Creativeworld there is a special trend section and one of the projects there where lovely cards and envelopes decorated with clear stamps in the form of doilies. Once I returned home, I set about trying this myself and this is the result.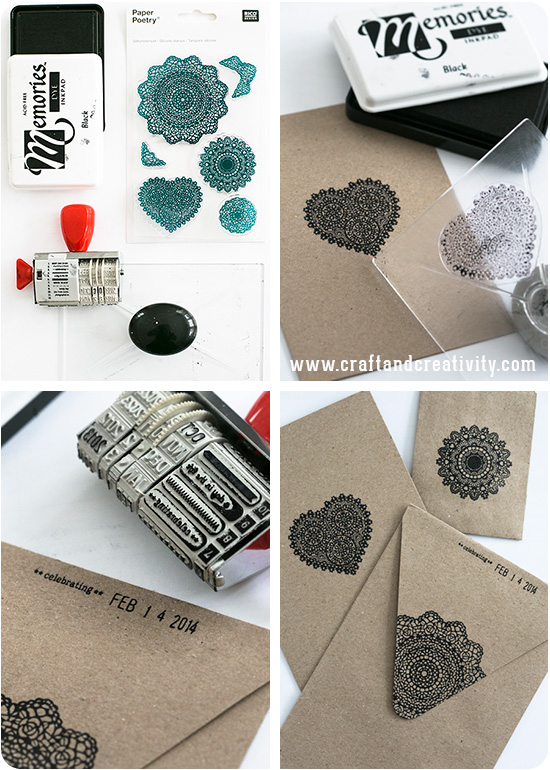 Svart bläck är fint på naturfärgat papper tycker jag. Här har jag använt spetsstämplar och akrylblock från Rico Design, svart stämpeldyna och dubbla brevkort med kuvert. Silikonstämplarna tar man loss från skyddsplasten och placerar på akrylblocket. Stämpla, gör rent stämpeln med ljummet vatten efteråt och sätt tillbaka på plasten. En rolig detalj kan vara att stämpla kuvert med inbjudningar med en datumstämpel så ser man redan på kuvertet vilket datum som gäller.
————
I chose black ink because I think that it looks really pretty on craft paper. Here I've used doily stamps from Rico Design, a Memories Dye inkpad and double letter cards with envelopes. Peel off the silicon stamp from the protective plastic sheet and place the stamp on an acrylic block before stamping. Clean the stamp with lukewarm water after your done and place the stamp back on the plastic sheet. As a cute detail when making invitations you can stamp the envelopes with a date stamp so everyone can see right away which day the event is.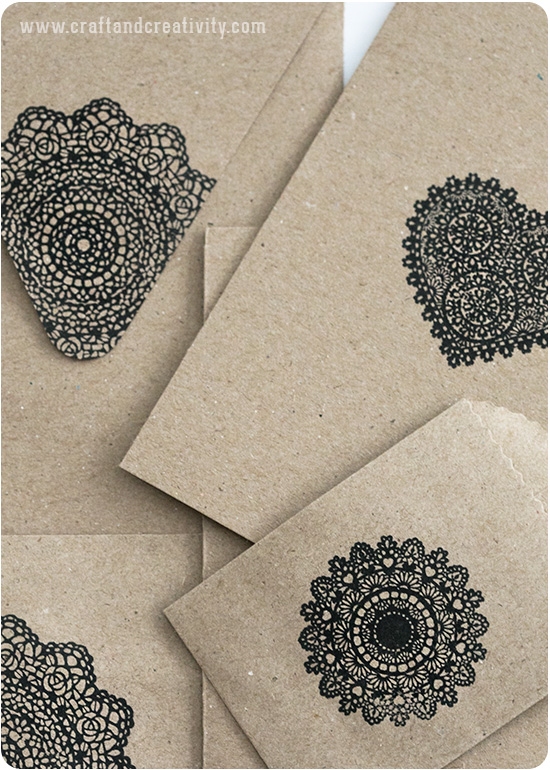 Förutom att stämpla kort & kuvert kan man stämpla papperspåsar och lägga små presenter i. Allt material finns hos Make & Create.
——–
In addition to stamping cards and envelopes you can stamp small paper bags to put gifts in.