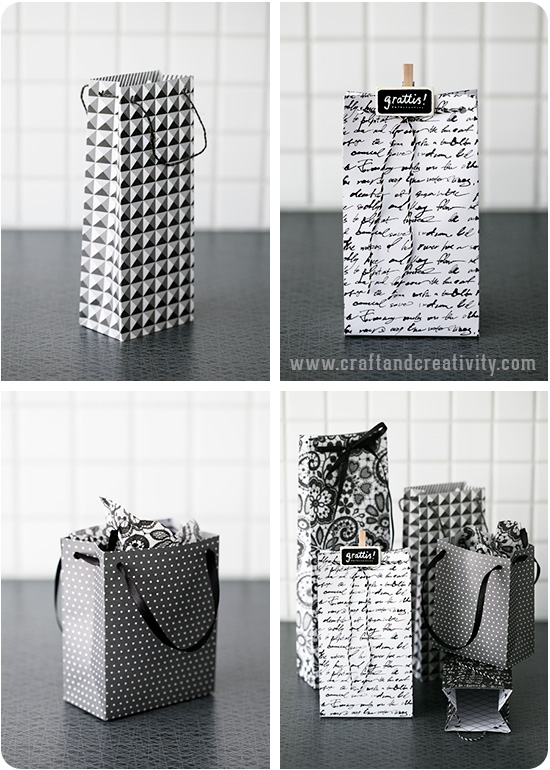 Med stansmallen Gift Bag Punch Board från We R Memory Keepers kan man göra snygga presentpåsar på löpande band och själv välja vilket papper man tycker blir snyggast. Här har jag valt designpapper ur kollektionen Paris från Vivi Gade Design. Det blir extra fint att slå in presenten med matchande silkespapper (eller som här decoupagepapper) innan du lägger det i påsen och låta silkespappret "titta upp" lite.
———–
With a Gift Bag Punch Board from We R Memory Keepers you can make loads of pretty gift bags with your own design using your favorite papers. Here I chose design paper from Vivi Gade Design's Paris collection. For that extra touch you can wrap your gift in a sheet of matching tissue paper (or decoupage paper, like I did).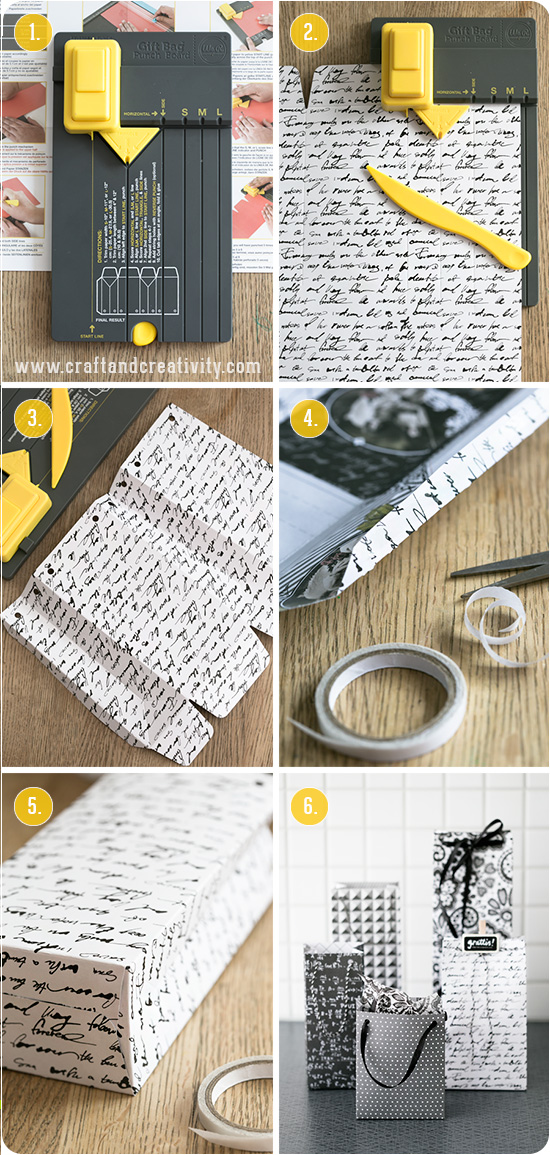 Du behöver: En stansmall för presentpåsar, mönstrat eller enfärgat papper (gärna lite tjockare, ca 180 g), dubbelhäftande tejp och snören eller band till handtagen.
Gör så här: Välj om du vill göra en stor (L), mellanstor (M) eller liten (S) påse och trimma papperet till den höjd du vill ha påsen. Stansa och falsa ditt papper enligt de instruktioner som medföljer.
Med hjälp av stansmallen kan du även göra snygga hål för handtagen. Vik längst med de falsade linjerna så blir det enklare att montera ihop påsen.
Montera ihop påsen med en remsa dubbelhäftande tejp eller E-Z runner och skarven blir då närmast osynlig.
Vik ihop flikarna som bildar botten och tejpa även där med dubbelhäftande tejp.
Trä ett snöre eller band genom hålen för att skapa handtagen. Använd t ex presentsband, bomullssnöre, satinband eller naturhampa.
——
You will need: A Gift Bag Punch Board, patterned or plain colored paper, double-sided adhesive tape and a piece of string or ribbon to make the handles. 
Do like this: Select the size of bag you want to make – Large (L), Medium (M) or Small (S) and trip the paper's length size depending on how tall you want it. Punch and score the paper, according to the instructions included in the kit. 
With the punch bag you can also make holes for the handles. Fold and crease the paper along the scored lines. 
Apply adhesive to the side flap and assemble the bag. 
Fold the bottom flaps together to create the bottom and add adhesive. 
Thread a pice of string or ribbon through the holes to create the handles. You can use gift ribbons, lace, baker's twine, satin ribbons or hemp. 
Se kort instruktionsfilm från We R Memory Keepers (på engelska): /
View a short tutorial from the We R Memory Keepers (in English):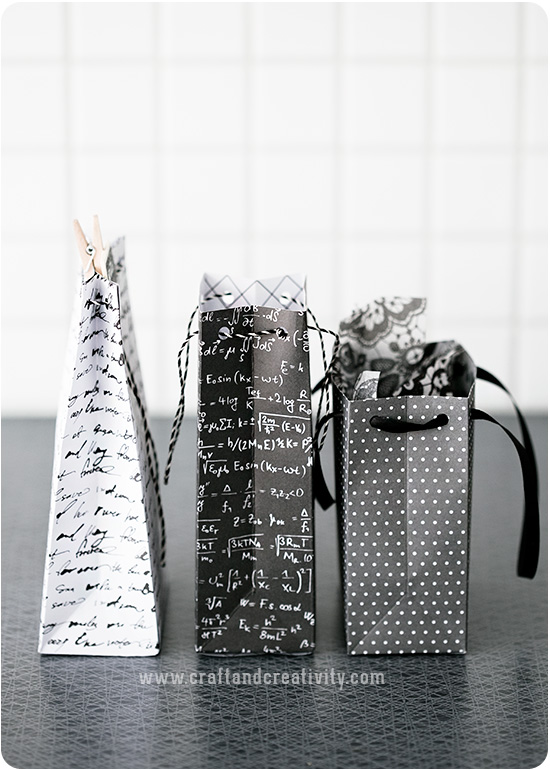 Tidigare vek jag alltid mina presentpåsar själv utan stansmall (beskrivning hittar ni här) men på det här sättet får man ett mer exklusivt utseende, finare viklinjer och man slipper göra hål med en separat håltång. Det går dessutom fort att göra många när man väl fått in snitsen. Skärplattan/stansmallen har tryckta mallar och mått (cm & tum), en integrerad stans, tillhörande falsben och tydliga instruktioner med bilder.
————
Up till now I've always made my own giftbags without using a punch board (you can find a tutorial here), but this way you get a more exclusive look, pretty corners and you don't need a separate hole punch. Moreover, you can make many bags in little time, once you get the hang of it. The punch board has printed templates and dimensions (cm & inch), an integrated punch and the kit includes a bone folder (crease tool) and clear instructions with pictures.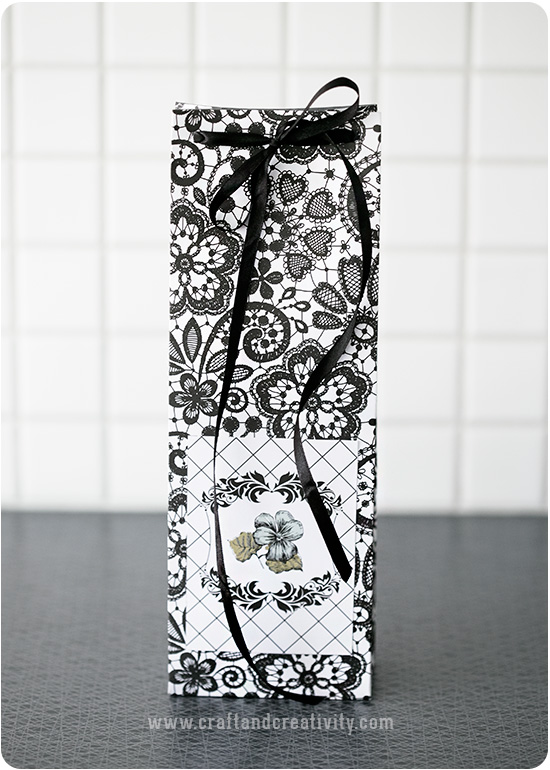 Här har jag klippt ut en motiv från designpapper Paris (art nr 10437) och använt som dekoration på en av påsarna.
——–
Here I cut a detail from another sheet of design paper (Paris, art no 10437) and used it to decorate one of the bags.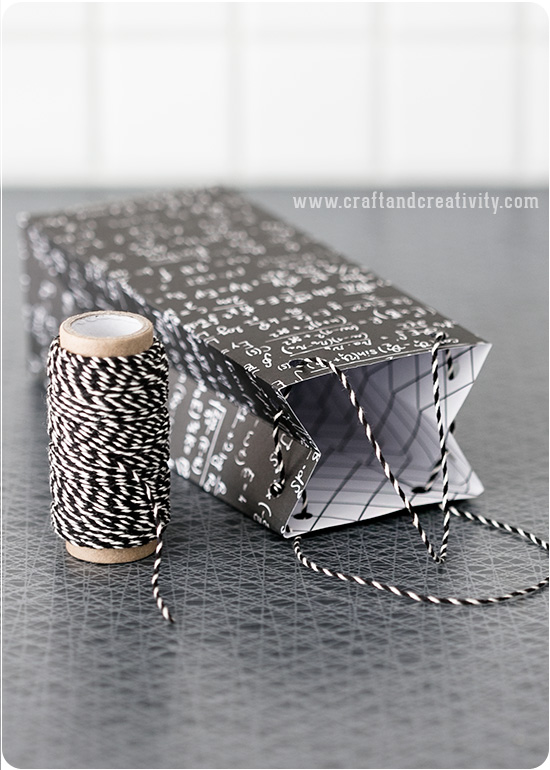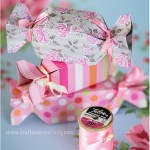 Tvinnat bomullssnöre (s k Bakers twine) blir fint som handtag. Se även min beskrivning på hur man gör karamellformade presentaskar med en annan stansmall – en Candy Box Punch Board från We R Memory Keepers.
——-
Take a look at the candy shaped gift boxes I made a while back, using a Candy Box Punch Board from We R Memory Keepers.