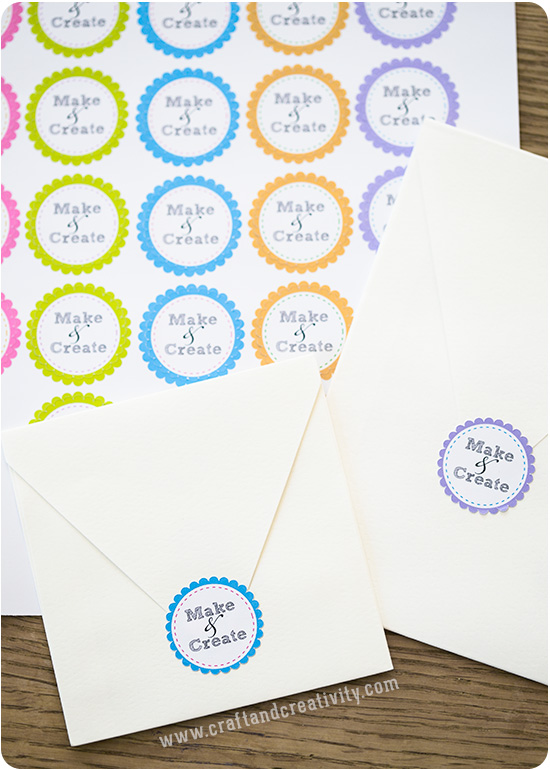 Med en Silhouette skärmaskin och skrivbart etikettpapper kan du göra egna etiketter av motiv som är både tryckta och utskurna, tack vare skärmaskinens Print & Cut-funtion. Du kan ladda hem färdiga Print & Cut-motiv från Silhouette Online Store. Sök på "Print & Cut" och välj mellan alla motiv som är märkta med ett P. Motiven kostar strax under 1 dollar (drygt 7 kr) och då ingår både själva motivet och färdiga skärmärken och du kan göra hur många du vill. Eller så kan du göra egendesignade motiv genom att rita mönster i Silhouette Studio eller importera jpg, png, bmp, gif eller tif-filer och lägga till egna skärmärken. För engelsk beskrivning hur man gör det, klicka här. För mina etiketter har jag använt ett köpt motiv som grund och sedan modifierat, ändrat färger och lagt till text i Silhouette Studio. Personalen på lagret använder dessa klistermärken när de t ex skickar brev med fakturor till företagskunder eller packar lösa decoupageark i kuvert.
————
With a Silhouette cutting machine and printable sticker paper, you can make your own labels with designs that are both printed and cut, thanks to the cutting machine's Print & Cut feature. You can download ready-made Print & Cut designs from Silhouette Online Store. Search for "Print & Cut" and choose between all the designs that are marked with a P. The designs cost just under $1, which includes both the design and the cut marks and you can make as many as you like. Or you can make your own personalized designs by drawing them in Silhouette Studio or importing jpg, png, bmp, gif or tif files and adding custom cut marks yourself (click for instructions). I used a downloaded design for my stickers and modified it by changing colors and adding text in Silhouette Studio. We use this stickers at Make & Create's warehouse to seal envelopes that are sent out to our customers.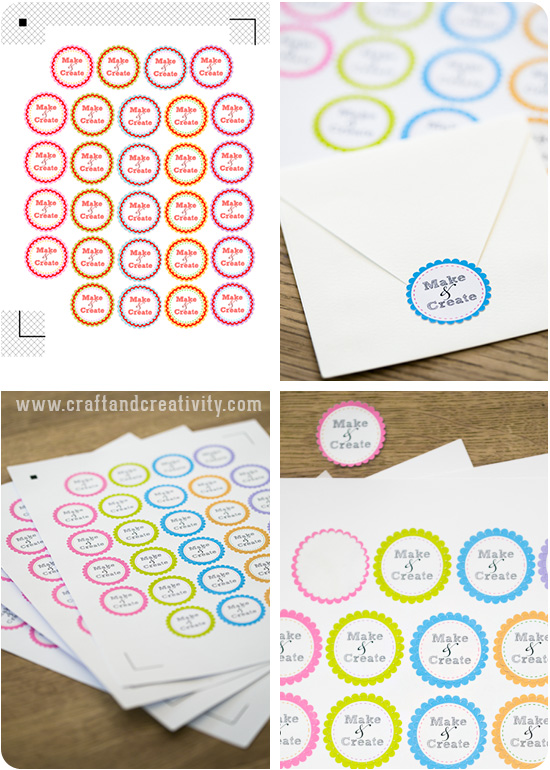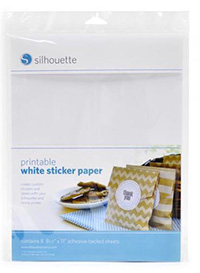 Du behöver: En Silhouette Cameo eller Silhouette Portrait skärmaskin, en färgskrivare, skrivbart etikettpapper och en skärmatta (ingår när du köper skärmaskinen).
Gör så här: Öppna Silhouette Studio. Ställ in rätt pappersstorlek under Page Settings. För etikettpapper från Silhouette heter storleken Letter 8,5×11 in. Placera ut ditt Print & Cut-motiv på skärmen, duplicera och storleksförändra om du vill.
Klicka på ikonen för Registration Marks (passmärken) och välj Style: Type 1 för Cameo & Portrait. Se till så att dina motiv ligger innanför ramen med passmärken.
Ladda din vanliga färgskrivare med etikettpappret och skriv ut. Se till så att du skriver ut på rätt sida av pappret.
Placera etikettarket på en skärmatta (ingår när du köper skärmaskinen) och mata in skärmattan i din Silhouette Cameo/Portrait.
Under Cut Settings väljer du Material Type: White Sticker Paper. För att se inställningarna för valt papper dubbelklickar du på White Sticker Paper. Dessa ändras automatiskt när du väljer papper men kniven får du justera själv i maskinen (i detta fall vrider du den till storlek 2).
Klicka på "Cut". Skärmaskinens optiska scanner läser nu av alla passmärken och skär ut motivet enligt de skärmärken som finns i filen du importerat eller skapat själv. Ifall du är osäker på var maskinen kommer skära så är alla skärmärken rödmarkerade i Silhouette Studio och blir fetmarkerade när du klickar på Cut Settings.
Mata ut etikettpappret. Nu kan du ta loss etiketterna från skyddspappret. Om alla inställningar är rätt så skär maskinen i etikettpappret men inte igenom skyddspappret på baksidan, se mina bilder ovan.
———–
You will need: A Silhouette Cameo or Silhouette Portrait cutting machine, a color printer, printable sticker paper and a cutting mat (which is included when you buy the cutting machine). 
Do like this: Open Silhouette Studio. Set the correct paper size in the Page Settings. The sticker paper from Silhouette is in Letter size, 8.5×11 in. Place your Print & Cut image on your screen, duplicate and resize if you wish. 

Open the Registration Marks panel and choose Style: Type 1 Cameo & Portrait. Make sure your images are places inside the registration marks. 

Load your regular color printer with sticker paper and print. Make sure you are printing on the right side of the paper. 

Place the sticker paper on a cutting mat (included when you buy the cutting machine) and feed it into your Silhouette Cameo or Portrait. 

In the Cut Settings, select Material Type: White Sticker Paper. To view the paper settings, double-click on White Sticker Paper. The settings automatically change when selecting paper type, but you must adjust the knife in the machine yourself (in this case, turn it to size 2). 

Click "Cut". The cutting machine's optical scanner will read the registration marks and start cutting, tracing the cut marks that are included in the design you downloaded or that you made yourself. All cut marks are marked with red in Silhouette Studio and will be in bold when you click the Cut Settings. 

Unload the cutting mat and remove the sticker paper. You can now peel the labels from the backing paper. If all settings are correct the Silhouette will cut the sticker paper but not through the backing on the back, as shown in my pictures above. 
Film från Silhouette som visar Print & Cut: / Video from Silhouette showing Print & Cut: 

Programvaran Silhouette Studio går att ladda ner gratis för den som vill prova på. /
The Silhouette Studio software is available for free download for those of you who want to try it out.