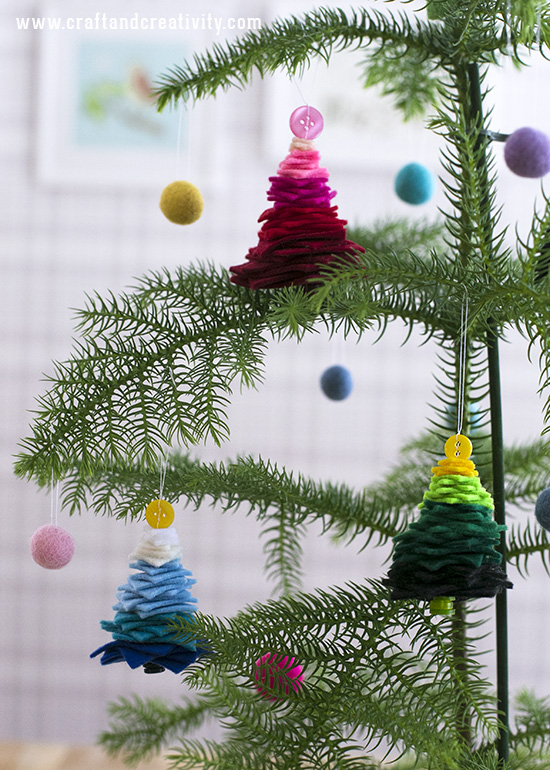 Dessa enkla julgranar av filt och knappar blir hur söta som helst att hänga i granen. Du behöver inte vara någon van pysslare för att klara detta projekt och det är ett kul julpyssel att göra tillsammans med lite större barn. Det roliga är också att du kan variera storleken på granarna fritt och blanda vilka färger du önskar.
————-
These simple felt and button Christmas trees are so cute as Christmas decorations. You don't need to be an experienced crafter to to pull this project off and it's a fun craft to do together with older children. Another great thing is that you can vary the size and mix the colors in any way you like.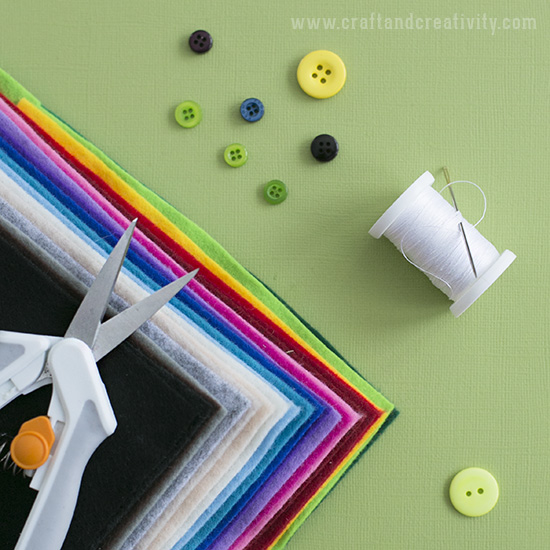 Du behöver: Hobbyfilt i olika färger, en sax, knappar, sytråd och nål.
————-
You will need: Craft felt in different colors, a pair of scissors, buttons, sewing thread and a needle.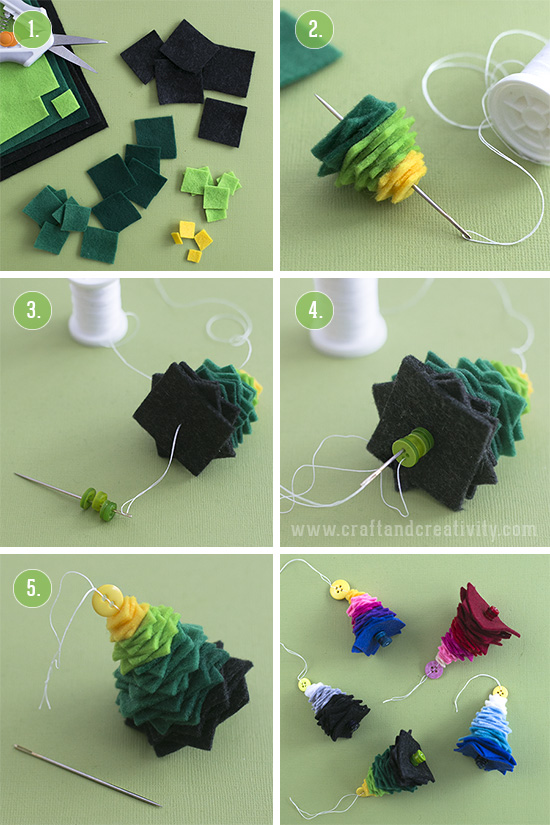 Gör så här: Klipp till ett gäng kvadrater av hobbyfilt. Du behöver inte vara så noga med att det blir räta linjer, resultatet blir fint ändå. Till våra granar som är ca 7 cm höga så använde vi ca 25 bitar av filt som mellan 1×1 cm och 4×4 cm stora.
Stapla alla kvadrater ovanpå varandra och vrid dem ett kvarts varv för varje lager. Trä nålen och stick nålen genom alla lager filt, från mitten av toppen till botten.
Tag 4-5 knappar av ungefär lika storlek och trä dem på nålen.
Fäst knapparna genom att trä nålen tillbaka genom motsatt hål på knapparna och in genom mitten av granen igen, hela vägen upp till toppen.
Fäst en knapp på toppen och knyt. Nu är du klar med din första gran!
————–
Do like this: Cut a bunch of squares out of craft felt. The lines don't have to be straight, the result will look great anyway. For our 7 cm high Christmas trees we used 25 squares of felt ranging from 1×1 cm to 4×4 cm. 
Stack all the squares on top of each other and turn them a quarter turn for each layer. Thread the needle and stick it through all layers of felt, from the middle of the top to the bottom. 
Thread 4-5 buttons on the needle. 
To secure the buttons, thread the needle back through the buttons and through the middle of the tree again, all the way to the top. 
Add a button on the top and tie a knot. Now you're done making your first tree!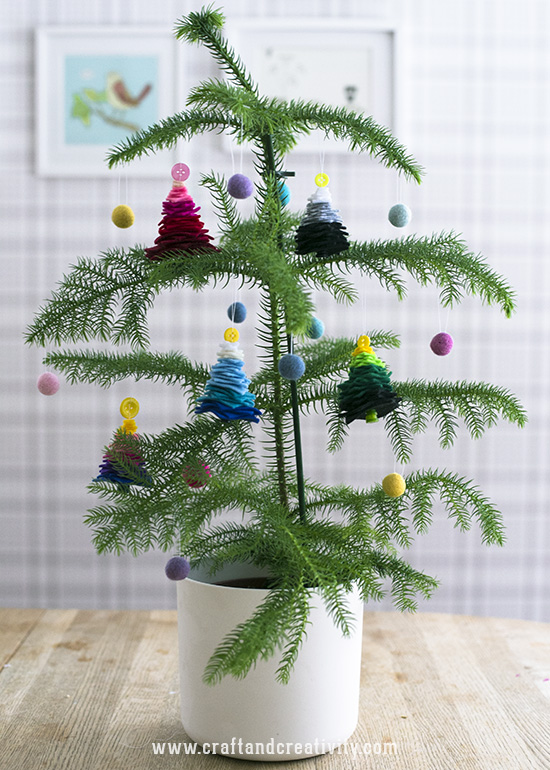 Filtgranarna får hänga i min rumsgran tillsammans med ullpärlor som jag trätt på sytråd. Världens enklaste julgranspynt!
———-
Here the felt trees are accompanied by plain wool felt beads that I thread on pieces of sewing thread. The world's simplest Christmas tree decorations!