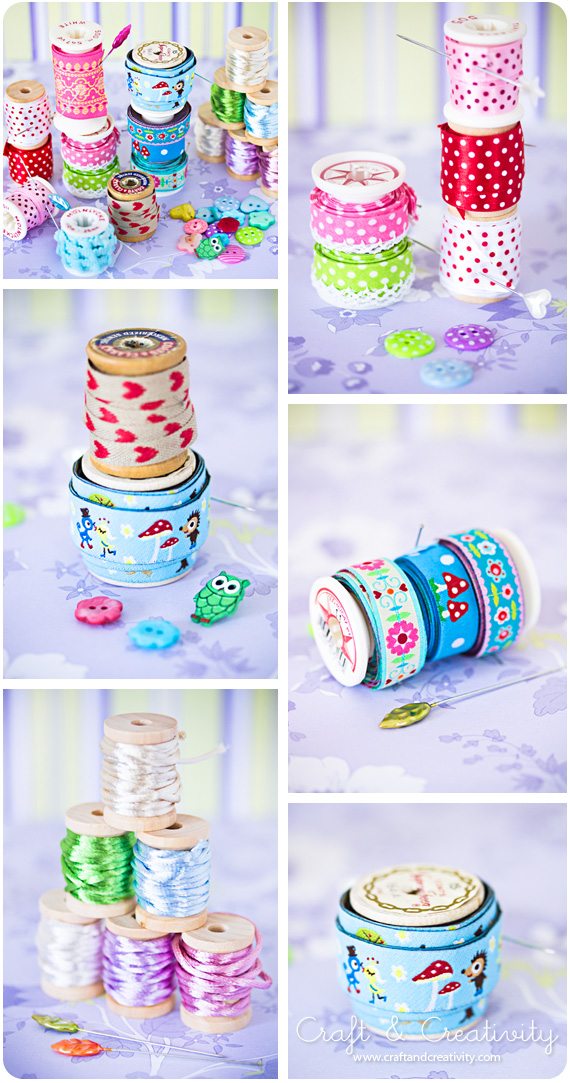 Kommer ni ihåg för ett tag sedan när jag sorterade mina band i TicTac-askar? Då belönade jag mig själv genom att köpa lite fler band (och… hoppsan… lite annat). Därmed fick jag lite mer att sortera… Mina nya band har jag virat runt trådspolar – några i trä (både begagnade och nytillverkade) och några i plast (från mammas gömmor).
Banden, knapparna och synålarna ovan kommer från Syfestivalen i Älvsjö där jag var för ett par helger sedan. Många av banden köpte jag för en spottstyver, 1-3 kr metern. Andra var lite dyrare men ändå överkomligt. Ett relativt billigt nöje, vill säga. I alla fall om man bara köper en meter eller mindre. 🙂
——-
Do you recall a while back when I organized my trims and ribbons in TicTac-containers? When I was done I treated myself to some new trims (and … oops … some other stuff). This led to some additional organizing … I rapped my new ribbons around spools – some wooden ones (vintage and new) and recycled plastic spools (from my mom's stash). 
The trims, buttons and sewing pins above are all bought at the Sewing Festival in Älvsjö, Stockholm, which I visited a couple of weekends ago. I didn't pay more then pennies for some of them. Others cost a bit more but was still quite affordable. A relatively inexpensive pleasure, that is. At least if you stick to buying one meter or less. 🙂
Dessa begagnade trådrullar köpte jag från Hello Stevie Vintage på Etsy, 9 rullar för $ 3.75 (drygt 25 kr) + frakt förstås (som gick på ungefär lika mycket). Men visst är de fina! /
These vintage spools, I bought from Hello Stevie Vintage at Etsy, 9 rolls for $ 3.75 (less then 3 €) + shipping of course (which turned out to be about the same amount). But aren't they great!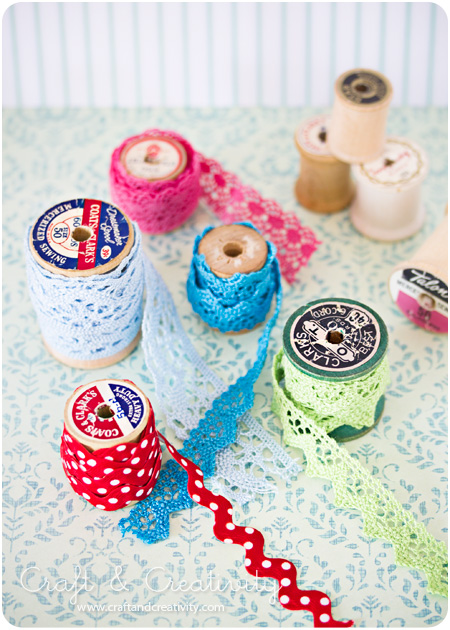 Banden och spetsen kommer från Xulani och hennes Etsy-butik. /
The ric rac and the lace comes from Xulani and her Etsy shop. 
Till vänster är det inköp från The Spring Leaf, Etsy. Dekortejpen (plast inte papper) såldes i 10-pack. /
To the left are products from The Spring Leaf, Etsy. The Deco tape (plastic not paper) was sold in packs of 10.  
Banden ovan är köpta från Riky and Nina, Etsy. Här gjorde jag ett litet misstag och råkade köpa ett band som jag redan hade… Därför tänkte jag fråga om någon är intresserad av två meter av bomullsbandet ovan till höger, det med fågelburen och blommorna? Skriv en kommentar i detta inlägg senast söndagen den 11 mars så lottar jag ut det bland er som är intresserade (gratis, ingen frakt). /
The ribbons above are purchased from Riky and Nina, Etsy. Here I made the mistake to order a ribbon I already had … Therefore I'm asking if there's anyone out there who is interested in two meters of the cotton ribbon to the upper right, with the bird cage and the flowers? If so, please make a comment on this blog post by Sunday the 11th of March and I will draw one lucky winner and ship it for free. 
Det blev lite washitejp också… På Le Box Boutique, Etsy, kan man köpa miniatyrrullar (jämför med tändstickan så ser ni hur små) med washitejp i en massa olika mönster. 15 rullar för en rimlig penning. Jag köpte även några tomma rullar, av lite större storlek. Washitejpen med fjärilar kommer också därifrån.
——
I happened to buy some washi tape also … At Le Box Boutique, Etsy, you can buy miniature spools (you can se just how small compared to the match in the picture) with washi tape in a variety of different patterns. 15 spools for a reasonable prize. I also bought some empty rolls of a lightly larger size. The butterfly patterned washi tape is also from the same store.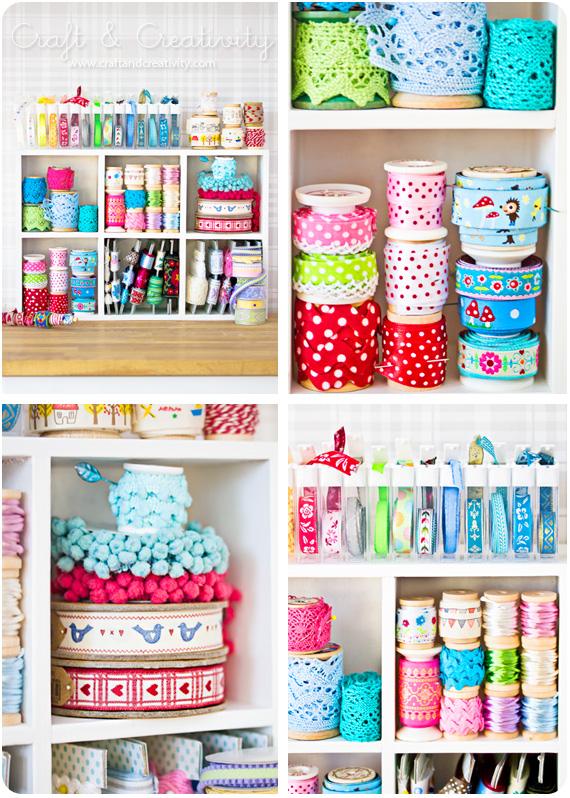 Ordning och reda! Nu har jag köpstopp… Hyllan är full och plånboken tom. 😉 Men jag räknar det här som en födelsedagspresent till mig själv! /
Neat and tidy! Now I've exceeded my budget … The shelf is full and my wallet is empty. 😉 But I'm counting this as a birthday gift for myself!