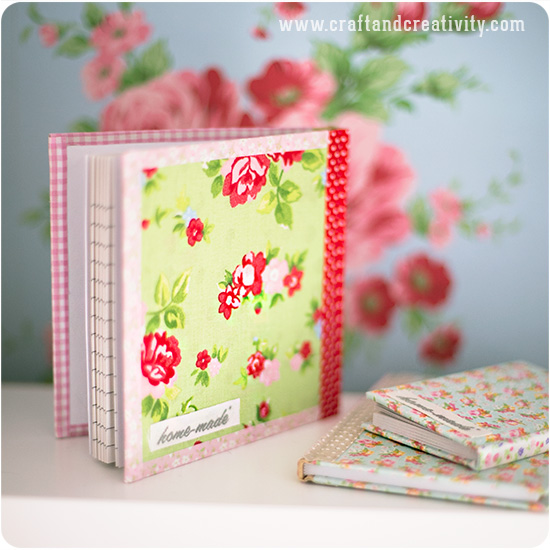 Det är förstås inte bara lådor och askar man kan klä om utan även böcker. Här har jag valt att dekorera s k "Kinaböcker" med tyg. Med självhäftande tyg och lite tygtejp är det verkligen lätt som en plätt och roligast av allt – det går att göra dem väldigt personliga.
———–
It's not only boxes that you can cover and make pretty, but also books. Here I've chosen so decorate notebooks with fabric. With self-adhesive fabric and fabric tape this is a really quick craft, and most fun of all – you can make your notebooks very unique and personal.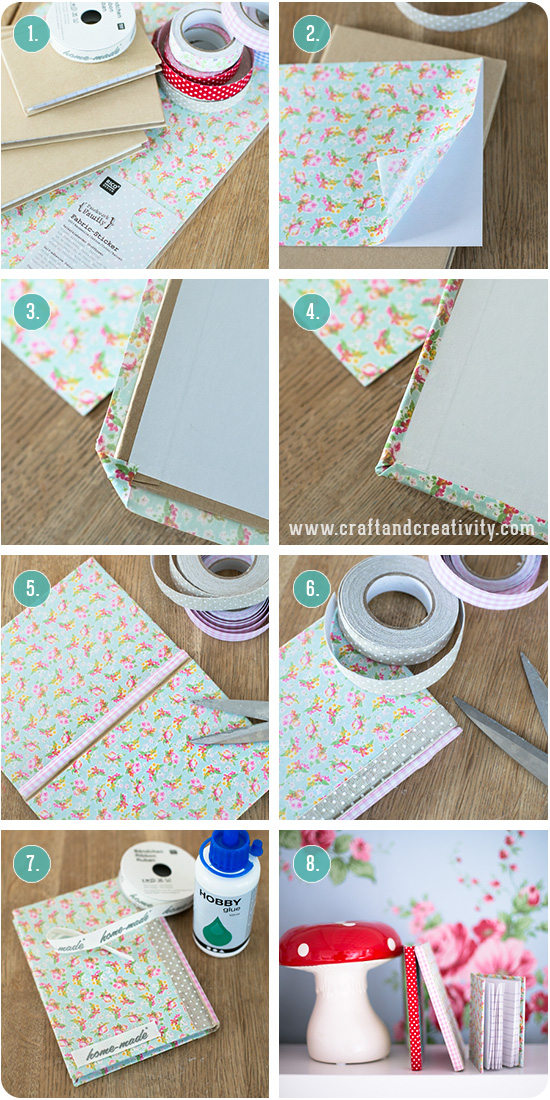 Du behöver: Anteckningsböcker, självhäftande tyg, tygtejp, sax och om så önskas: band till dekoration, t ex band med text. I så fall behöver du även lite lim.
Gör så här: Mät din bok och klipp till två bitar självhäftande tyg som är 1-2 cm större än själva anteckningsboken. En bit till framsidan och en till baksidan. Tag bort skyddspapperet på tyget och fäst tyget på boken med den självhäftande sidan ned.
För att få snygga hörn är det enklast att vika in hörnen först.
Sedan viker du in långsidor och kortsidor.
Klipp till tygtejp i lagom längd, tag bort skyddspapperet och täck bokens rygg.
Dekorera längst med ryggen med mer tejp om du vill.
Det sista jag gjorde var att dekorera mina böcker med en liten bit tygband med texten home-made som jag limmade fast på baksidan av böckerna.
Använd böckerna som dagböcker, till recept eller till att föra små anteckningar. Eller varför inte ge bort en bok som present?
—–
You will need: Notebooks, self adhesive fabric, fabric tape, scissors, and if you like – some decorative ribbons. In this case you also need some glue. 
Here's how: Measure your book and cut two pieces of adhesive fabric that are a bit bigger than the notebook. One piece for the front and one for the back of the book. Remove the protective paper and place the fabric on top of the book, the sticky side down.

To get pretty corners is easiest to fold the corners first.

Proceed to fold along the sides. 

Cut fabric tape in proper length, remove the backing paper and cover the spine.

If you like you can decorate with additional tape along the spine.

I finished off by decorating my books with a small piece of fabric ribbon with the text home-made, which I glued to the back of the book.

Use your books as diaries, for recipes or as notebooks. Or why not give away a book as a gift?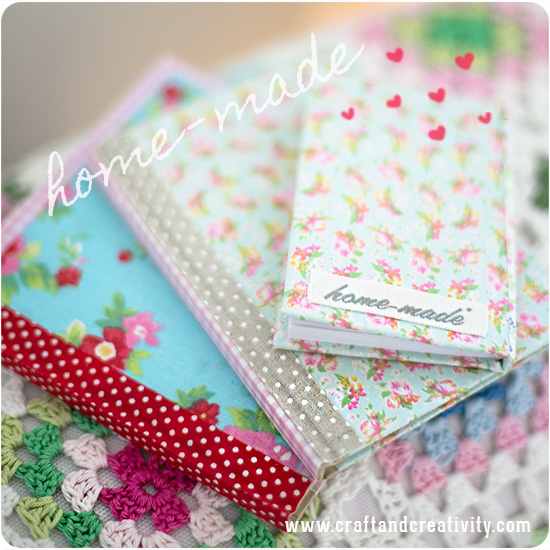 För visst är det roligt att både ge och få hemmagjorda presenter?
——
Because isn't it nice to both give and receive homemade gifts?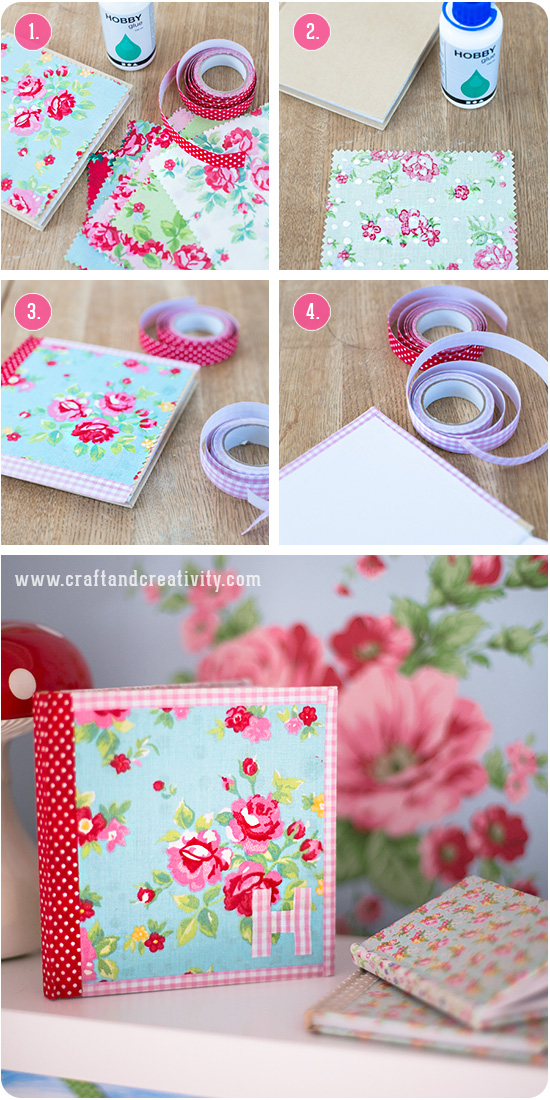 Det behöver förstås inte vara självhäftande tyg utan man kan även använda vanligt tyg och limma fast det. Den sista lilla biten täcker du sedan med tygtejp som viks över på insidan av pärmen. Tejpa även ryggen med tygtejp. H:et har jag klippt ut från en bit självhäftande tyg.
———
Of course it doesn't have to be self-adhesive fabric, you could use plain fabric and glue as well. Above I've used pre-cut fabric squares which fitted my 5.5 inch notebook perfectly. I dressed the edges and the spine with fabric tape and cut out the letter H from a piece of adhesive fabric.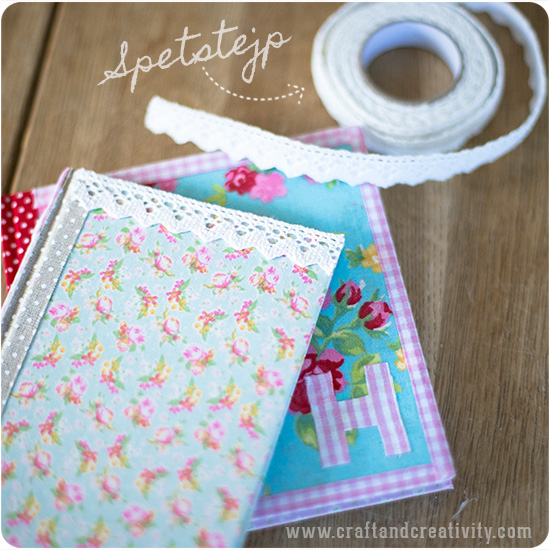 Tygtejp finns även som spets. Den är söt att använda för att dekorera ljuslyktor, glas, hyllkanter eller askar.
—–
Fabric tape is also available as lace. It's pretty to use to decorate votives, glass, boxes or shelves.