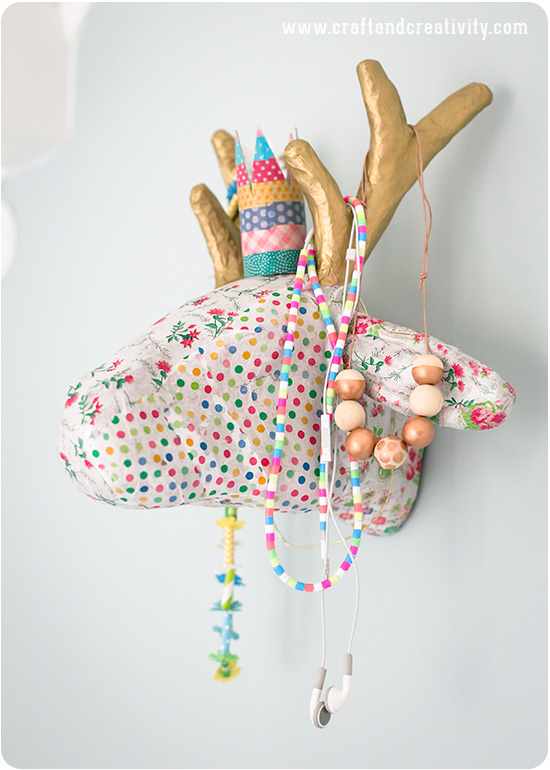 Jag har haft detta rådjurshuvud i papier-maché hemma ett bra tag men inte kunnat bestämma mig för hur jag skulle dekorera det. Till slut fastnade jag för idén att täcka det med decoupagepapper och använda som en kombinerad prydnad och som en hängare för halsband och annat jag pysslat själv. Här ser ni t ex mitt kopparmålade halsband, mina pärlade hörlurar och min dotters papperskrona gjord av toarulle och washitejp.
———–
I've had this papier-maché deer trophy in my possession for quite some time, but couldn't quite decide on how to decorate it. In the end I decided to cover it with decoupage paper and use it as a hanger for necklaces and other stuff I made myself. Here you can see my copper painted necklace, my beaded earphones and my daughter's party crown made of a toilet roll and washi tape.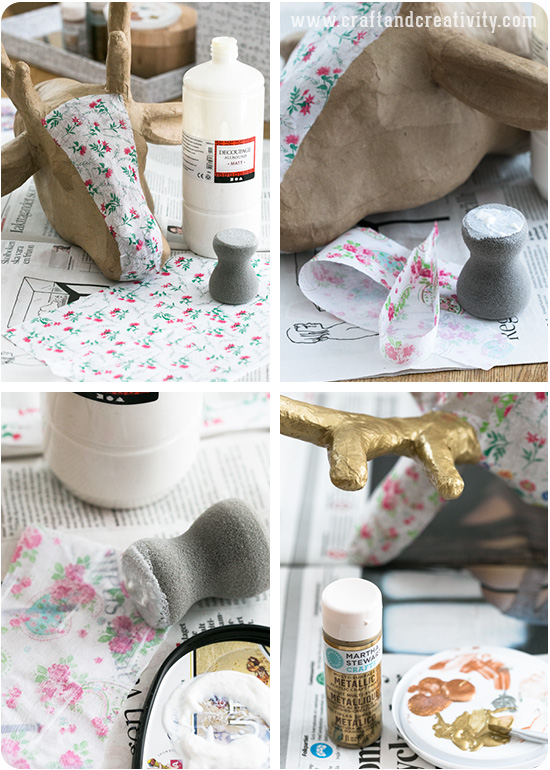 Jag rev bitar av decoupagepapper och täckte rådjurshuvudet bit för bit. Jag började med ovansidan på nosen, fortsatte med att täcka öronen och sidor för att sist ta halsen. Eftersom jag ville ha en lapptäcks-känsla valde jag olikmönstrade papper som jag blandade hej vilt. För mig gick det enklast att använda en svamp och stryka på decoupagelack på papperet (med tidningspapper som underlag), sedan sätta det på plats och stryka ut skrynklorna lite lätt. Jag lät mina pappersbitar överlappa en aning för att inte få glipor. Hornen målade jag med metallicfärg (guld) från Martha Stewart Crafts® och ett lager färg räckte gott och väl.
————
I tore pieces of decoupage paper and covered the deer head bit by bit. I started with the top of the nose, went on to cover the ears and sides to finally cover the neck. Since I wanted a patchwork look & feel, I used a mix of different patterned paper. I found it easiest to add decoupage glue on the paper with a sponge (I used a newspaper to cover my table) before placing the decoupage paper on the deer trophy and carefully stroking out any wrinkles. I let the pieces of paper overlap a bit to avoid any gaps. Finally I painted the horns with metallic paint (gold) from Martha Stewart Crafts®. One coat of paint was enough.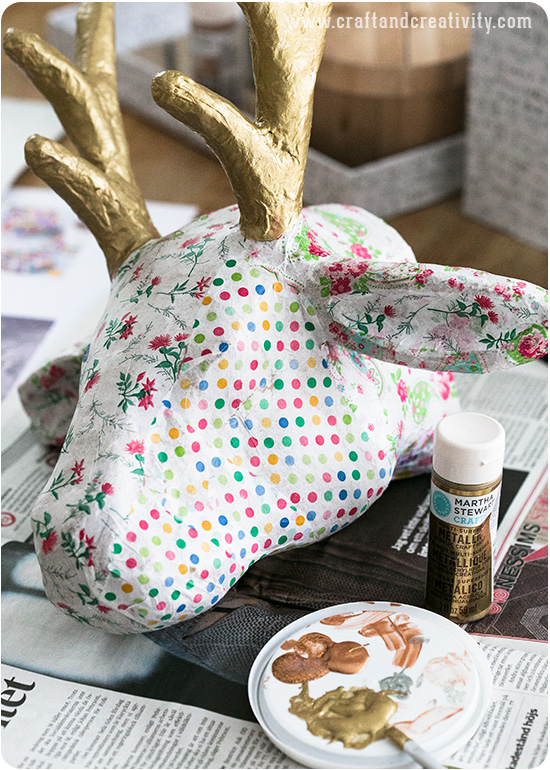 Jag sparar på plastlock från yoghurthinkar som jag använder istället för paletter när jag målar eller jobbar med decoupage. Det tycker jag funkar bra. Jag är väldigt förtjust mina nya vita nylonpenslar från Martha Stewart Crafts som dessutom är enkla att rengöra (annars är rengöring av penslar bland det tråkigaste jag vet…).
———–
I save the plastic lids from yogurt buckets and use them instead of palettes when painting or working with decoupage. I think it works really well. I'm very fond of my new white nylon brushes from Martha Stewart Crafts and they are also very simple to clean.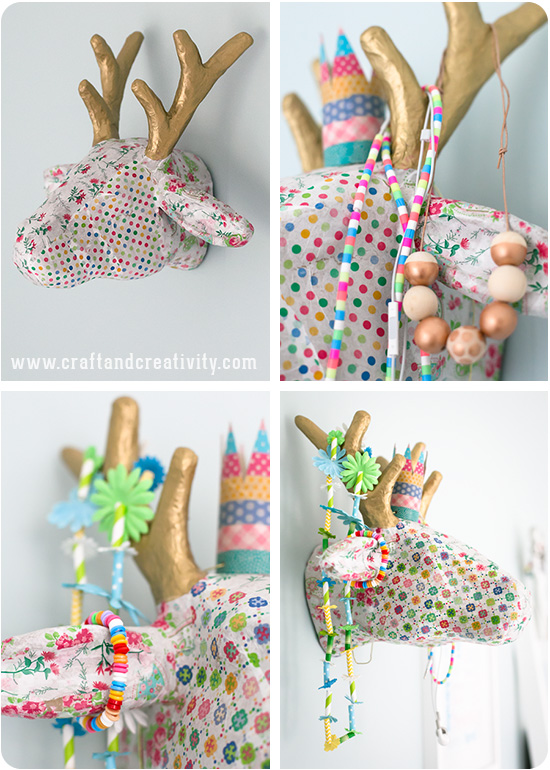 Här hänger trofén på väggen i vårt sovrum. Egentligen ska rådjuret hänga i mitt nya pysselrum i källaren som jag håller på och inreder. Jag målar, tapetserar och bygger för fullt. Mitt gamla rum var fint men hade bara ett litet fönster vilket gjorde att jag inte riktigt trivdes att sitta där och pyssla utan hamnade ofta i köket istället eftersom där fanns bättre ljus, speciellt när jag skulle fotografera steg-för-steg beskrivningar. Nu har jag ett luftigare och ljusare rum som jag inrett med mycket förvaring och lite roliga lösningar. Jag kommer visa bilder från mitt nya rum så snart det är klart.
————-
Here the trophy hangs on the wall in our bedroom. It's actually meant to hang in my new craft room that I'm currently decorating in our basement. My old room was great but had only one small window which caused to use our well-lit kitchen for my crafting instead. Especially when photographing step-by-step tutorials where I need a lot of light. My new room is much brighter and I've decorated it with lots of storage and some fun solutions. I will show you pictures of my new craft room as soon as it's ready.