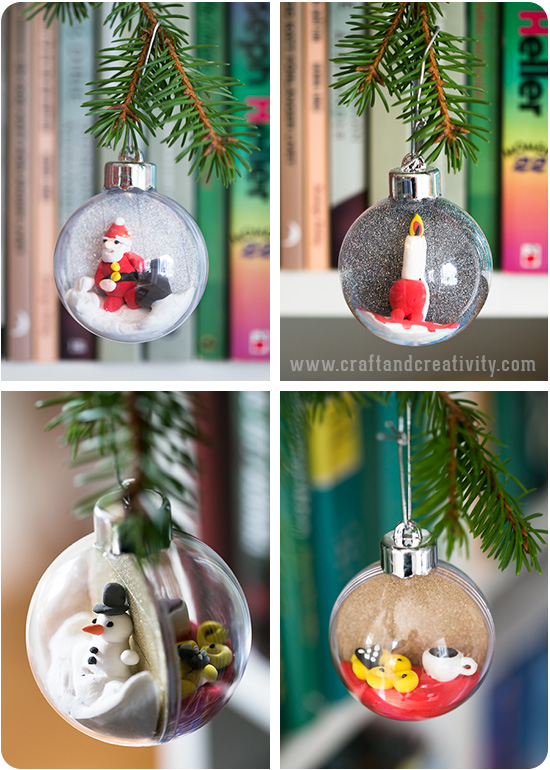 Nu har vi lekt med Silk Clay igen! Den här gången blev det små julmiljöer som vi stoppade i tvådelade julgranskulor av plast. Snögubbar, tomtar och lussebullar av lättviktig lera ska få hänga i vår gran.
————
We've had another go with our favorite clay, Silk Clay! This time, we created small Christmas decorations that we put into two piece plastic baubles. Snowmen, Santas and saffron buns made of lightweight clay are going to decorate our Christmas tree.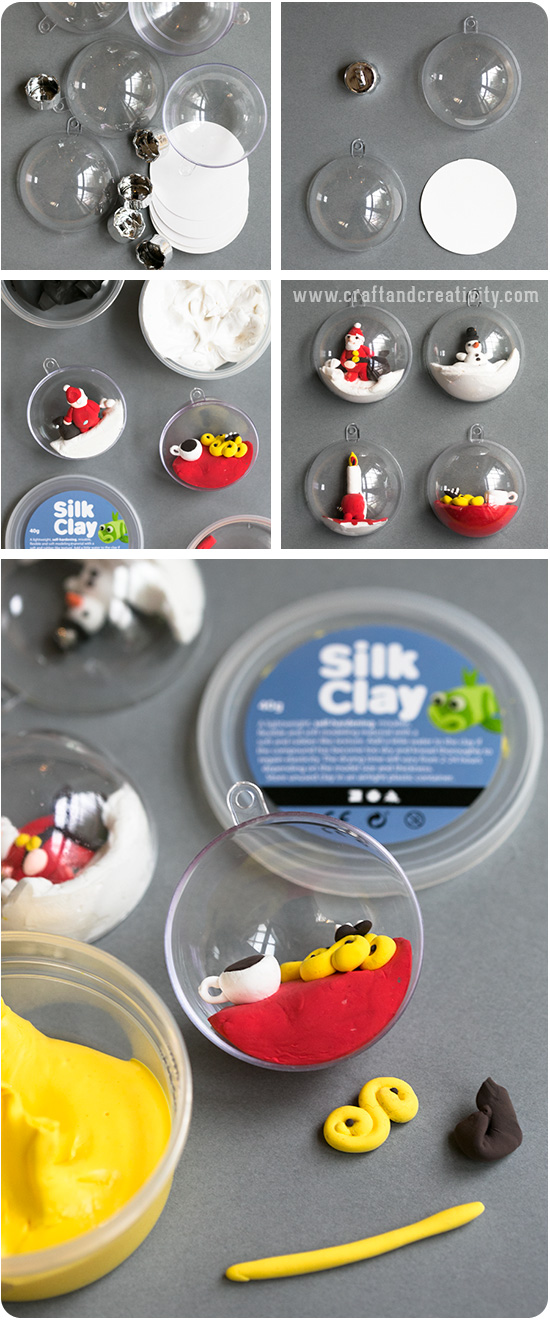 Varje julgranskula består av två delar plus en topp av silverfärgad plast och en rund bit kartong som fungerar som mellanlägg mellan de två delarna. Vi fyllde halvorna med figurer av Silk Clay och lät dem torka innan vi monterade ihop kulorna. Låt leran lufttorka ca 2 dagar så det inte kommer in fukt i kulorna för då riskerar du få imma på insidan av plasten. Torka med den öppna sidan uppåt eller på ett galler.
———–
Each ornament is made up of two parts plus a silver plastic top and a round piece of cardstock to divide the two parts. We filled the halves with Silk Clay figures and let them dry before we mounted the baubles. Allow the clay to air dry for about two days. Otherwise you might risk getting condensation inside the baubles. Leave them to dry with the open side up or on a grill.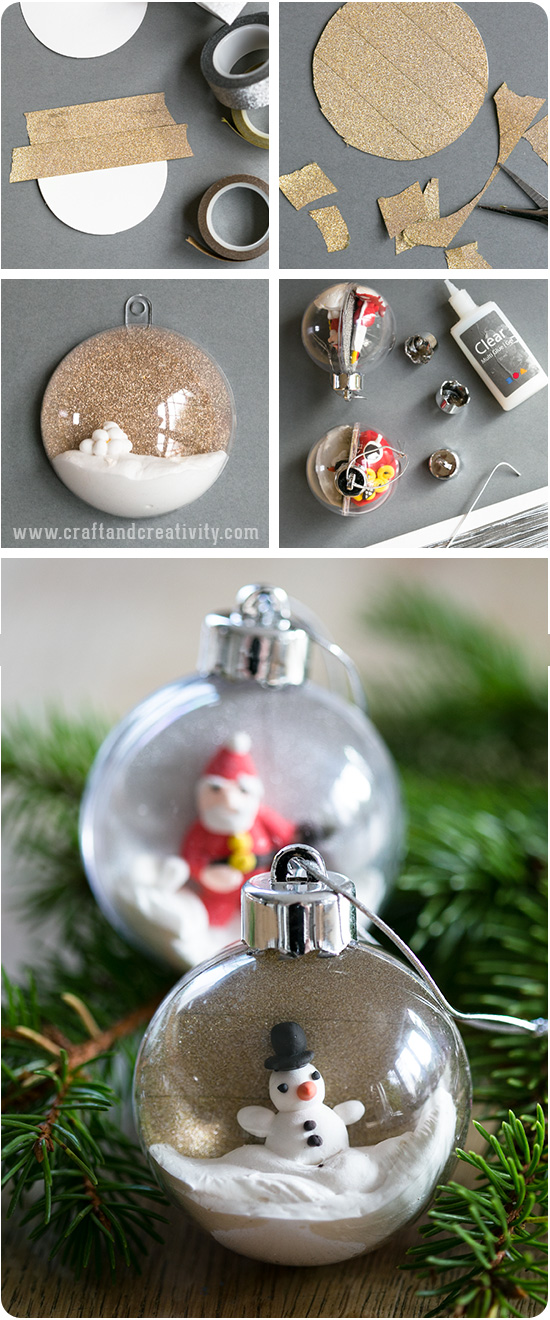 På den runda kartongen kan man fästa fotografier eller dekorera den med glitter eller mönstrat papper. Eller göra som jag gjorde och tejpa den med glittrig washitejp. När leran har torkat så trycker man ihop de två delarna med kartongbiten i mitten för att bilda en kula. Jag limmade ihop mina delar med favoritlimmet Clear multi glue gel för extra hållbarhet och fäste den lilla toppen högst upp med samma lim. Limmet blir helt transparent när det torkar. Som snöre använde jag silverfärgad elastisk snodd men det går förstås bra med vilket snöre som helst.
————
You can mount photographs on the round cardstock or decorate it with glitter or patterned paper. Or do as I did and tape it with glittery washi tape. When the clay has dried, press the two parts together with the cardstock in the middle to form a bauble. I used my favorite Clear multi glue gel for extra durability and for mounting the plastic silver top. The glue turns transparent after drying. For string I used an elastic silver cord but you could use any kind of string.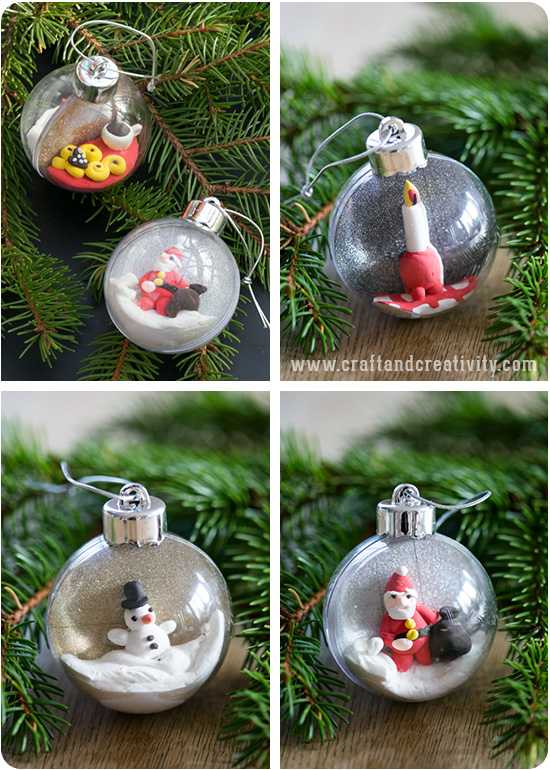 Julgranskulorna går förstås att fylla med annat än lera, t ex ullpärlor, paljetter, kottar, granris, mossa, godis eller små paket (och då inte limma ihop kulan).
———
You could fill the baubles with just about anything, for example felt beads, sequins, pinecones, pine boughs, moss, candy or small gifts (and if so not glue the bauble).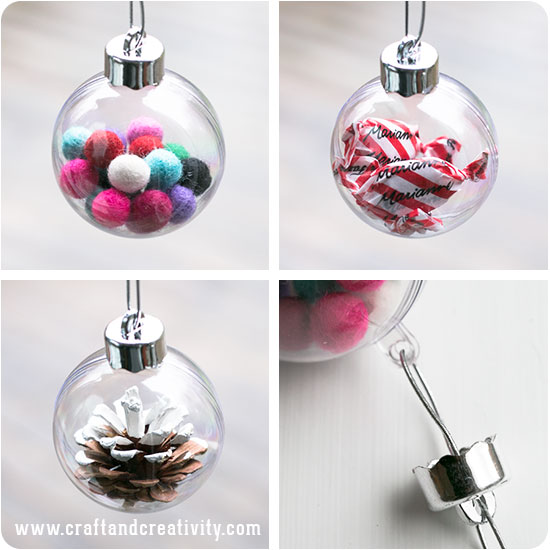 Ps. Nu har vår julkalender 25 kreativa dagar i december satt igång och den första luckan öppnar ni hos Pysselbolaget.
————–
Ps. Our Christmas Calendar 25 Creative Days of Christmas has now started and you will find the first tutorial over at Pysselbolaget.