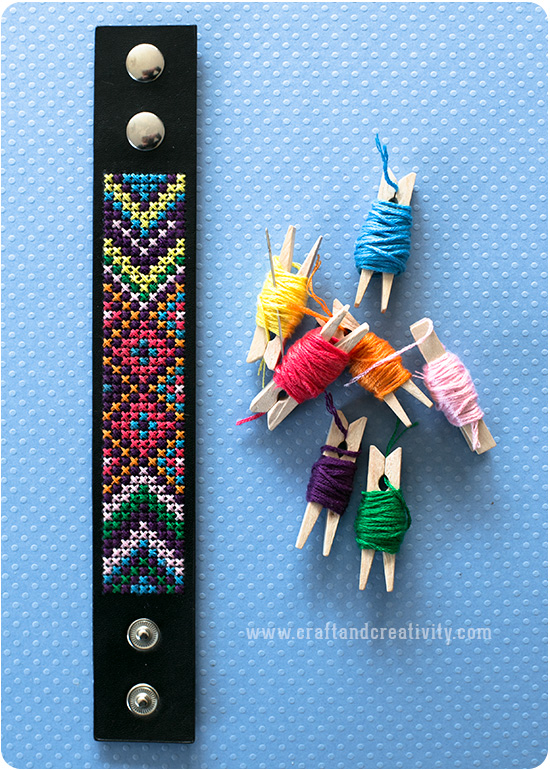 Korsstygn är fint och jag tycker om att använda det i lite oväntade sammanhang. Som med detta broderade armband i imiterat läder. Armbanden ingår i ett kit med allt du behöver för att brodera fina mönster och de är en nyhet i vår webbutik Make & Create. Eftersom ytan som ska broderas är så liten går det relativt snabbt att sy mönstret.
———–
Cross stitch make pretty patters and I like to use them in non-traditional projects. Like with this embroidered cuff bracelet. This bracelet is included in a kit with everything you need to stitch beautiful patterns. Since there's a limited area to stitch on, it doesn't take much time to complete the project.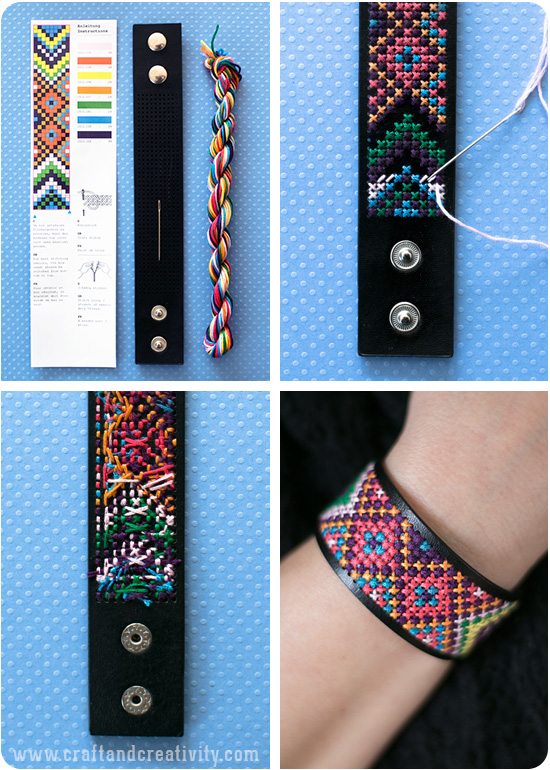 Broderigarn består oftast av sex deltrådar. Dela garnet på hälften och använd tre deltrådar när du broderar dessa armband. Brodera enklast en färg i taget och fäst trådarna löpande för att undvika trassel. Gör inga knutar utan låt tråden löpa under 3-4 stygn på baksidan. När du broderar en hel rad med stygn så syr du först halva kors och går sedan tillbaka och syr andra halvan, för att tillsammans bilda ett kors. Det blir snyggast om översta tråden i korset alltid lutar åt samma håll, se bild ovan.
———-
Embroidery floss usually consists of six strands. Divide the floss in half and use tree strands when stitching these bracelets. Stitch one color at a time and secure the ends by running the thread under at least 3 or 4 stitches at the back to avoid tangling. When sewing a row, start with a half cross and then go back to form a whole cross. The top thread should always lean in the same direction for best result, as shown in the picture above.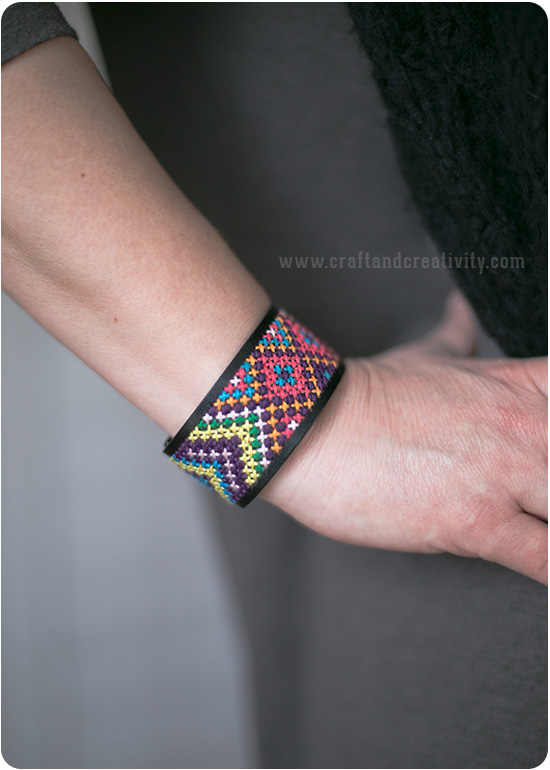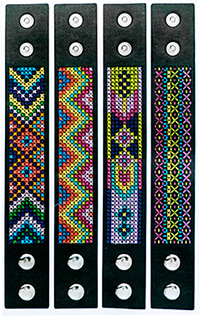 Materialsatserna finns i fyra olika mönster och då ingår perforerade armband av imiterat läder (23×3 cm), mönster/beskrivning, broderigarn och nål. Armbanden har två par tryckknappar och du kan välja att använda den innersta eller yttersta knappen beroende på hur bred handled du har. De passar handleder som är ca 15-19 cm i omkrets. På Make & Create finns även armband i andra färger och då utan mönster och garn, för den som vill bestämma motiv helt själv.
————-
These bracelet kits are available in four different designs and includes perforated faux leather bracelets (23×3 cm), a pattern, embroidery floss and a needle. The bracelets have two pairs of push buttons and you can choose to use the innermost or the outermost button depending on the width of your wrist. Make & Create also offer bracelets in other colors, and they don't include patterns or floss, more suitable for those of you who want to make your own design.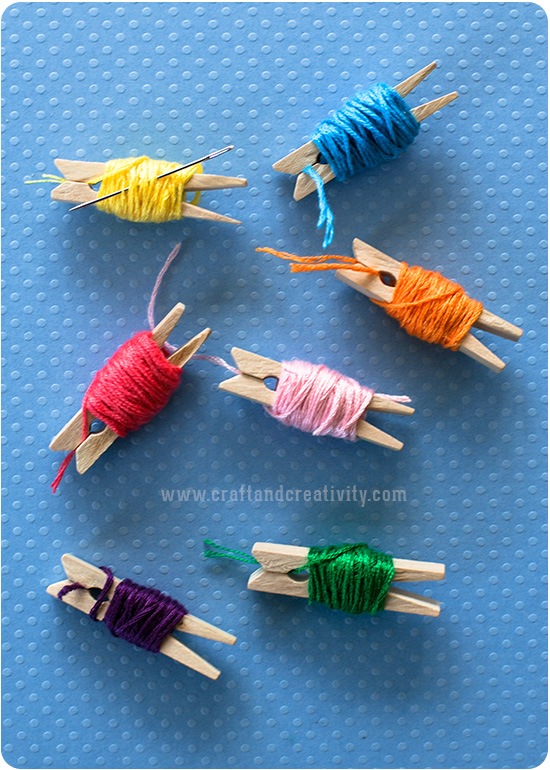 Broderigarnet som blev över virade jag runt små klädnypor. På så sätt trasslar det inte ihop sig och det ser fint ut på kuppen!
———
I wrapped the left over floss around small clothespins. In this way, you avoid tangling and it looks kind of neat. 
Fler pyssel med korsstygnsmönster: / More cross-stitch crafts: