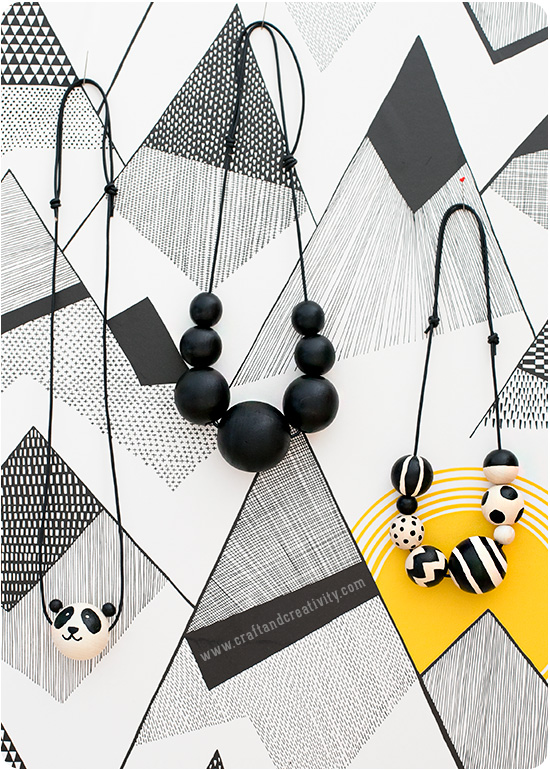 Att göra egna trähalsband behöver varken vara svårt eller ta särskilt lång tid. Lite vågade smycken som dessa kan vara ett roligt sätt att piffa till en vanlig enkel tröja eller svart klänning och på så sätt sticka ut lite från mängden utan att klä upp sig.
————-
Making wooden bead necklaces need not be difficult nor take much of your time. Bold accessories like these can be combined with a plain sweater or a simple black dress and make you stand out in a crowd without actually dressing up.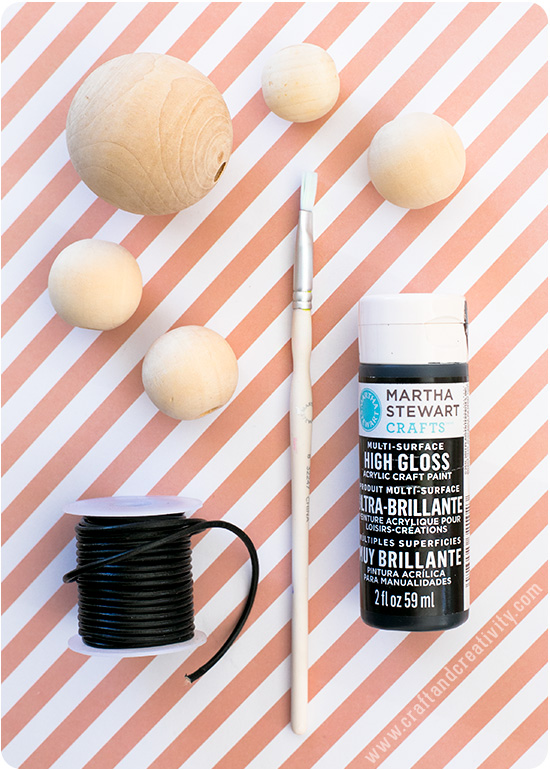 Allt du behöver är: Träpärlor i olika storlekar, hobbyfärg (här har vi använt svart högblank akrylfärg från Martha Stewart Crafts, en pensel och snöre (t ex 2 mm tjockt lädersnöre).
————
All you need is: Wooden beads in various sizes, hobby paint (here we used black High Gloss paint from Martha Stewart Crafts), a paint brush and a string (for example 2 mm thick leather cord).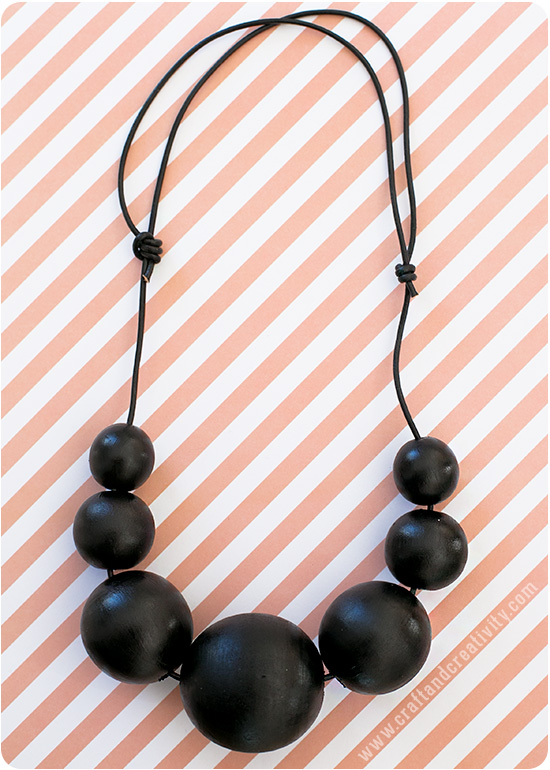 Gör så här: Måla pärlorna (ett varv räckte i vårt fall), låt torka (tar ca 30 min) och trä pärlorna på lädersnöret. Knyt två s k "glidande" knutar (jag hittade en YouTube-beskrivning här) så att du kan göra halsbandet större eller mindre vid behov. Måla gärna en bit in i hålen för snyggare resultat.
—————
Do like this: Paint the beads (one coat turn out to be enough in our case), let dry (takes about 30 min) and thread the beads on a leather cord. Tie two so-called sliding knots (I found a YouTube tutorial here) to make the length of the necklace adjustable. Remember to paint well into the holes for a better looking result.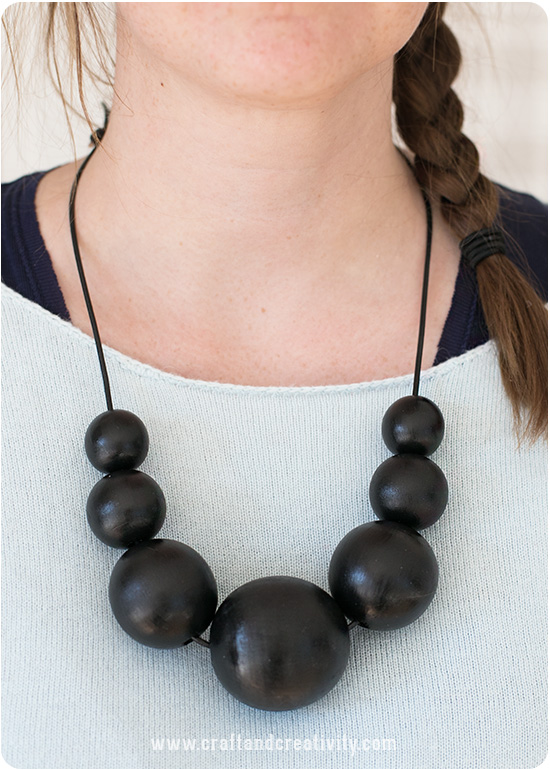 Till detta halsband använde vi träpärlor som är 25-50 mm i diameter.
———–
For this necklace we use wooden beads that measure 25-50 mm (1-2″) in diameter.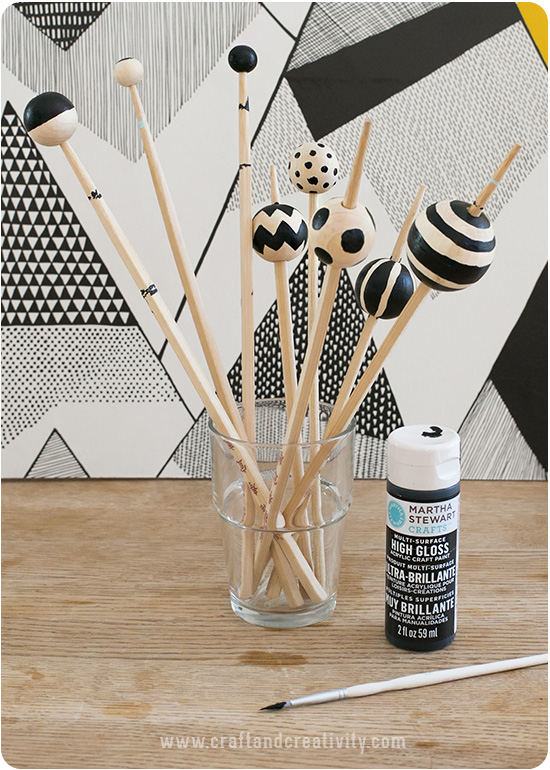 Du kan också måla mönster på träpärlorna. Skissa med fördel mönstret innan med en blyertspenna. Under tiden som du målar så är det smart att sätta träpärlorna på t ex ätpinnar för att slippa få färg på fingrarna och det är lättare att snurra på träpärlan när du målar mönster. Ställ pinnarna i ett glas medan färgen torkar.
————–
If you like you can paint the beads in different patterns. For best result, try sketching with a pencil before you start painting. While you paint it's easier if you put the wooden beads on chopsticks. That way you avoid getting paint on your fingers and it's easier to paint your patterns if you can spin the bead around while painting. Place the chopsticks in a glass white waiting for the paint to dry.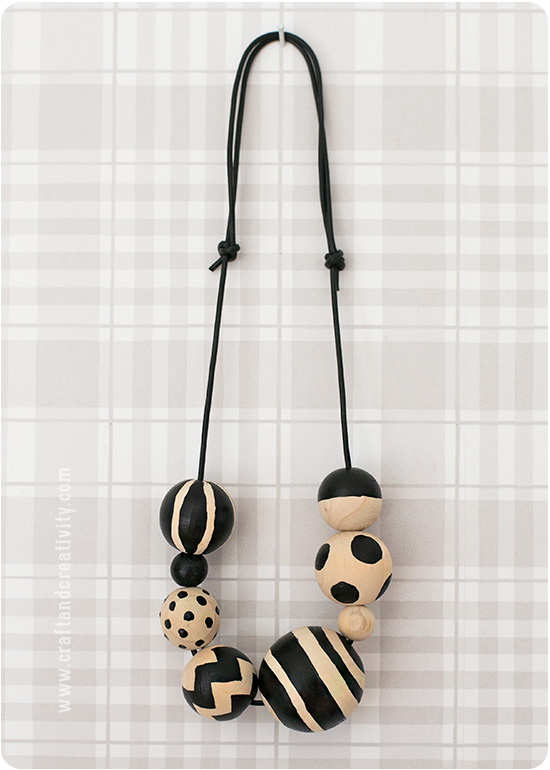 Jag har målat träpärlor flera gånger tidigare och då såg det ut så här:
————-
I've painted wooden beads several times before and this is how they turned out: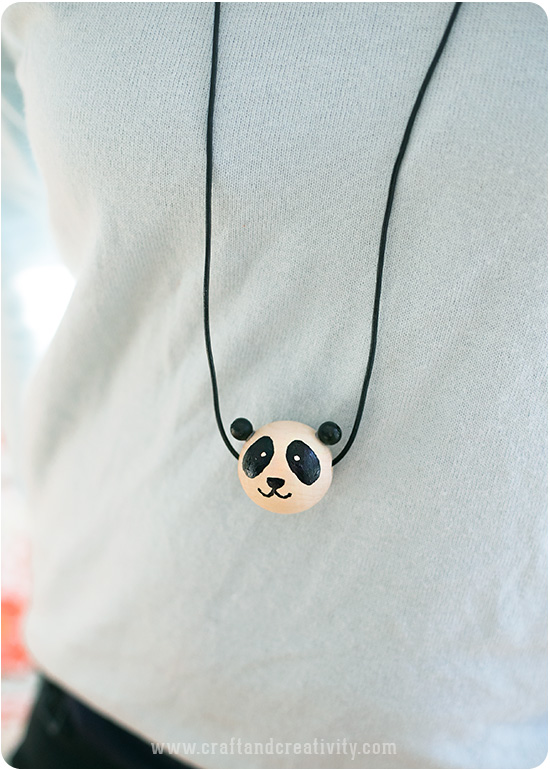 Hur du gör ett pandahalsband: 
Skissa med blyerts först. Måla ögon, nos och mun med svart färg. Se till så att hålet löper horisontellt igenom den stora träpärlan (diameter: 40 mm) som på bilden ovan. Måla två små träpärlor (diameter: 10 mm) med samma färg. Låt torka. Limma fast öronen med limpistol. Trä pandan på ett lädersnöre, måtta hur långt du vill ha halsbandet och knyt ihop lädersnörets två ändar.
————–
How to make a panda necklace: 
Begin by sketching the outlines with a pencil. Paint the eyes, nose and mouth with black hobby paint. Make sure that the holes run horizontally through the big wooden bead (diameter: 40 mm / 1.6″) as shown above. Paint two small wooden beads (diameter: 10 mm / 0.4″) with the same paint. Let dry. Glue the ears in place with a glue gun. Thread the panda on a piece of leather cord, measure how long you want your necklace and tie the two ends of leather cord together.