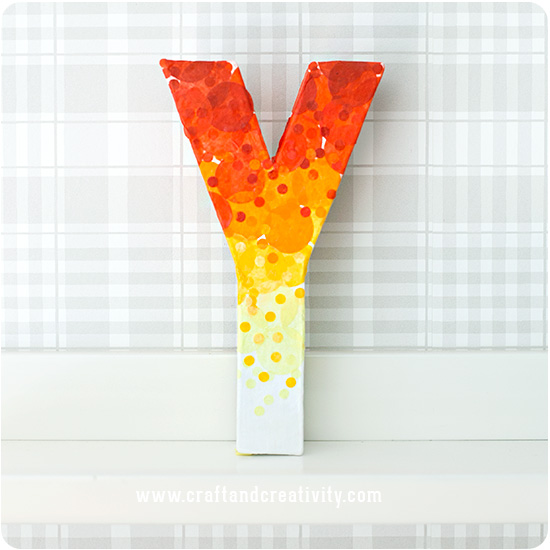 Idag presenterar vi den sista delen av vår serie med dekorerade pappbokstäver och denna gång ville vi testa att göra decoupage med silkespapper i flera lager.
————
Today we present the final part in our series of decorated paper mache letters and this time we wanted to try making tissue paper decoupage in several layers.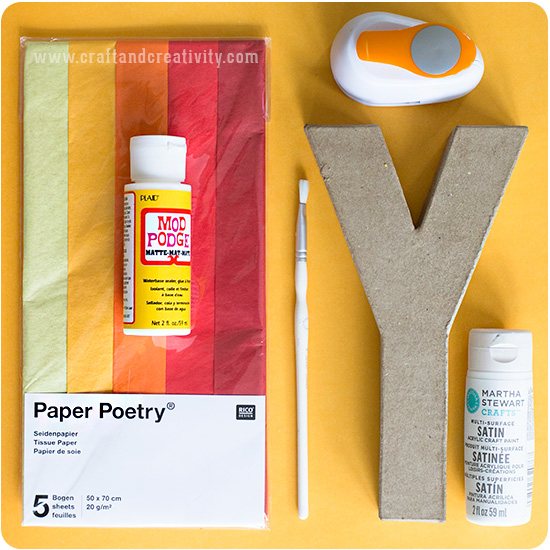 Du behöver: Silkespapper i olika nyanser, Mod Podge (eller decoupagelack), en pensel, en pappbokstav, en figurstans, ett vanligt hålslag, en sax och hobbyfärg. Vi använde vår favorit, satinfärgen från Martha Stewart Crafts i nyansen Wedding cake = vit. Plus Color hobbyfärg är också en mycket bra färg för ändamålet.
————-
You will need: Tissue paper in various shades, Mod Podge (or decoupage lacquer), a brush, a paper mache letter, a lever punch, a hole punch, a pair of scissors and hobby paint. We used satin paint from Martha Stewart Crafts.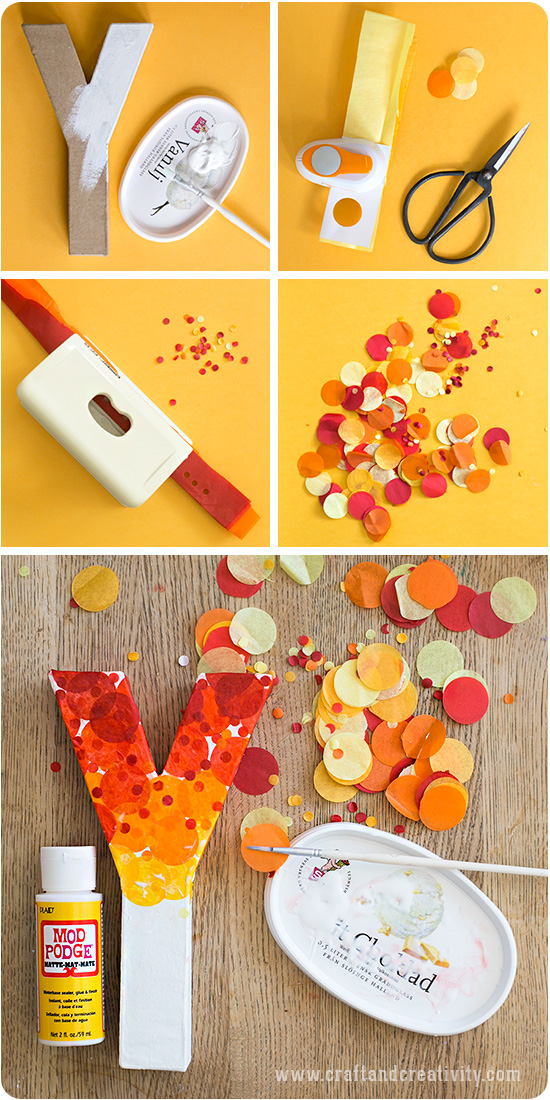 Gör så här: Måla pappbokstaven vit eller i valfri grundfärg. Vi målade två lager och lät färgen torka i 20 min efter strykningarna. Stansa ut stora cirklar (2,5 cm i diameter) med en figurstans. Silkespapper är väldigt tunt och kan läggas i flera lager när du stansar. Lägg med fördel ett ark kopieringspapper under och över silkespappret när du stansar så minskar risken att silkespappret trasar sönder. Stansa ut små cirklar med ett vanligt hålslag. Nu kan du börja limma fast cirklarna en och en på bokstaven. Placera ut cirklarna slumpässigt och i flera lager för roligast effekt. När allt torkat så kan du stryka ett extra lager Mod Podge (eller decoupagelack) över hela ytan. Silkespapper i starka färger kan färga av sig lite när du limmar men vi tyckte inte att det gjorde något.
—————
Do like this: Paint the paper mache letter white or whatever color you prefer. We painted two coats and let the paint dry for 20 minutes after each time. Punch out large circles with a lever punch. Tissue paper is very thin and you can punch several layers at a time. Put ordinary copy paper over and under the tissue paper when punching for best result. Punch out small circles with a hole punch. Now you can start gluing the circles in place, one by one. Place the circles randomly and overlapping each other. Once everything has dried, seal the surface with an extra coat of Mod Podge.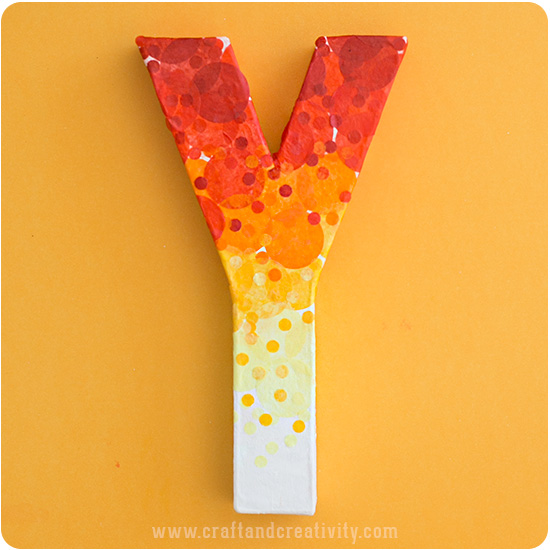 Här ser ni resultatet av vårt decoupage, det ser nästan ut som en eld. 🙂
———
Here's the result of our decoupage project, it almost looks like fire. 🙂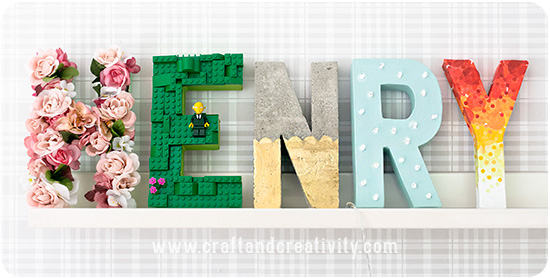 Vill du veta hur vi dekorerade de tidigare bokstäverna? Klicka på länkarna nedan för att komma till beskrivningarna:
—————
Do you want to know how we decorated the other letters? Click on the links below to view the tutorials.
H – Pappbokstäver med blommor (Paper mache letters with flowers)
E – Pappbokstäver med lego (Paper mache letters with Lego)
N – Gjuta betongbokstäver (Making concrete letters)
R – Gör din egen bokstavslampa (DIY letter lamp)