Muffins/cupcakes verkar vara mer populära än någonsin. Både Leila Lindholm och Mia Örhn har gett ut nya kakböcker på det temat nu i höst. Mina mini-muffins nedan bakade jag på en enkel muffinssmet och smaksatte med kakao. Glasyren är gjord på Philadelphiaost, smör, florsocker, en gnutta citronsaft och ett par droppar röd hushållsfärg.
Cupcakes seem to be more popular than ever. Both Leila Lindholm and Mia Örhn (popular Swedish cookbook authors) has released new cookbooks on that theme this autumn. My miniature cupcakes below are based on a simple sponge cake
batter and flavored with cocoa. The frosting is a mix ​​of cream cheese, butter, powdered sugar, a pinch of lemon juice and a few drops of red food coloring.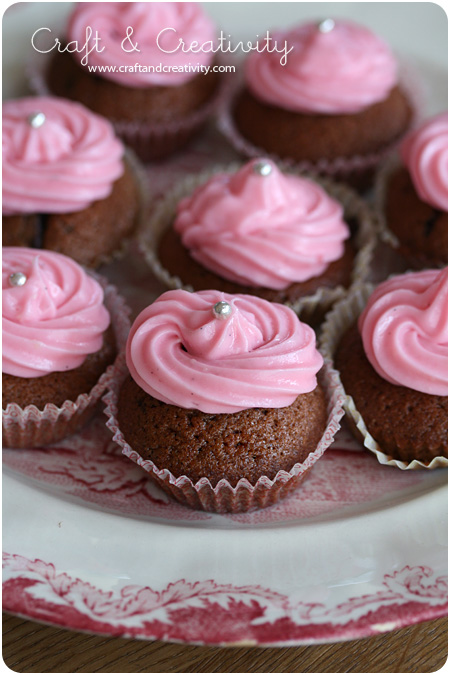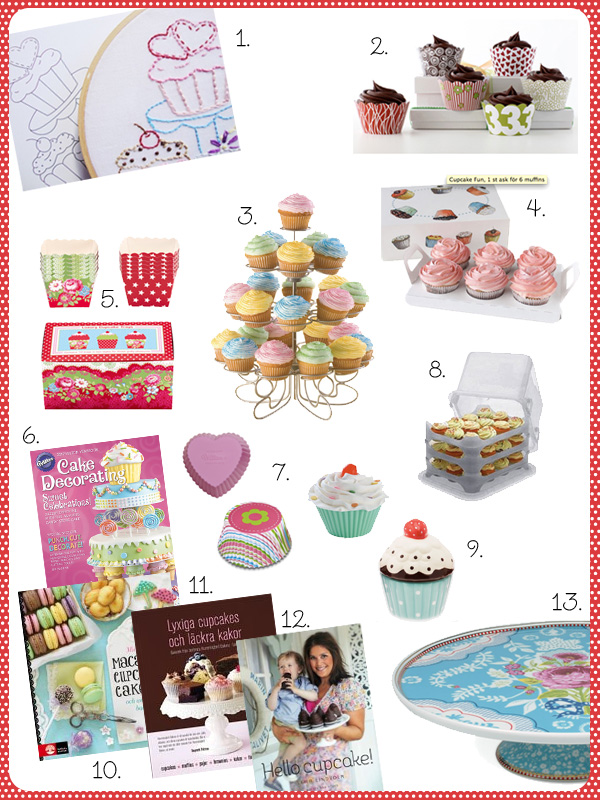 Eget collage med följande produkter:
1. Cupcake Embroidery Pattern från Etsy, 2. "Cupcake Wraps" från Kakburken.se, 3. Muffinsträd från Kakburken.se, 4. Muffinsask för 6 muffins från Kakburken.se, 5. GreenGate bakform från Syster Lycklig, 6. Wiltons produktkatalog från Kakburken.se, 7. Söta Muffinsformar och silikonformar från Kakburken.se, 8. Smart muffinslåda "Cupcake Courier" från Kakburken.se, 9. Blå porslinsburk från Kakburken.se, 10. Macarons, cupcakes, cakepops och andra söta bakverk av Mia Öhrn från Adlibris, 11. Lyxiga cupcakes och läckra kakor från Adlibris, 12. Hello cupcake av Leila Lindholm från Adlibris, 13. Pip Studio kakfat från Syster Lycklig.