För ett tag sedan blev jag tillfrågad om jag ville sitta med i juryn för en tävling anordnad av Smyckestillbehör.se. Temat var seed beads (småpärlor). Det tyckte jag lät roligt. Det var svårt att välja ut en favorit bland de fina tävlingsbidragen men till slut lyckades jag bestämma mig. Vann gjorde min personliga favorit – duktiga Margareta Gustavsson med sitt eleganta halsband.
—–
A while back I was asked to serve as a jury member in a seed beed competition, arranged by Smyckestillbehör.se. It was hard to choose a favorite among all the great entries but I finally managed to come to a decision. The winner (and my personal favorite) turned out to be the talented Margareta Gustavsson with her elegant necklace.
Jag träffade Margareta i lördags och passade på och fotografera hennes vinnande bidrag. Margareta höll hus på Täby Park Hotell där hon var en av fyra arrangörer för den årliga pärlträffen PUSS. Det är sjätte året som pärlträffen arrangeras och varje år samlas dryga 100 pärlentusiaster över en helg och skapar tillsammans, shoppar pärlor, deltar i olika workshops och tävlingar. Läs mer om PUSS på www.parltraff.se eller på deras Facebook-sida. Det blev en inspirerande och rolig dag för mig och min mamma som också följde med.
—-
Last Saturday I met up with Margareta and took the opportunity to photograph her winning entry. It turned out that Margareta was one of four organizers of an annual bead meeting at Täby Park Hotel. This is the sixth year that this particular beed meeting is arranged and each year over 100 crafters gather over a weekend to create together, shop beads, participate in various workshops and competitions. Read more at www.parltraff.se (in Swedish). It was a fun and inspiring day for me and my mum, who also came along.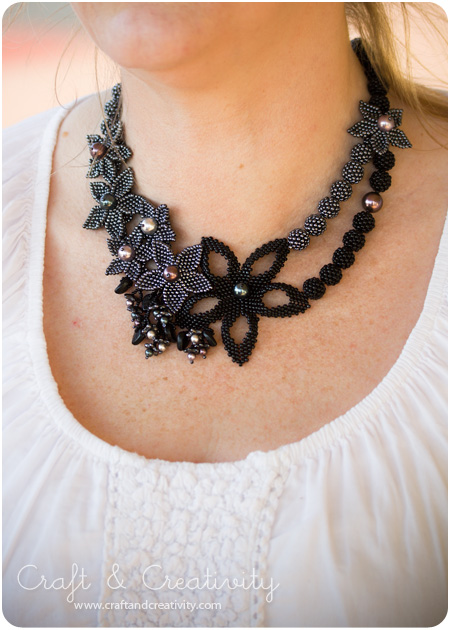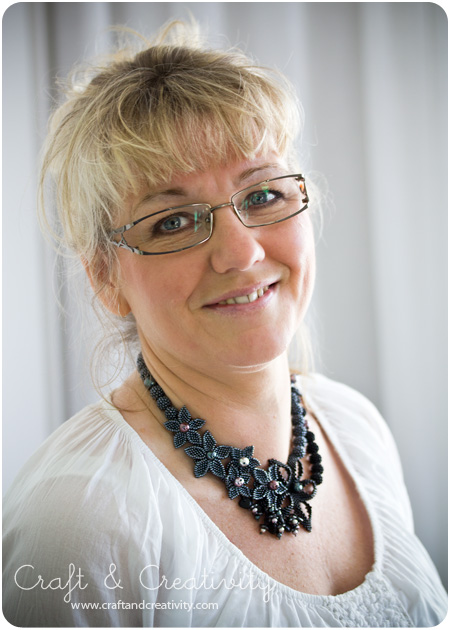 Margareta Gustavsson med sitt konstverk till halsband. /
Margareta Gustavsson with her artwork of a necklace.