Vilken härlig sommar vi fått njuta av så här långt! Förutom en resa till min hemstad Umeå så har vi badat, läst böcker och firat födelsedagar men även pysslat en del förstås. Jag och barnen har skapat lite olika saker med papperssugrör och i sju dagar framöver tänkte jag visa er våra alster. Ett sugrörspyssel varje dag i en vecka. Vi börjar med pappersdrakarna som min äldsta dotter gjorde tillsammans med sina vänner (en kort & skakig instrukstionsfilm finns även på mitt Instagram).
——-
What a wonderful summer we have enjoyed so far! In addition to a trip to my hometown Umeå, we've been swimming, reading books and celebrating a couple of birthdays. And of course , we've also had time for some crafting. Me and the girls have made different things with paper straws and seven days to come I will show you our creations. One paper straw craft a day for one week. Lets start with the paper kites that my oldest daughter made with her friends (you can also find a short and shaky animation on my Instagram account).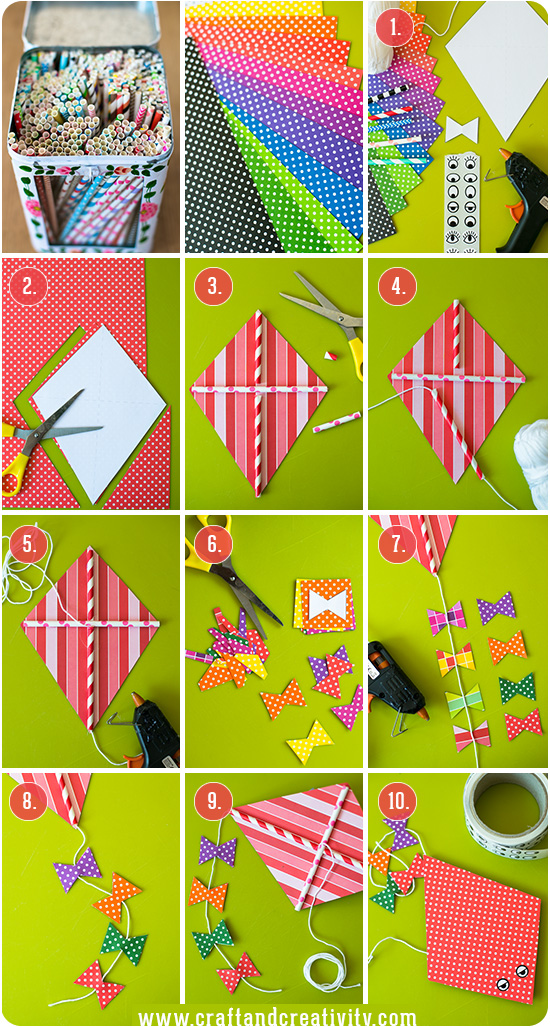 Du behöver: Mönstrade papper i litet tjockare kvalitet (vi använde Color Bar papper 250 g med mönster på båda sidor), två papperssugrör, sax, en bit garn, limpistol (eller t ex universallim) och ögonstickers eller andra valfria dekorationer. Mall att ladda ner finns här.
Gör så här: Börja med att skriva ut mallen och använd den på ditt val av papper.
Klipp till papperssugrören i lagom storlek och forma ett kryss som går från hörn till hörn. Klipp det långa lodräta sugröret i två delar, som på bilden ovan.
Trä en bit garn genom den nedre lodräta delen av sugröret. Se till så att du har ca 1 meter garn i mitten till lina och ca 25 cm garn längst ner till svans.
Limma fast sugrören på undersidan av draken. Sätt en extra limklutt i mitten och längst ner för att säkra att garnet sitter fast.
Klipp ut rosetter med hjälp av mallen du skrev ut från början. Du behöver 8 delar.
Placera ut rosetterna jämnt fördelat på svansen och limma ihop dem två och två. Var försiktig med limpistolen så ingen bränner sig på det varma limmet!
Nu är svansen klar.
Så här ska undersidan av draken se ut när den är klar.
Placera ut ögon eller annan dekoration på ovansidan. Nu är det dags att provflyga!
———-
You will need: Heavy-weight patterned paper, two paper straws, scissors, a piece of yarn, a glue gun (or paper glue) and eye stickers or other decorations. Click here to download my template. 
Here's how: Start by printing the template and use it on your choice of paper.

Cut the paper straws to fit the kite from corner to corner in the shape of a cross. Cut the vertical straw into two parts, as shown in the pictures above.

Thread a piece of yarn through the lower vertical part of the paper straw. Make sure you have aproximately 1 meter (3.3 feet) of yarn at the center to use as line and about 25 cm (10 inches) of yarn for the bottom tail.

Glue the straws to the back of the kite. Put an extra dot of glue at the middle and at the bottom to secure the yarn.

Cut bows using the template you printed from the beginning. You'll need 8 pieces.

Place the bows evenly on the tail and glue them together in pairs. Be careful with the hot glue if you use a glue gun! 

Now the tail is complete.

Here's how the back of the kite will look like when it is finished.

Decorate the front of the kite with sticker eyes or other decorations. Now it's time to take the kite for a test flight!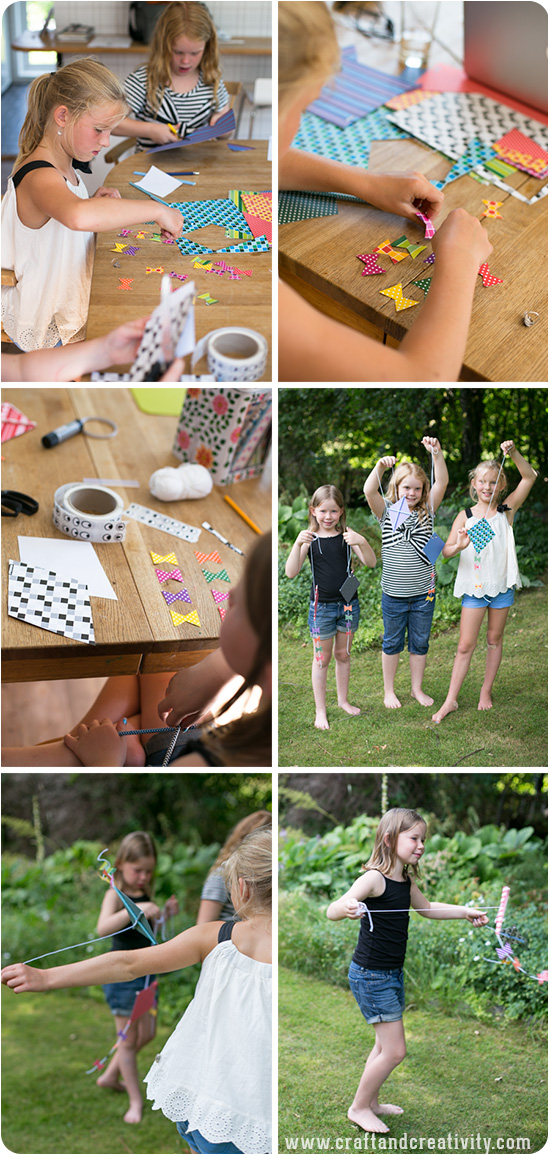 Barnen tyckte det var jätteroligt med drakarna, både själva tillverkningen och med provflygningen. Drakarna flyger inte så högt men med lite snurr, spring och hopp så blir det bra fart ändå. 🙂
——–
The kids had great fun with their kites, both making them and playing with them. The kites don't fly very high but with a little spinning, jumping and running they fly quite well. 🙂