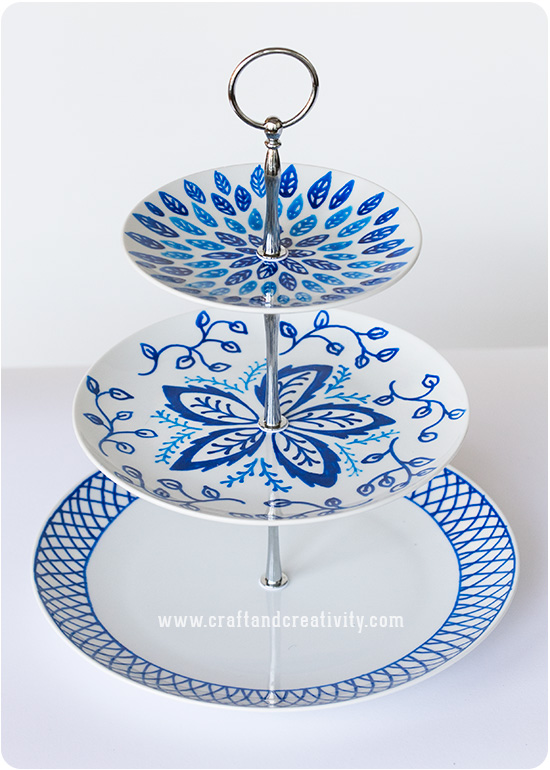 När vi hade vår senaste pysselträff hemma hos Pysselbolaget gjorde vi också egna kakfat. Jag målade mitt kakfat med porslinspennor. Kika in hos Karin & Freja för att se deras fina fat och hur de gick tillväga när de skapade dem. Efter att ha borrat hålen började jag måla på fri hand och hittade på mönstret allteftersom. Den här gången valde jag glas- och porslinspennor i två olika blåa nyanser eftersom jag ville efterlikna gammeldags porslin. Porslinsfärgen lät jag torka i 4 tim och härda i ugnen i 90 min i 160°C för att tåla disk. Sedan skruvade jag ihop kakfatet, vilket går på ett kick. Jag fyllde fatet med presenter till en god vän som fyllde 40 år och slog in hela kakfatet i cellofan. Tyvärr glömde jag ta kort på inslagningen.
———–
At our latest craft meet over at Pysselbolaget we also made our own cake stands. I painted my plates with porcelain markers. Click your way over to Karin & Freja to see their lovely cake stands and how they went about making them. After drilling holes in the middle of the plates, I painting them free-hand and came up with the pattern as I went along. This time I chose two shades of blue because I wanted to to resemble old-fashion porcelain. I let my plates dry for 4 hours and cured them in the oven for 90 minutes at 160°C. I then put everything together, which only takes a few minutes. I filled the cake stand with gifts for a dear friend of mine who turned 40 and wrapped the whole cake stand in cellophane. Unfortunately I forgot to take pictures of the wrapping.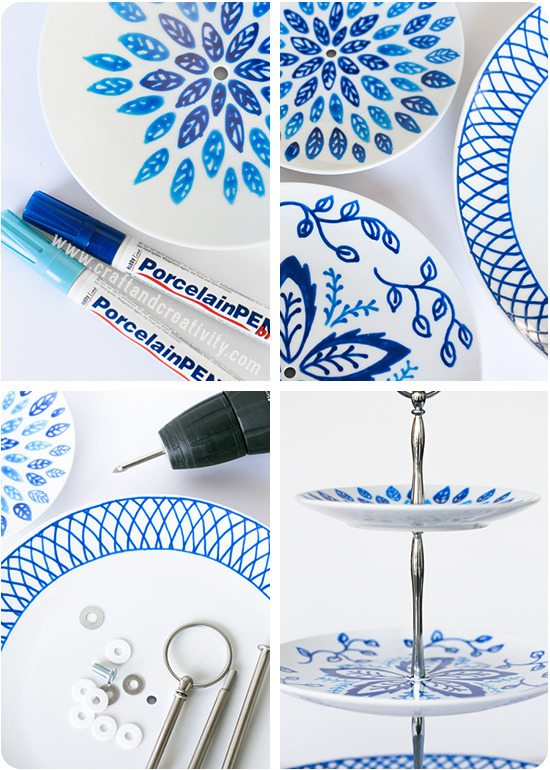 Det roligaste med att göra egna kakfat tycker jag är att kombinera, mixa & matcha olika fat och du kan använda nytt porslin, fat som du har hemma eller som du fyndat på loppis. Att borra i porslin är enklare än man tror men du behöver en särskild porslins- eller kakelborr som du sätter i din vanliga borrmaskin. Freja 10 år borrade t ex sina tallrikar själv.
———–
The best thing about making your own cake stands, I think, is to combine, mix & match different plates and you can use new porcelain, plates you have at home or ones you found at the flea market. Drilling in China is easier then you might think. You need a porcelain drill that you use in your regular drilling machine. Freja 10 years drilled her plates by her own. 
Mina tidigare blogginlägg som handlar om kakfatstillverkning och porslinsmålning:/
My previous blog posts about cake stands and porcelain painting: