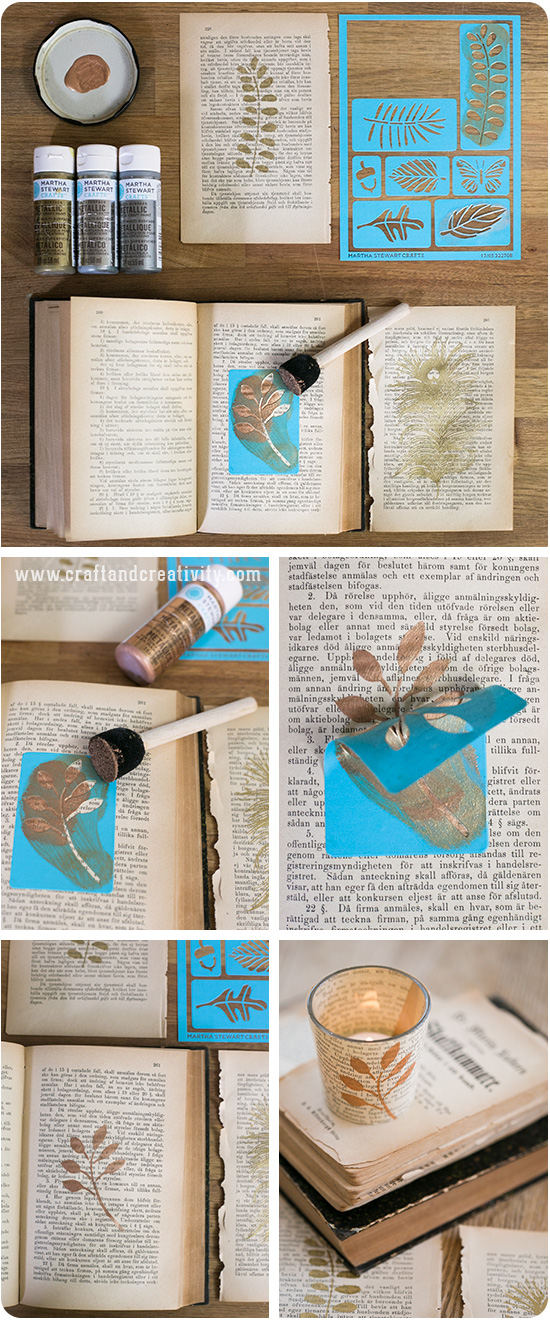 Jag har tidigare visat hur man kan använda stämplar på gamla boksidor. Nu har turen kommit till stenciltryck på papper. Stencilerna som jag har använt är lätt självhäftande för att enkelt kunna appliceras på t ex rundade glas-, tyg- trä eller plåtföremål men det fungerade även på papper. Var dock försiktig när du drar bort motivet så att inte papprets ytskikt följer med. I mitt fall var det inga problem och då använde jag ändå riktigt gamla böcker med poröst papper.
————
I have previously shown you how you can use stamps on old book pages. Now the turn has come to try stencil printing on paper. The stencils I used has adhesive backing and is therefor simple to apply on curved surfaces, such as glass, fabric, wood or tin but also works on paper. However, be careful when removing the stencil so that you don't damage the paper. In my case it wan't a problem even though I used really old books with porous paper.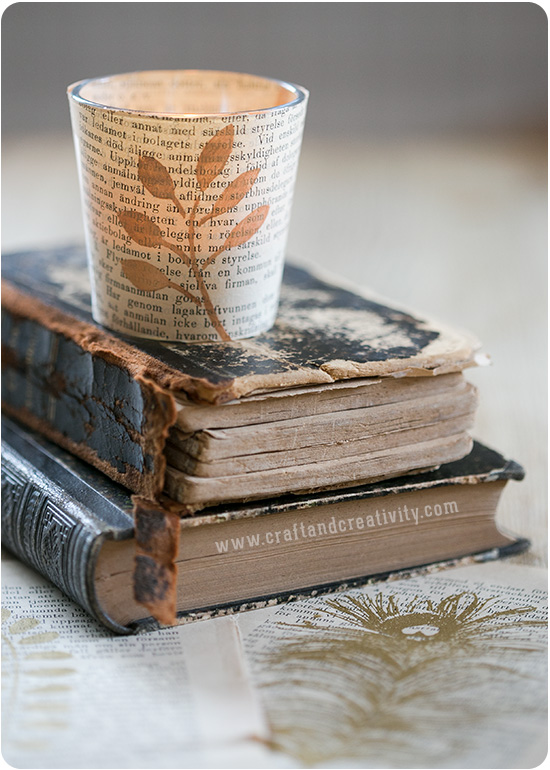 Till de flesta av mina stenciltryck använde jag metallicfärg. Guld- och kopparfärgen gav en vacker glans till trycken och jag tycker att den matchar fint med det lite gulnade pappret.
———–
For most of my stencil printing, I used metallic paint. The gold and copper paint gives a lovely shine to the prints and I think it goes well with the aged paper.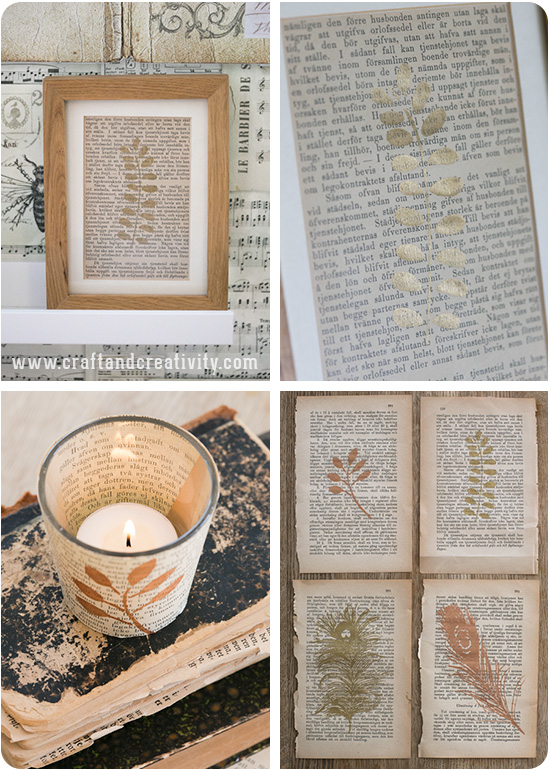 Jag använde mitt stenciltryckta papper till att täcka ljuslyktor av glas och några ramade jag in. Gamla böcker och lexikon är enkla att hitta på loppis för en billig peng. Mina höll på att ramla sönder så det kändes ok att använda dem. De sprider mer glädje på det här sättet.
———–
I used some of my stencil printed paper to cover votives and some I framed. Old books and dictionaries are easy to find at a flea marked at a low cost. My books were falling into pieces so it felt ok to use them. This way they spread more joy.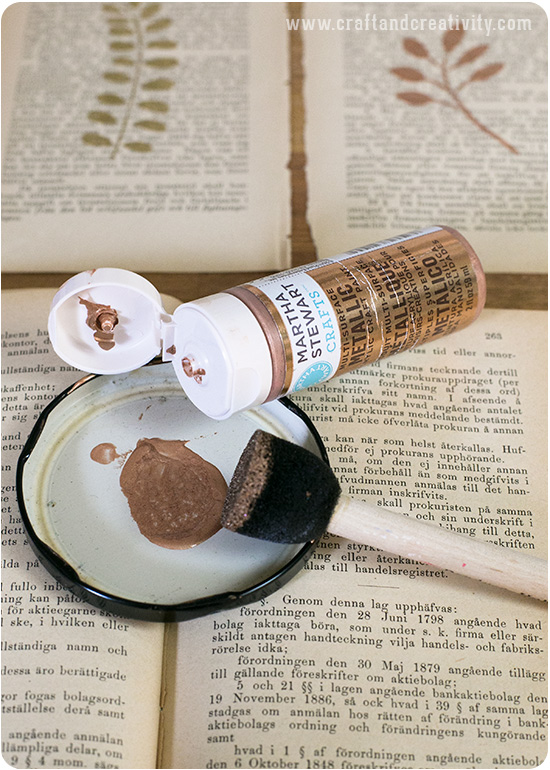 Jag brukar använda mig av gamla burklock som paletter. Det är en billig lösning som fungerar utmärkt. Om det blir rester av färgen kvar så kan man enkelt dra bort den när den torkat och återanvända locket om och om igen.
———–
I usually use old jar lids as palettes. It's a cheap solution that works great. If there is any residual paint left you can let it dry, peel it off and use the lid over and over again.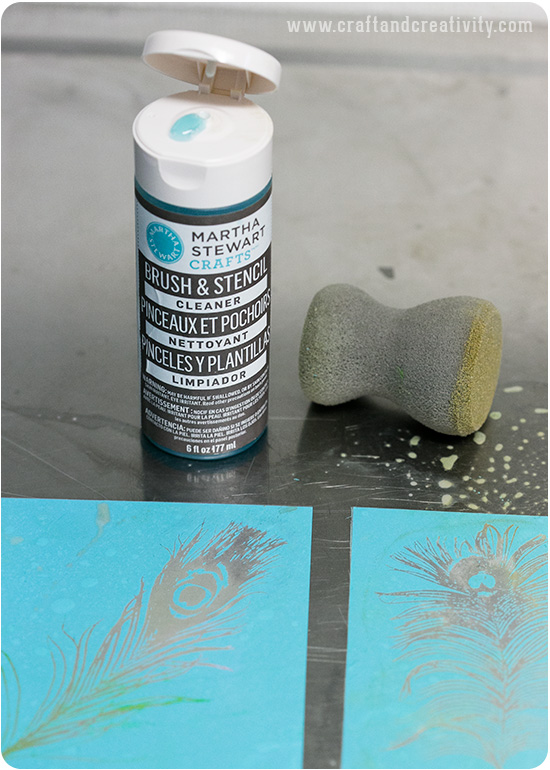 Stencilerna går att återanvända många gånger men ett tips är att göra rent stencilerna och svamparna på en gång efter att du använt dem. Det är extra viktigt när det gäller silkscreens eftersom de har små små hål som inte får täppas igen. Det finns speciell pensel- och stencilrengöring som är bra men det går även bra med vanligt vatten.
————
The stencils can be reused many times but I recommend that you rinse the stencils and pouncers immediately after use to remove excess paint. This is especially important when it comes to silkscreens because they have small holes that must not be clogged with paint. Use a special brush and stencil cleaner or plain water.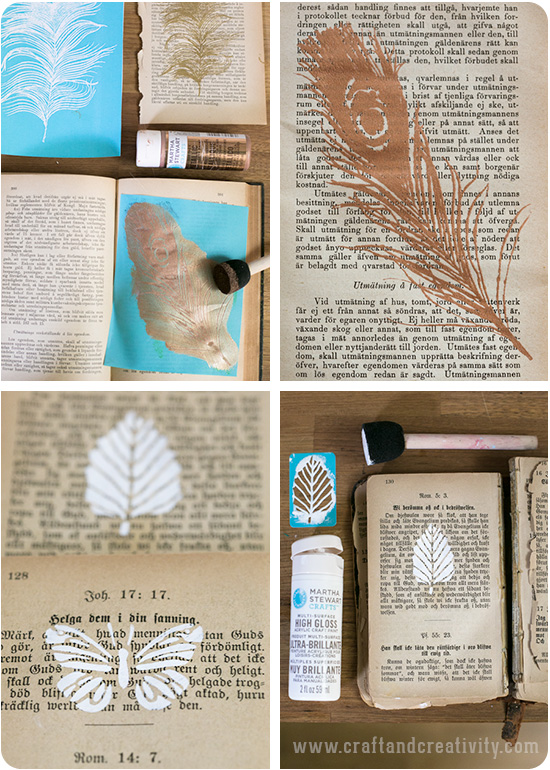 Ovan ser ni ett silkscreen-tryck av en påfågelfjäder. Silkscreens är mer detaljerade än vanliga stenciler. Se skillnaden mellan den detaljerade fjädern och den vita fjärilen, som är nog så fin men inte lika detaljerad. Jag använde en skumstencilpensel för att lägga på färgen men finns även bra duttsvampar.
————-
Above you can see a silkscreen print of a peacock feather. The silkscreens are more detailed then regular stencils. See the difference between the fine detailed feather and the white butterfly, which is really pretty but not as detailed. I used a stencil foam pouncer when applying paint but you could also use Foam Pouncers from Martha Stewarts Crafts for example.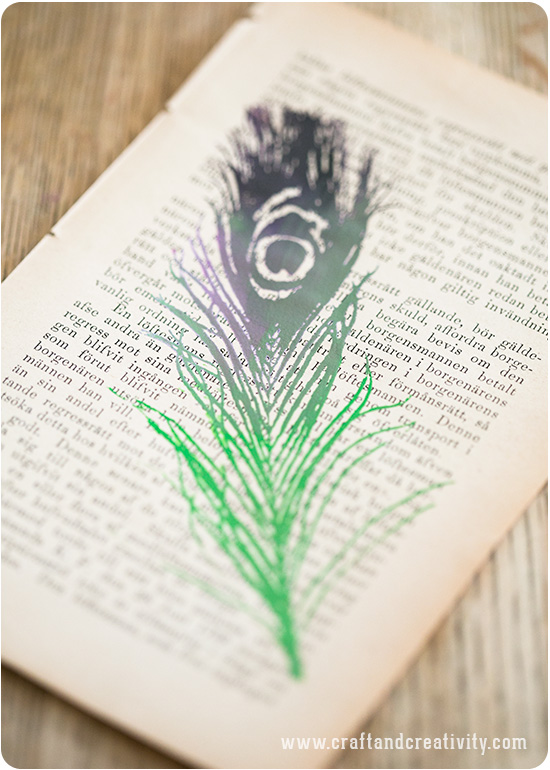 Det går också att mer färg förstås och även att blanda olika färger. Nedan ser ni ytterligare exempel på fina stenciler.
—————-
You can add more color and also mix different colors. Below you can see further examples of pretty stencils.