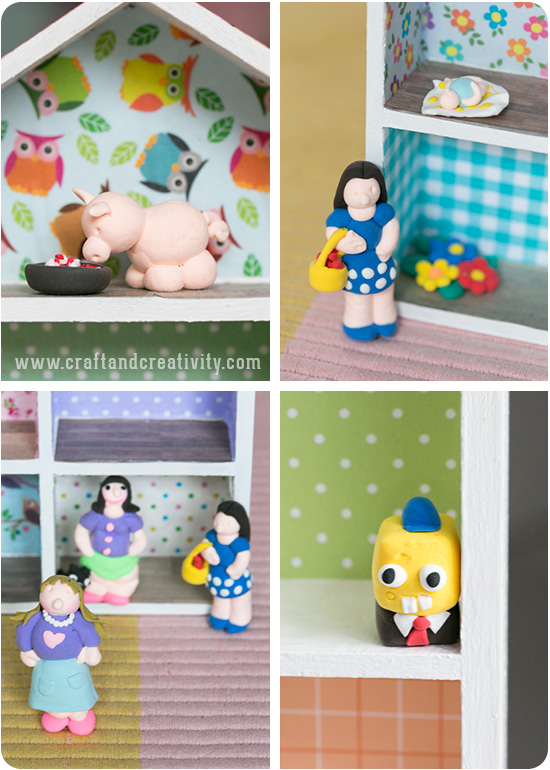 I våras dekorerade jag den här hushyllan till min yngsta dotter och nu har några lerfigurer fått flytta in. När jag var liten brukade jag och min mamma sitta vid köksbordet och lera med Cernitlera och nu sitter vi där igen men med sällskap av mina döttrar. Tre generationer pysslare som inspirerar varandra och har roligt. Vem vill spela på iPad när man kan lera med mormor? Leran som vi har använt heter Silk Clay och den skiljer sig från Cernitlera på så sätt att den är självtorkade, har en skumaktig konstistens och väger mycket mindre. Jag har visat den flera gånger förut, eftersom den används en hel del hemma hos oss.
———–
I decorated this house shelf for my youngest daughter last spring, and now a gang of clay figures has moved in. When I was a kid, my mum and I used to sit at the kitchen table and create with Fimo Clay and many years later here we are again, but now with the company of my two daughters. Three generations of crafters who inspire each other and have fun. Who wants to play on the iPad when you can create together with Grandma? The clay that we used is called Silk Clay and it differs from Fimo Clay in the way that it air dries, has a foamy texture and is very light-weight. I've blogged about it several times before since it's a favorite of ours.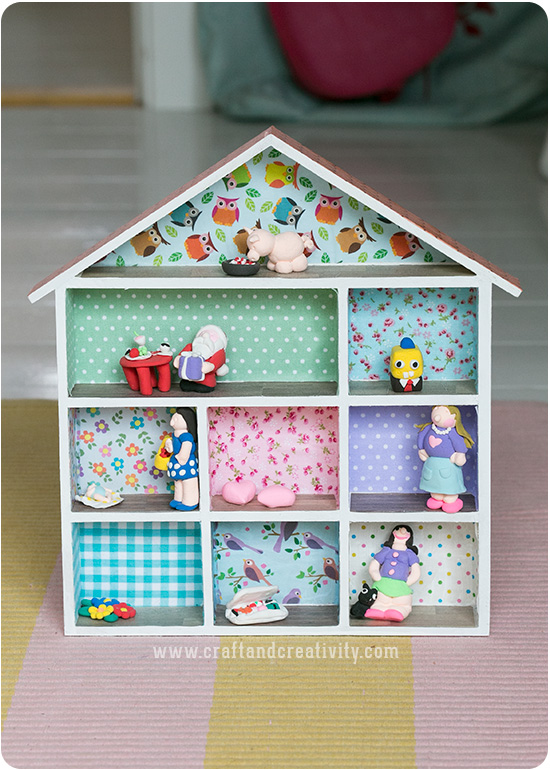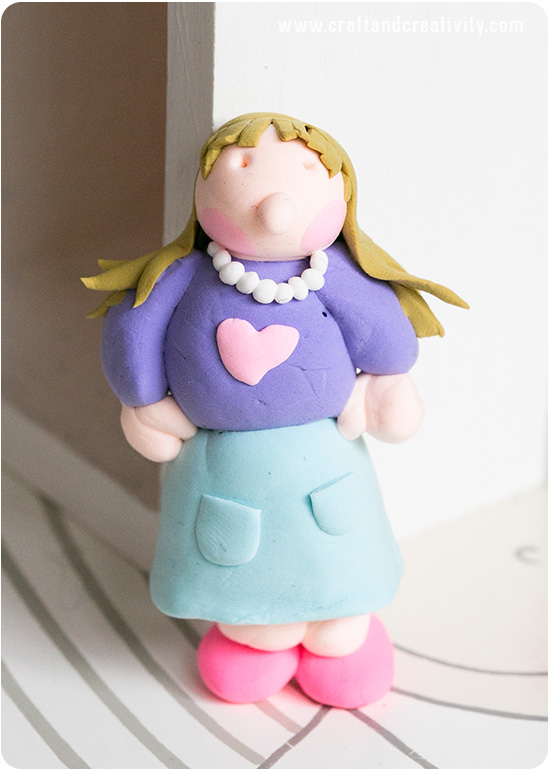 Silk Clay går att kavla ut eller platta ut med fingrarna och sedan klippa i för att få till detaljer som hår t ex. På grund av sin skumaktiga konsistens så sjunker leran ihop lite när den torkar, men behåller ändå formen förvånansvärt bra.
———–
You can flatten Silk Clay with a rolling pin or with your fingers and then cut it to make details like hair, for example. Because of its foam-like texture it can collapse a little bit when it dries, but I think it still keeps in shape surprisingly well.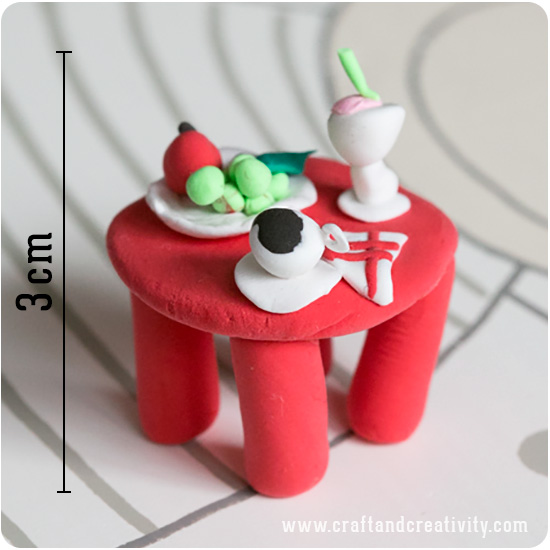 Du kan skapa riktigt små saker av Silk Clay, som det här minibordet som är dukat med eftermiddagsfika.
———
You can make really small objects with this clay, such as this mini table with afternoon tea.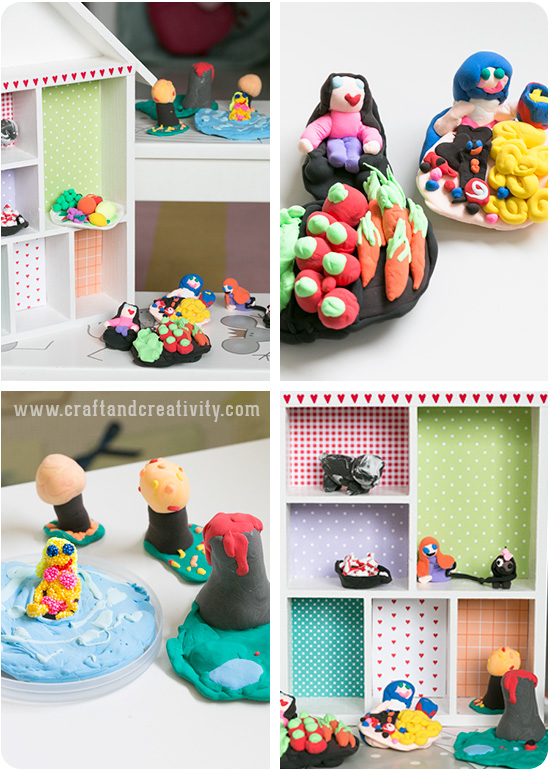 Barnens fantasi överträffar som alltid oss vuxnas och mina döttrar skapade marknadsstånd med grönsaker, lussebullar och pepparkakor samt en pool med vulkaner och exotiska träd runt. Underbart!
——–
As always, the children's imagination is so much greater then us adults' and my daughters made market stalls with vegetables, saffron buns, gingerbread and a pool with volcanos and exotic trees around. Wonderful!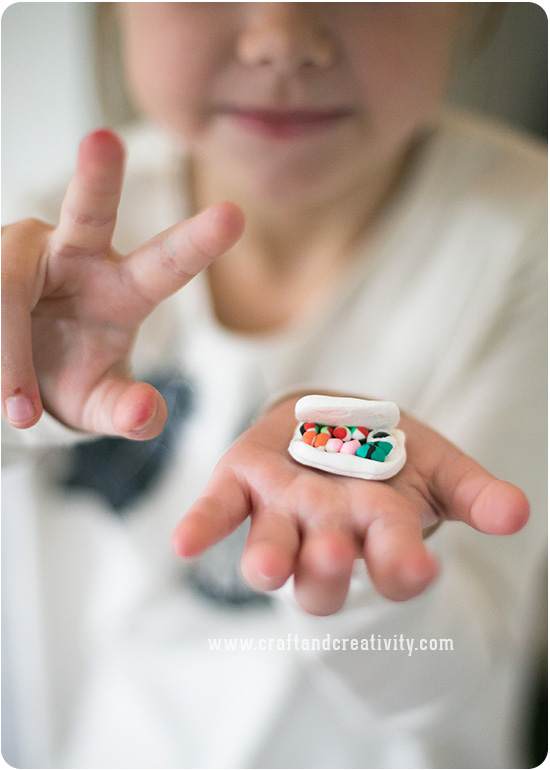 Extra stolt var sjuåringen över lådan med sushi som hon skapade! /
The seven-year-old was extra proud over the box of sushi that she made!