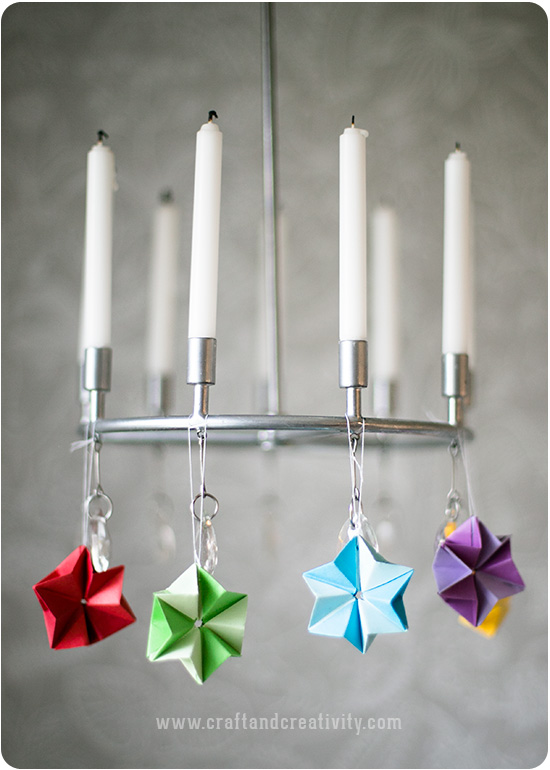 Vi har pysslat tillsammans med Pysselbolaget igen! Jag lärde mig vika dessa origiamistjärnor och Karin & Freja gjorde en annan fin variant som ni kan ta del av på deras blogg. De färgglada stjärnorna ovan är vikta av små origamipapper (5×5 cm), men jag gjorde även några varianter med papper från gamla böcker.
—————
We've been crafting together with Pysselbolaget again! I learned how to fold these origami ornaments and Karin & Freja made another version of paper stars that you can see over at their blog. The colorful stars above are made out of origami paper (5×5 cm), but I also made some out of pages from old vintage books.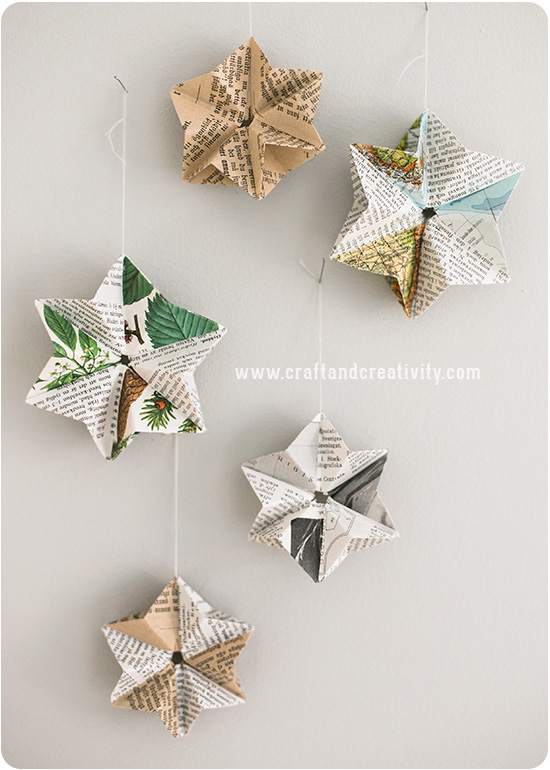 Inspirationen kommer från The Beat That My Heart Skipped där jag först såg denna stjärna (tack vare Karin! :-)). Stjärnan med beskrivning finns även på sajten Origami-fun där du hittar en mängd andra roliga origamimönster. Jag valde att vika mina stjärnor på ett lite annorlunda sätt och hur jag gick tillväga ser ni nedan.
—————
The inspiration comes from The Beat That My Heart Skipped where I first saw these stars (thanks to Karin! :-)). The tutorial can also be found at the site Origami-fun where you can find a variety of other fun origami instructions. I chose to fold my stars in a slightly different way and how I went about folding is illustrated below. 

1. Du behöver: 6 st lika stora och kvadratiska ark med papper. Här har jag klippt till papper som är 9×9 cm.
2-7. Vik första arket lodrätt, vågrätt och diagonalt åt båda håll. Veckla ut.
8. Vik in sidorna så att pappret ser ut som på bilden.
9. Upprepa steg 2-8 med alla 6 ark.
10. Sätt ihop två av dina vikta papper genom att stoppa två av den ena triangelns uddar in i två av flikarna på det andra triangeln.
11. Så här ska det se ut.
12. Nu kommer vi till det lite knepiga momentet, vilket innebär att du ska öppna upp mittendelen där de två trianglarna möts och pressa med fingrarna för att få till två vik och en kvadratiskt formad öppning.
13. Så här ska det se ut.
14. Bygg vidare din stjärna genom att addera en triangel i taget och upprepa steg 10-12 tills alla trianglar sitter ihop i ett stycke. Avsluta med att stoppa in flikarna från triangel nr 1 i öppningarna på triangel nr 6. Din stjärna är klar! Gör hål med en nål och trä i en tråd om du vill. Känns min beskrivning för otydlig så ta gärna en titt på The Beat That My Heart Skipped eller Origami-fun för att ta del av deras ritningar.
————–
1. You will need: 6 pieces of equal sized and square sheets of paper. Here I've cut pieces of paper that is 3.5″x3.5″ (9×9 cm). 
2-7. Fold the first sheet vertically, horizontally and diagonally in both directions. Unfold.
8. Fold in the sides so that the paper looks like the one in the picture above. 
9. Repeat steps 2-8 with all 6 sheets. 
10. Join two of your folded triangles by inserting two of the tips inside the tips of the other triangle. 
11. Now it should look like this. 
12. Now comes the tricky bit, which means you must open up the center part where the two triangles meet and press with your fingers to create two creases and a square opening. 
13. Now it should look like this. 
14. Continue building your star by adding one triangle at a time and repeating steps 10-12, until all six triangles are joined together. Finish off by inserting the two tips of triangle No.1 into the two remaining openings of triangle No.6. Your star is ready! If you like you can make holes with a needle and thread a string for hanging. If my tutorial feels a bit too vague, please pay a visit to The Beat That My Heart Skipped or Origami-fun for more information.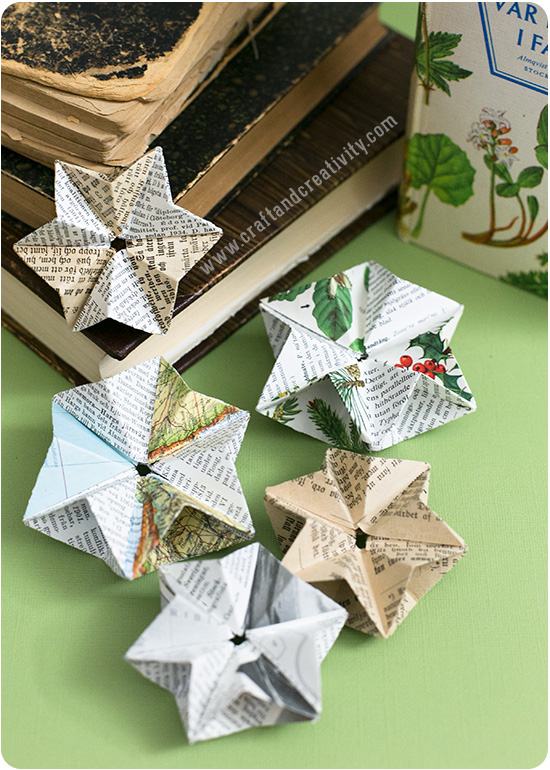 Jag tycker att är roligt att hitta olika sätt att få användning av gamla böcker som kartböcker, uppslagsböcker och floraböcker. Om du inte har några gamla böcker liggande hemma så går de att hitta billigt på loppis och antikvariat.
—————
I think it's fun to come up with different ways to make use of old books – like atlases, encyclopedias and botanical books. If you don't have any vintage books lying around, you can find cheap ones at flea markets and second hand shops. 
Fler exempel på pyssel med återvunna böcker och tidningspapper: /
More examples of crafts using recycled books and newsprint: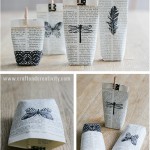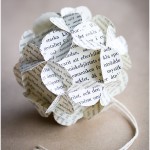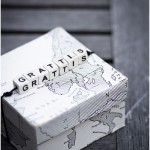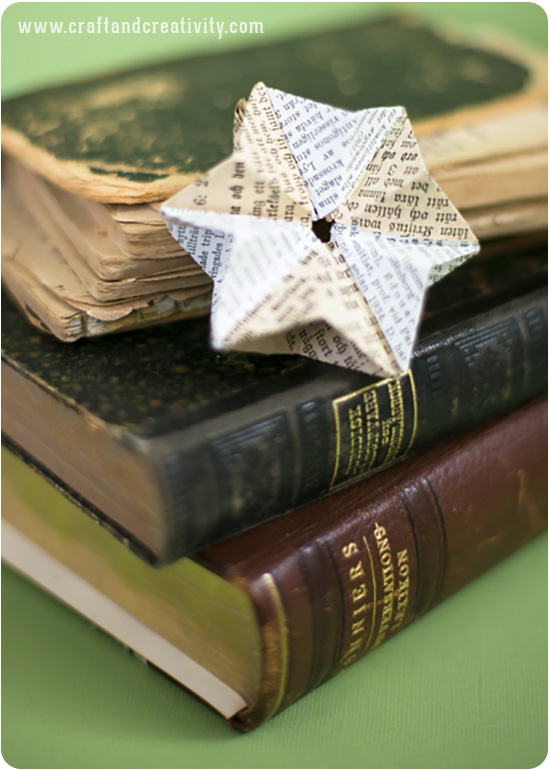 Att blanda två sorters papper och varva dem ger en fin effekt. Gammalt papper kan vara lite skört men så länge man är försiktig så går det oftast bra.
————-
Mixing two kinds of paper and layering them creates a pretty effect. Old paper can be a bit fragile but they usually work as long as your careful.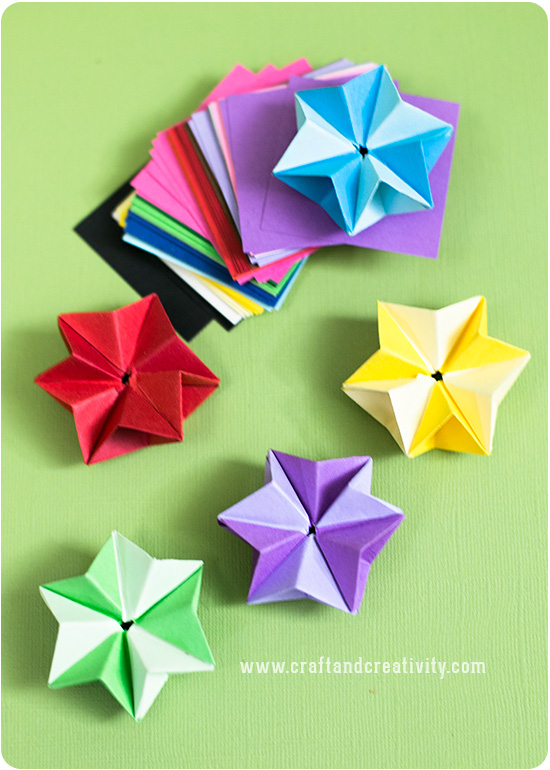 Det är dags för mig att ta lite ledigt över julhelgen och jag vill gärna passa på och önskar er alla en riktigt God Jul & ett Gott Nytt Pyssligt År! Julkalendern 25 kreativa dagar i december pågår ända fram till juldagen och den kan du följa på Facebook och Pinterest.
—————-
It's time for me to take some time off over the holidays and would like to take this opportunity to wish you all a very Merry Christmas and a Happy New and Creative Year! The Christmas calendar 25 Creative Days continues every day until Christmas Day and you can follow it on Facebook and Pinterest.