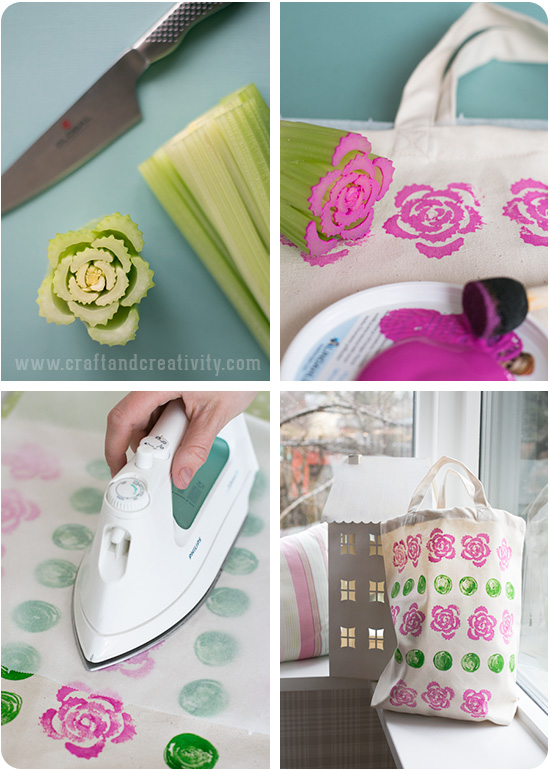 Med grönsaker och frukt kan du göra riktigt fina tygtryck på tygväskor, kuddfodral, kökshanddukar eller kläder. Visste du att stjälkselleri ser ut som en ros när man delar den? Här har vi använt snabbtorkande textilfärg och stämplat med stjälkselleri och purjolök på en textilkasse. Ett tips är att stoppa ett ark bakplåtspapper inuti väskan under tiden som du stämplar ifall färgen skulle blöda igenom tyget. När fägen har torkat (vilket vår färg gjorde på ca 10 min, men läs instruktionerna på burken) så strykfixerar du den med ett strykjärn för att väskan ska gå att tvätta utan att släppa färg. Lägg ett ark bakplåtspapper över det tryckta motivet när du stryker. Vänd väskan ut och in och stryk igen.
———–
With vegetables and fruit you can make the coolest fabric prints on tote bags, pillowcases, tea towels or t-shirts! Did you know that celery looks like a rose when you cut it? Here we used quick-drying fabric paint and made prints with celery and leek on a tote bag. Put a sheet of parchment paper inside the bag while you stamp in case the paint bleeds through the fabric. When the paint has dried (our paint dried in about 10 minutes, but make sure to read the instructions on your bottle) you can het-set it with an iron to make the bag washable. Cover the print with a sheet of parchment paper when you iron. Turn the bag inside out and iron one more time.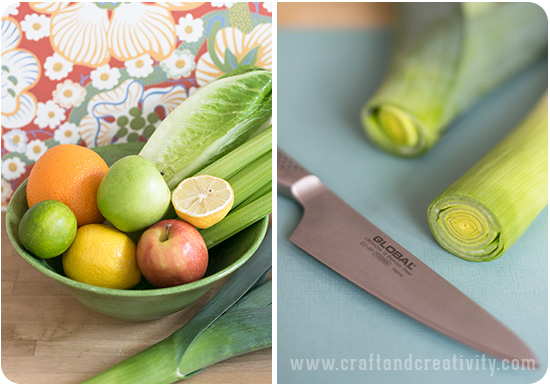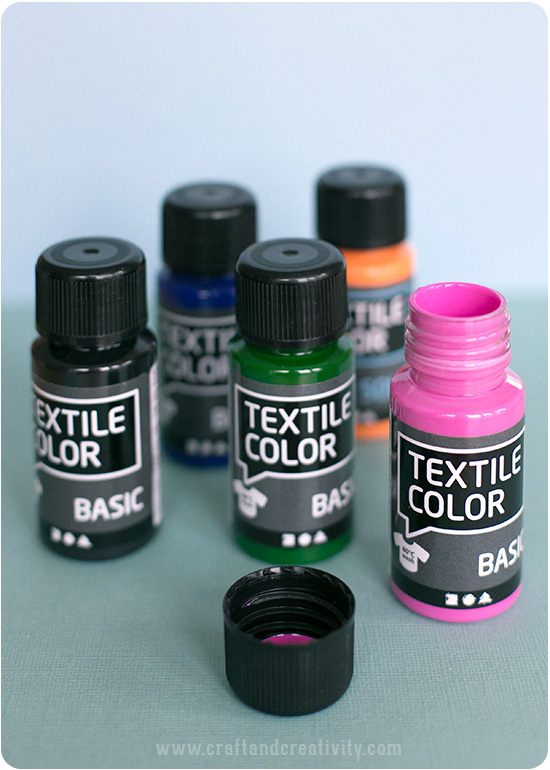 Du behöver: Textilfärg i olika nyanser, något att trycka på (t ex tygväska, kuddfodral, kökshandduk, förkläde, t-shirt eller grytlapp), grönsaker och/eller frukt (t ex stjälkselleri, purjolök, vitkål och äpplen), ett par ark bakplåtspapper och ett strykjärn. Jag brukar hälla upp lite färg i taget på ett gammalt burklock och använda en skumstencilpensel när jag applicerar färgen på tryckytan.
———-
You will need: Fabric paint, something to print on (e.g. a tote bag, pillow case, tea towel or t-shirt), vegetables and/or fruit (e.g. celery, leek, cabbage and apples), a couple of sheets of parchment paper and an iron. I like to pour a bit of paint at a time on an old jar lid and use a foam brush when applying paint to the printing surface.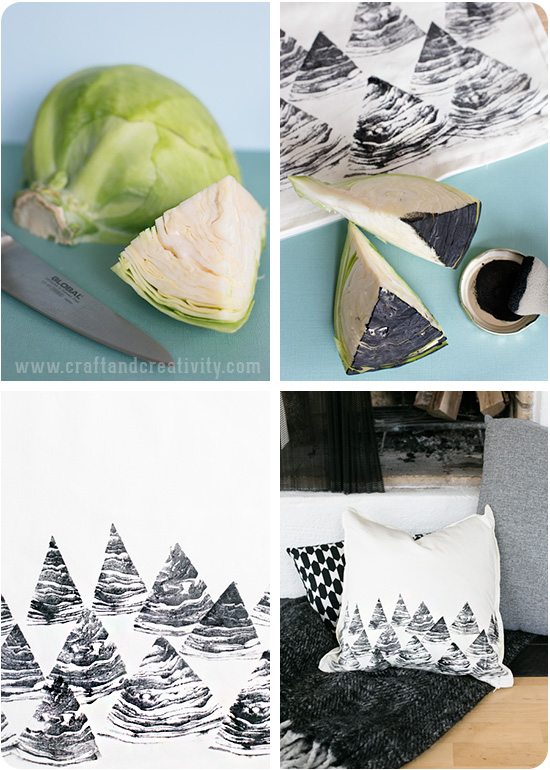 Vitkål ger också häftiga mönster och när vi tryckte dem med svart färg ser de nästan ut som bergstoppar! Vi valde att skära vitkålen i olika stora trianglar och trycka dem på ett naturfärgat kuddfodral från Ikea.
———-
Cabbage also makes cool printing patterns and together with black paint they almost look like mountain tops. We chose to cut the cabbage into different sized triangles and made prints on pillow cases from Ikea.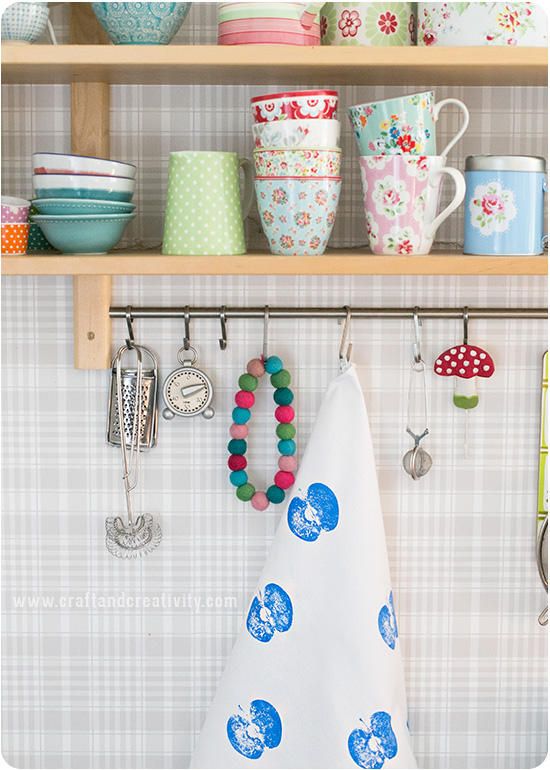 En klassisk frukt att göra textiltryck av är äpplen! Vi tyckte att äpplen passar på en kökshandduk och våra fick en klarblå färg. Kökshandduken pryder nu sin plats i vårt kök.
———–
A classic fruit to make textile prints with are apples! We thought that apples would look great on a kitchen towel and chose a clear blue color. The towel fits perfectly in our kitchen.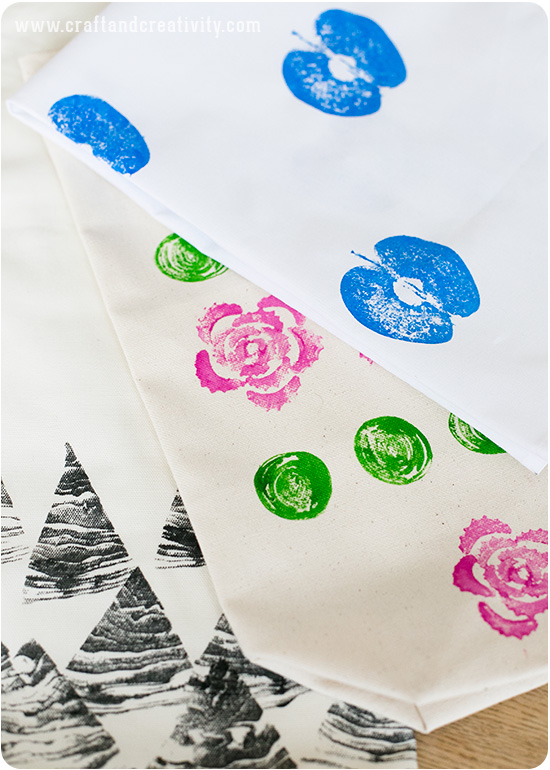 Andra grönsaker som kan vara roliga att testa textiltryck med är t ex paprika, potatis och majskolvar. De delar av frukten och grönsakerna som du inte använt till att stämpla med kan du givetvis äta upp!
———-
Other vegetables that can be fun to use for fabric prints are peppers, potatoes and corn-cobs. When your done you can eat the parts of the vegetables or fruit that you haven't used to print with.