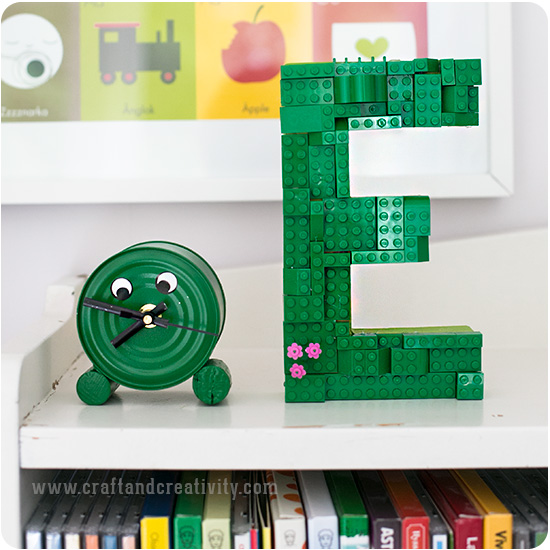 Gör en söt klocka av en gammal konservburk och med vinkorkar som ben! Det är enklare än du tror och återbrukspyssel är alltid extra roligt tycker vi! Scrolla ner för vår steg-för-steg beskrivning. Vår klocka matchar legobokstaven som vi gjorde för några veckor sedan.
————
Make a cute clock out of a tin can and a couple of wine corks! It's easier than you might think and recycling crafts are always extra fun! Scroll down for our step-by-step tutorial. Our clock matches the Lego letter we made a few weeks ago.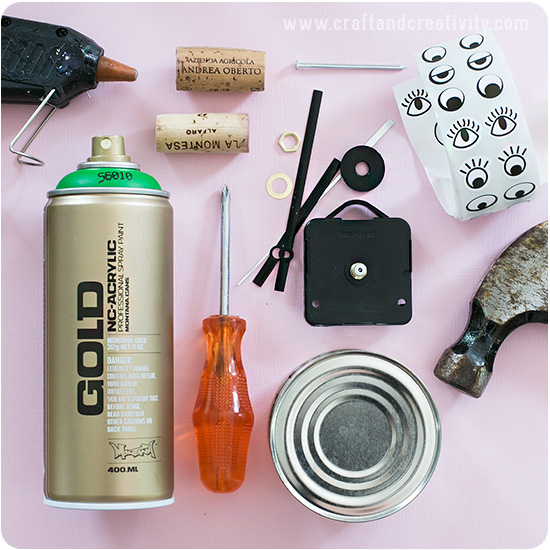 Du behöver: En limpistol, sprayfärg, 2 st vinkorkar, en skruvmejsel, en tjock spik, ett urverk, en låg konservburk (t ex en ananasburk), ögonstickers och en hammare. Du behöver även vanliga AA-batterier till klockan.
———–
You will need: A glue gun, spray paint, two wine corks, a screwdriver, a thick nail, a set of clockwork mechanicals, a tin can (ours has contained canned pineapple), eye stickers and a hammer. You also need batteries for your clock to work.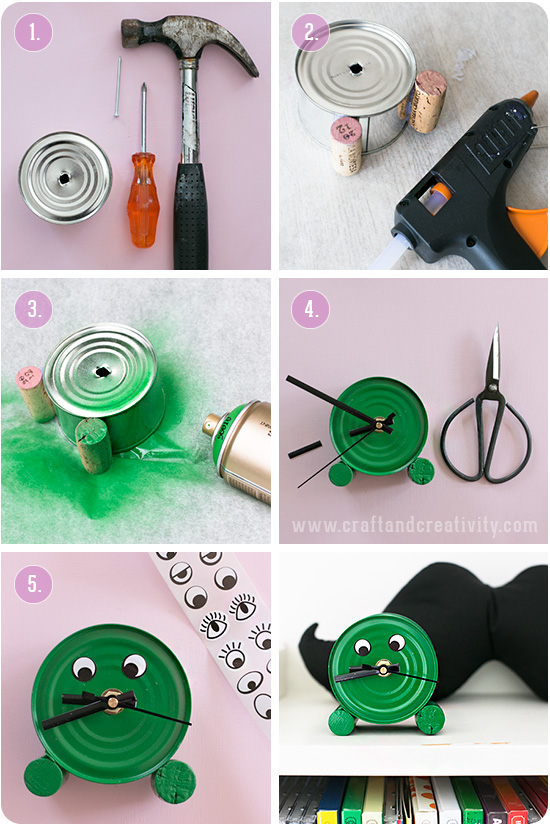 Gör så här: Gör ett hål i mitten av konservburkens botten med en hammare och en spik. Använd skruvmejseln för att få hålet lagom stort för att kunna montera urverket. Limma fast vinkorkarna som bildar ben och stöd för klockan. Dags att spraymåla. Gör det utomhus och lägg gärna ett skyddande papper under (t ex tidningspapper eller bakplåtspapper). Låt färgen torka. Klipp av visarna med en vass sax så att de blir lagom långa. Sätt dit ögon om du vill och din klocka är klar!
———-
Do like this: Make a hole in the middle of the tin can bottom using a hammer and a nail. Use the screwdriver to make the hole big enough for the clockwork. Glue the wine corks in place. The legs will support the clock. Time to spray paint. Go outside and make sure to put protective paper underneath (eg newspapers or parchment paper). Allow the paint to dry. Trim the pointers with a scarp pair of scissors to get them the right length. Add eyes if you like and your clock is ready to be used!