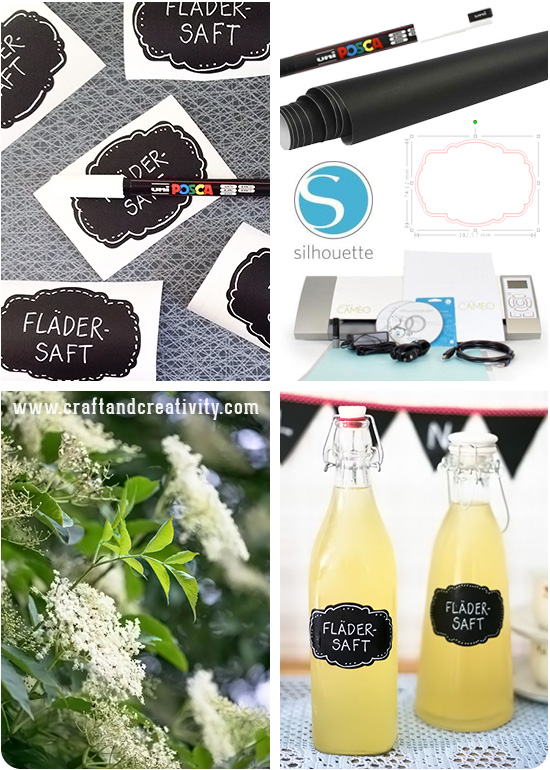 I vår trädgård växer ett stort fläderträd och i år blommande det ovanligt rikligt. Min svägerska och jag har gjort två dubbla omgångar med läskande fläderblomssaft för varma sommardagar. Ärligt talat gjorde nog svägerskan det största jobbet, men jag gjorde i alla fall etiketterna! 🙂 Jag passade på och testade en skärmaskin som jag lånat som heter Silhouette Cameo®. Skärmaskinen skär i allt möjligt, som t ex papper, kartong, dekorplast, värmetransfer (för tryck på kläder), tyg, tatueringspapper och magnetark.
————
We have a large elder tree growing in our garden and this year it bloomed very heavily. My sister-in-law and I made two double batches of refreshing elderflower cordial for hot summer days. Or to be honest with you, my sister-in-law did most of the work… but at least I made pretty labels! 🙂 I took the chance to try the cutting machine I just borrowed, called Silhouette Cameo®. The Cameo cuts many different materials, such as paper, cardboard, vinyl, heat transfer, fabric, tattoo paper and magnetic sheets.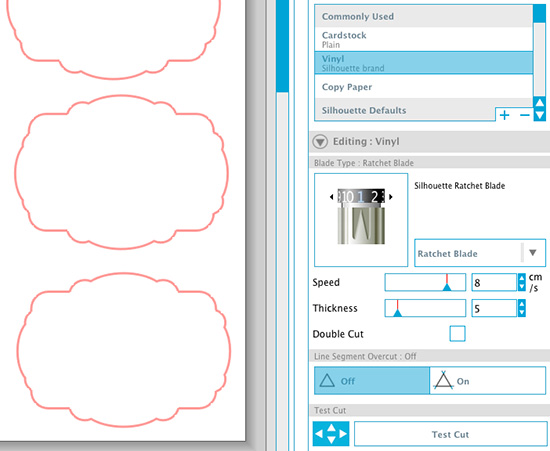 För detta projekt använde jag tavelfolie och klippte bredden till det mått (30,5 cm) som passar i maskinen. Man ställer in Silhouette Cameo skärmaskinen så att den skär genom själva materialet men inte igenom skyddspappret, vilket är väldigt praktiskt! För tavelfolien ställde jag in kniven på 1 och tjockleken på 5, men det varierar säkert beroende på hur ny och skarp kniven är (och vilken typ av tavelfolie). Det enklaste är att göra ett s k "Test cut" innan man skär på riktigt. Silhouette Cameo är en väldigt fiffig och rolig maskin och det medföljer även ett program som heter Silhouette Studio. Där ingår ca 50 gratismotiv men man kan även ladda ner tiotusentals andra skalbara mönster. Jag hittade etikettmallen där, den kostade $0.99 (drygt 7 kr) och jag kan använda den hur många gånger jag vill. Det går även utmärkt att göra egna motiv. Jag är inte sponsrad av Silhouette. 🙂 Du kan givetvis klippa ut etiketterna för hand också!
————
For this project, I used blackboard vinyl and trimmed the width to fit the machine (12″ / 30,5 cm). The Silhouette Cameo is set to cut through the material but not the backing paper, which comes very handy! For this blackboard vinyl I set the Silhouette Ratchet Blade to 1 and the thickness to 5, but I think the best setting varies depending on how new and sharp the blade is (and what brand of blackboard vinyl you're using). The best thing to do is to make a so called Test Cut before cutting your actual project. The Silhouette Cameo is a very fun and useful machine and it comes with a program called Silhouette Studio. It includes about 50 free designs and there are thousands of designs to download. That was where I found the label template, it cost me $0.99 and I can use it as many times as I like. You can also make your own designs. I'm not sponsored by Silhouette. 🙂 Instead of using a machine you can cut the labels by hand!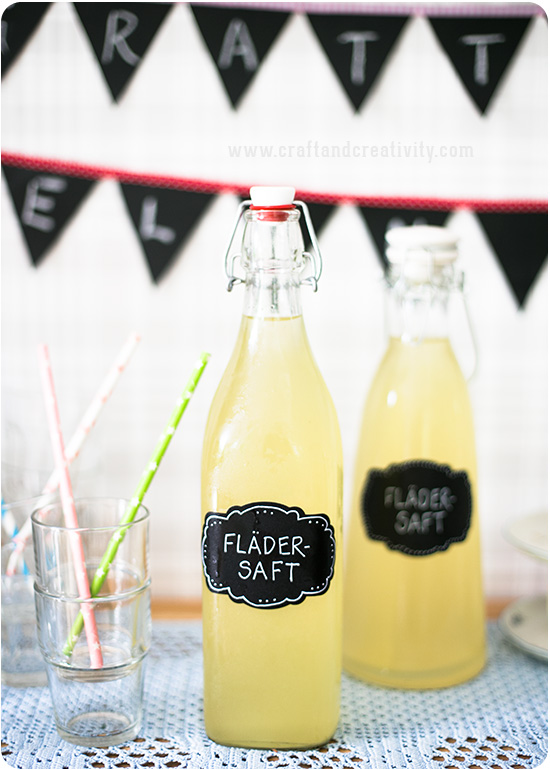 Efter att jag skurit ut etiketterna skrev & ritade jag på dem med en permanent vit Uni Posca Marker. Vill man kunna sudda texten använder man en Chalk Marker eller tavelkritor istället. Vimplarna i bakgrunden tillverkade av tavelfolie och tygtejp till förra sommaren kalas och i år fick vi användning för dem igen.
———–
After I cut the labels I drew and wrote on them with a thin white Uni Posca Marker. If you want to be able to erase the text you can use a Chalk Marker or regular chalks instead. The pennants in the background are made of blackboard foil and fabric tape. I made them for last summer's birthday parties and had great use for them again this summer.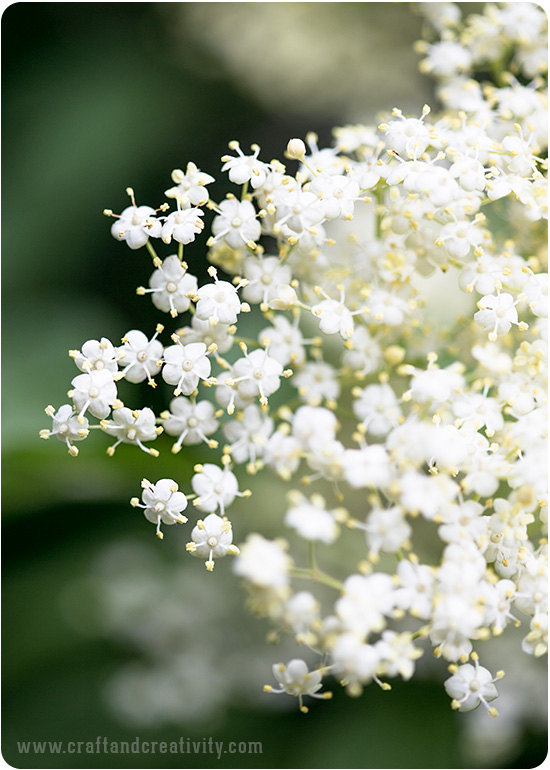 I många delar av landet har flädern antagligen redan blommat klart men här kommer ett recept för kommande år:
Recept på fläderblomssaft (ca 2,5 liter saftkoncentrat)
40 klasar fläderblommor
3 citroner
1,5 liter kokande vatten
1,5 kg strösocker
50 g citronsyra
Gör så här: Plocka 40 klasar fläder. Se till så att du plockar rätt sorts fläder. Flädern man gör saft av har platta blomklasar och svarta bär. Druvfläder (s k falsk fläder) har mer runda blomklasar och röda bär. Lägg klasarna i en hink eller en stor kastrull. Vi brukar inte klippa av blommorna utan använder hela klasarna. Skölj citronernas skal noga, skiva citronerna och lägg dem tillsammans med blomklasarna. Koka upp vatten i en kastrull, dra bort kastrullen från den varma plattan och blanda i sockret. Rör tills det har smält. Häll i citronsyran och rör om tills det lösts upp. Häll sockervattnet över blomklasarna och citronskivorna. Täck hinken/kastrullen och låt stå svalt i 3 dygn. Lägg en ren kökshandduk eller liknande i en stor sil och sila saften genom. Släng blommorna och småbitarna som blir kvar i kökshandduken. Använd en tratt och häll upp saften i väl rengjorda flaskor. Sätt på etiketter och förvara flaskorna i kylen. Saften går också bra att frysa. Blanda saften med ca 1 del saft och 5-7 delar vatten beroende på hur stark du vill ha den. Njut!
———
Recipe for elderflower cordial (about 2.5 liters)
40 fresh elderflower heads
3 lemons
1.5 liters (6 cups) boiling water
1.5 kg (3.3 lbs) white sugar
50 g (2 oz) citric acid
Method: Pick 40 elderflower heads. Make sure you pick the right sort. The elderflowers you make lemonade out of has flat flower heads and black berries. Red elderberry has round flower heads and red berries. Put the flower heads in a bucket or a large bowl. Rinse the lemon thoroughly, slice it into rounds and put the slices together with the elderflower. Boil water, pull the pan from the hot plate and add the sugar. Stir until the sugar has melted. Add citric acid and stir until dissolved. Pour the sugar water over the elderflower and lemon slices. Cover the bucket/bowl and let it rest in a cool place for 3 days. Line a strainer with a clean tea towel or similar and strain the cordial through. Discard the flowers and bits left in the towel. Use a funnel and pour the cordial into sterilized bottles. Put on the labels and store the bottles in the fridge. It's also possible to freeze the cordial. Make yummy lemonade by mixing 1 part cordial and about 5-7 parts water, depending on how strong you want it. Enjoy!