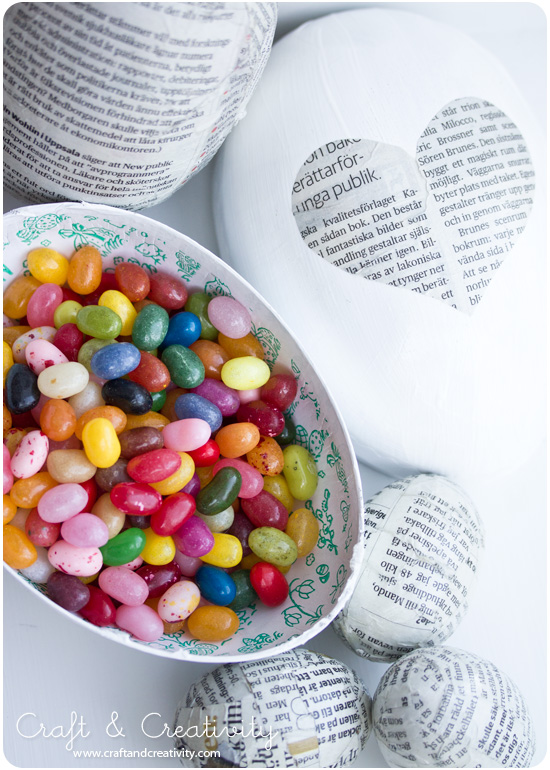 Påskägg är en viktig del i vår familjs påskfirande och det är inte bara barnen som förväntar sig ett ägg fyllt med godsaker under kudden på påskaftons morgon. 😉 Istället för att köpa nya ägg år för år fick jag idén att återvinna gamla påskägg men ge dem ett nytt utseende.
————-
Candy filled easter eggs are an important part of our family's Easter celebration and it's not just the kids who expect an egg filled with sweets under their pillow on Easter Eve morning. 😉 Instead of buying new eggs every year, I got the idea to recycle old Easter eggs but give them a new look.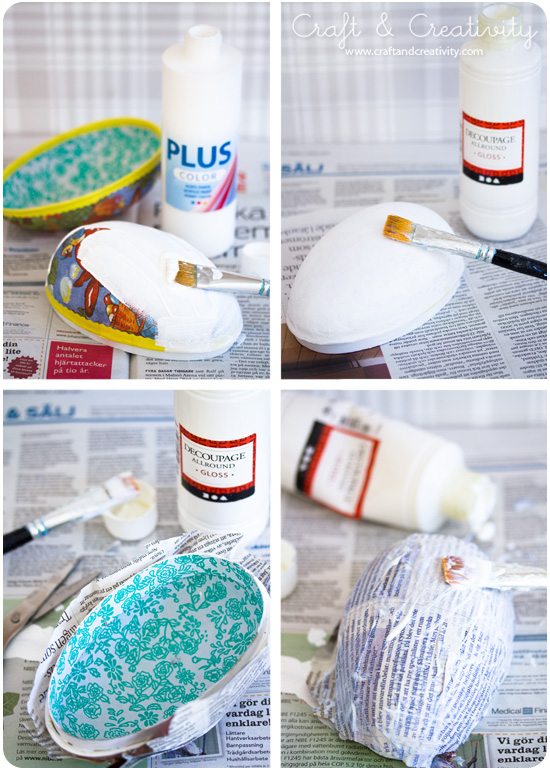 I förrådet har vi en hel plastback full med påskägg från många påskar tillbaka. Jag valde ut ett par av dem och gav dem en riktig make-over. Först och främst målade jag dem med vit hobbyfärg, i mitt fall Plus Color hobbyfärg eftersom den täcker bra och torkar fort. Två lager färg blev lagom. När färgen torkat penslade jag på ett lager decoupagelack. Jag klippte ut en stor bit tidningspapper och klädde ägghalvorna var för sig (remsor eller småbitar av papper fungerar också). Sedan penslade jag ytterligare ett lager decoupagelack på ytan. För att släta till papperet drog jag med fingrarna över ytan. Kladdigt men effektivt! Jag avslutade med att klippa bort överflödigt papper.
——————
In our basement we have a whole box filled with Easter eggs from many Easters past. I picked out a couple of them and gave them a real make-over. First, I painted them with white hobby paint. Two coats did the trick. When the paint had dried, I brushed on a layer of decoupage glue/lacquer (you could also use Mod Podge). I cut out a big piece of newspaper and dressed each half of the eggs separately with the paper (you could also try strips or small pieces of newspaper). When I was done with that, I used the brush to add another coat of decoupage on top. To smooth the paper out, I drew with my fingers over the surface. Messy, but effective! I finished off by cutting away the excess paper.
Ett av äggen täckte jag bara delvis med tidningspapper. Jag klippte ut ett hjärta, penslade på decoupagelack på mitten av ägget, placerade dit hjärtat och lackade ovanpå. En annan idé som jag inte hann testa nu var att dekorera de vitmålade äggen med vattenfärg eller tuschpennor t ex. Kan bli hur fint som helst! Något för det traditionsenliga familjepysslandet på påskafton, eller vad säger du mamma? 🙂
————
I chose to cover one of the eggs only partially with newspaper. I cut out a heart, brushed decoupage on the center of the egg, place the heart there and added a coat of decoupage on top. Another idea I had (but didn't have time to try) was to decorate the white painted eggs with watercolor or markers, for example. Could look very nice! Something for our Easter Eve traditional family crafting, don't you think mom?  🙂