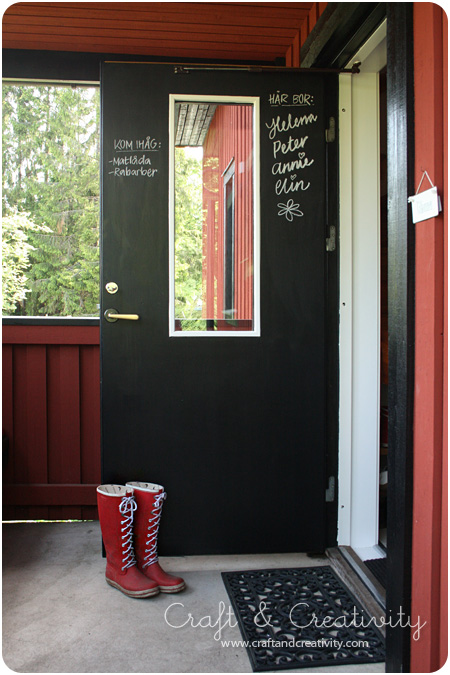 När vi flyttade in i vårt hus för snart fyra år sedan var hallen bland det första vi gjorde om. Den var så väldigt mörk med orange tapet, grön bröstpanel, brunt golv, furutrapp och en ytterdörr i gulnat trä. Vi visste inte riktigt hur vi ville ha det, så vi målade vitt. Förutom dörren, för den hade jag en idé om att jag ville måla i svart griffeltavlefärg. Så fick det bli. Där kan vi skriva små meddelanden till varandra och kom-ihåg-listor.
When we moved into our house almost four years ago, the entrance was among the first things we redecorated. It was very dark with orange wallpaper, green paneling, brown carpet and a timeworn front door. We did not know exactly how we wanted it, so we painted everything white. Except the door, since I had an idea that I wanted to paint it in black chalkboard color. So we did and it's now a great place to write short messages to each other and to-do lists.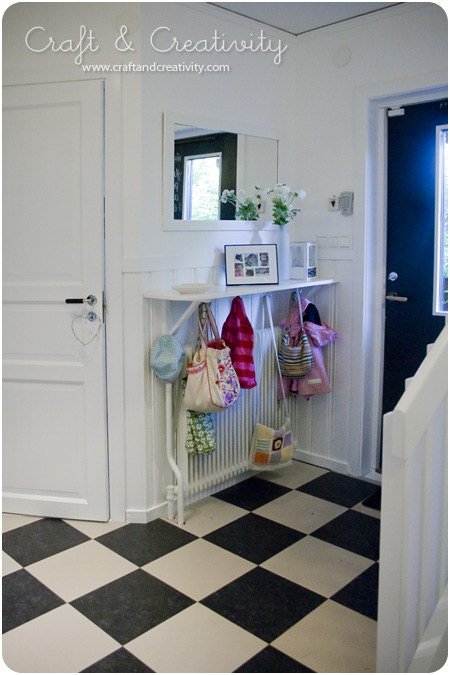 På den här sidan finns massor med tips på olika pyssel man kan göra med griffeltavlefärg. Pysseldrottningen Martha Stewart har en bra beskrivning på hur man gör egen griffeltavlefärg och i olika nyanser, inte bara i svart. Karin på Ellas Inspiration målade en egen griffeltavla i miniformat häromdagen, kika i hennes blogg. Vill ni ha ännu mer inspiration så gå in på Flickr där finns det flera roliga grupper för idéer kring griffelfärg, se här och här t ex.
Here you can find a lots of ideas on how to use chalkboard paint. Martha Stewart, Queen of Crafts, has a simple DIY on how to make your own chalkboard paint and how to make it different colors, not only in black. Karin of Ellas Inspiration painted her own mini chalkboard the other day, take a look at her blog. If you want even more inspiration, visit Flickr where there are several fun groups for ideas on chalkboard color, see here and here for example.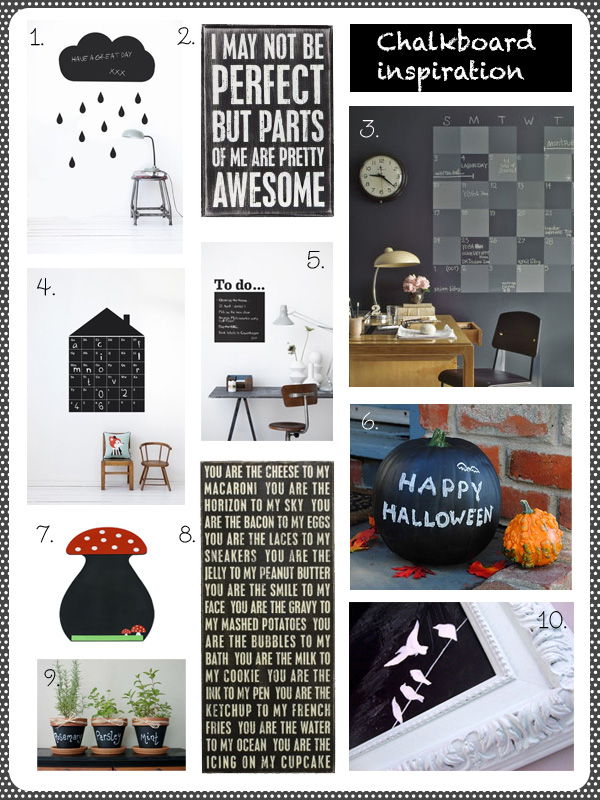 Eget collage med följande produkter/bilder:
1. Wallsticker, "Cloud" från Ferm Living, 2. Tavla, "I may not be perfect" från Patina Stores, 3. Griffeltavlekalender, gör-det-själv beskrivning från Martha Stewart, 4. ABC-hus, Ferm Living, 5. Wallsticker, "To Do" från Ferm Living, 6. Måla en pumpa till Halloween/Allhelgona, beskrivning från Zakka Life, 7. Flugsvampsformad griffeltavla från Magic Cabin, 8. Tavla, "You are the cheese" från Patina Stores, 9. Måla lerkrukor, beskrivning från Factory Direct Craft, 10. Chalkboard Art från Minthome, Etsy.