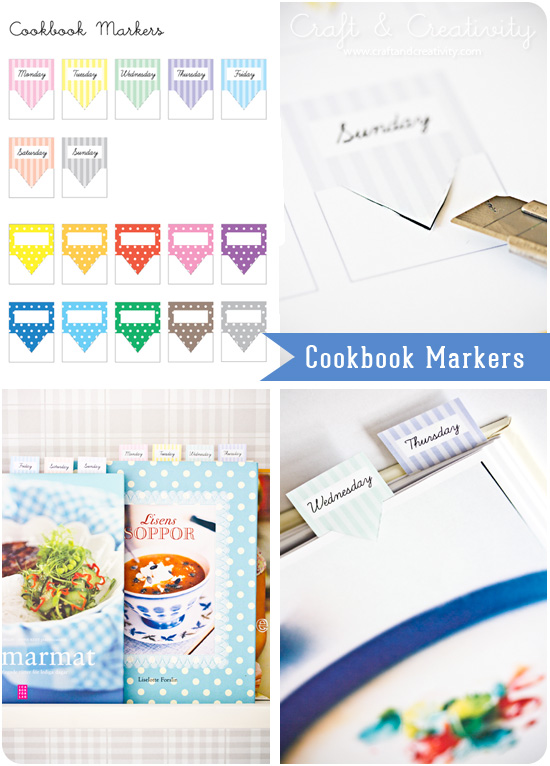 Min kreativa mamma kläckte idén för ett tag sedan att man borde kunna göra bokmärken för kokböcker, med alla veckans dagar på. Med hennes tillåtelse (puss mamma!) har jag utvecklat denna tanke och gjort en mall som ni kan ladda ner och skriva ut om ni vill.
—–
I while back my creative mother got this great idea for cookbook customized bookmarks, tagged with weekday names. With her permission (thanks mum!), I have developed this idea and made a template for you to download and print if you wish.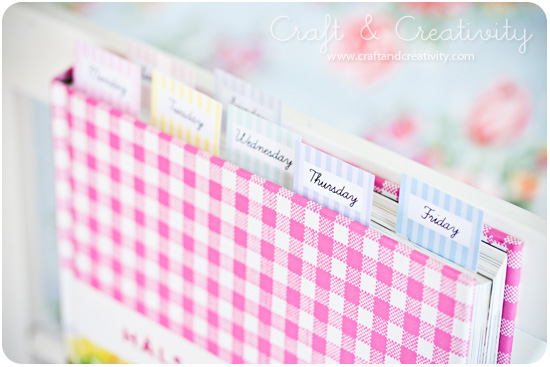 Ladda hem pdf för utskrift (svensk text) / Download pdf for printing (English text)
Mallen är gratis men får endast användas för privat bruk. / Free for personal use only.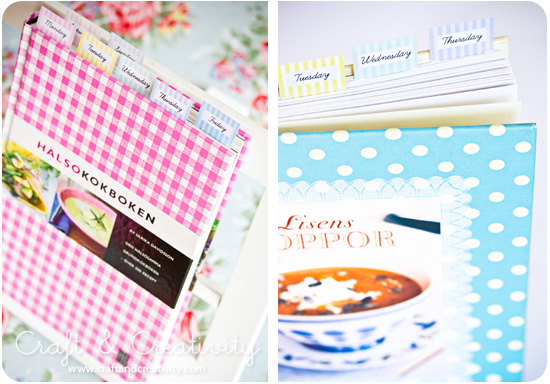 Spara pdf-mallen på din dator, skriv ut på lite tjockare papper (jag valde fotopapper) och klipp ut bokmärkena. Använd en vass kniv och skär ett "V" efter den streckade linjen. /
Save the PDF template on your computer, print on heavyweight paper (I chose photo paper) and cut out the bookmarks. Use a hobby knife and cut along the "V-shaped" dotted line.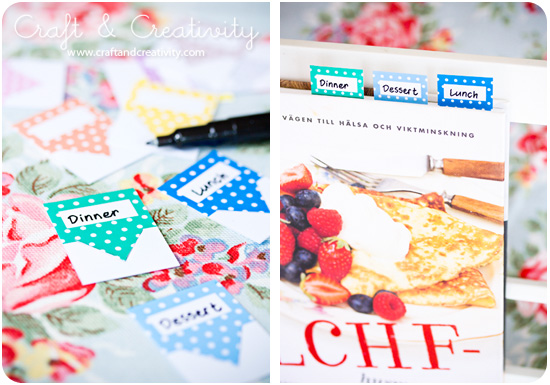 Några av bokmärkena är blanka för att kunna skriva valfri text. Man kan ju t ex tänka sig märken för tilltugg, förrätt, varmrätt och efterrätt när man planerar en flerrätters middag. /
Some of the bookmarks are blank for optional text. For example, you could make markers for snacks, appetizer, main course and dessert while planning a multi-course dinner.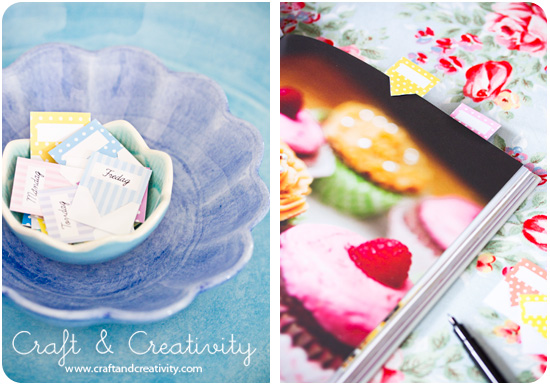 Jag som gillar att baka kommer använda mina bokmärken till att markera smarriga bakverk i mina favoritbakböcker inför sommarens kommande födelsedagskalas. /
I enjoy baking and I'm going to use my bookmarks to mark yummy pastries in my favorite baking books, while planning for this summer's upcoming birthday parties.