Ugglor, ugglor, ugglor. Svårt att tröttna på dem, trots att de varit populära länge. Jag måste bara tipsa er om den här uggle-kelendern från My Owl Barn (hittade dit via favoriten How About Orange).
Owl Lover 2012 Calendar är ett samarbete mellan My Owl Barn och 45 internationella konstnärer. Förra året deltog 30 konstnärer och det skrevs om kalendern på flera välrenommerade bloggar som t ex decor8 och poppytalk och den fick nästan 100 000 nedladdningar över hela världen och mer än 10 000 gilla-markeringar på Facebook.
Precis som förra året kan man välja fritt bland de bilder man gillar mest och skapa en egen kalender eller helt enkelt ladda ner den färdiga versionen och skriva ut själv. Otroligt smart idé tycker jag! Så här blev min kalender: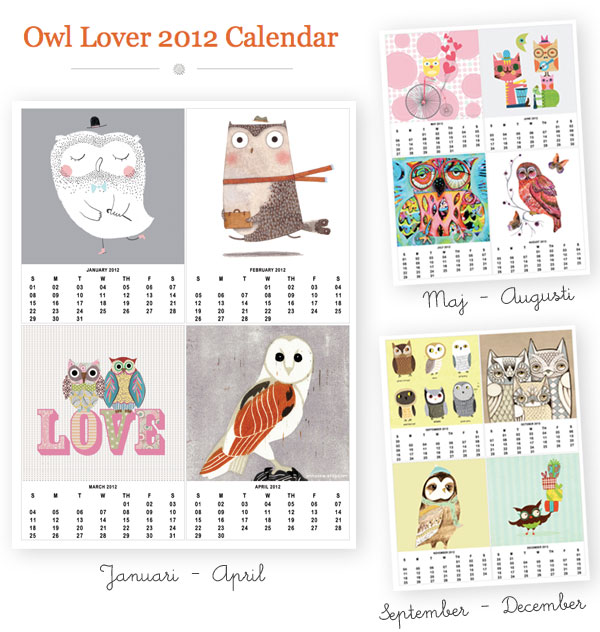 Owls, owls, owls. I can't get enough of them, although they have been popular for quite some time now. I just have to tell you about this owl calendar from My Owl Barn
(I found it through a favorite of mine; How About Orange). Perhaps you took notice of it last year. It was a big hit. 
Quote: 
"(…) a collaborative project between My Owl Barn and 30 international artists. The project was featured on several reputed blogs like decor8, poppytalk, and the calendar was downloaded by almost a hundred thousand owl lovers all over the world. The calendar page received more than 10,000 likes on Facebook."
"(…) Like before, you can select the images you love the most and create your own free calendar or you can simply download the pre-made version." 
I think it's a super smart idea! Above you can see the pictures I chose for my calendar.