Jag ledsnar aldrig på att lägga pärlplattor. Det är rogivande, enkelt och det går att göra överraskande fina saker. Förra året gjorde jag snöflingor av plastpärlor som jag hängde i granen. I år fick det bli dekorationer till julklapparna. Vill ni ha mer inspiration på pärlat pynt, surfa över till Amicella och Johanna Rundel (vars fina pärlade julkort jag tipsade om härom dagen).
————-
I never grow tired of creating with perler beads (a k a hama beads, ironing beads, plastic beads). It's relaxing, simple and you can make surprisingly pretty things. Last year I made snowflakes out of plastic beads for our Christmas tree. This year I made decorations for my Christmas gifts instead. If you want more inspiration on perler bead decorations, please pay a visit to Amicella and Johanna Rundel (whose pretty beaded Christmas card I already told you about).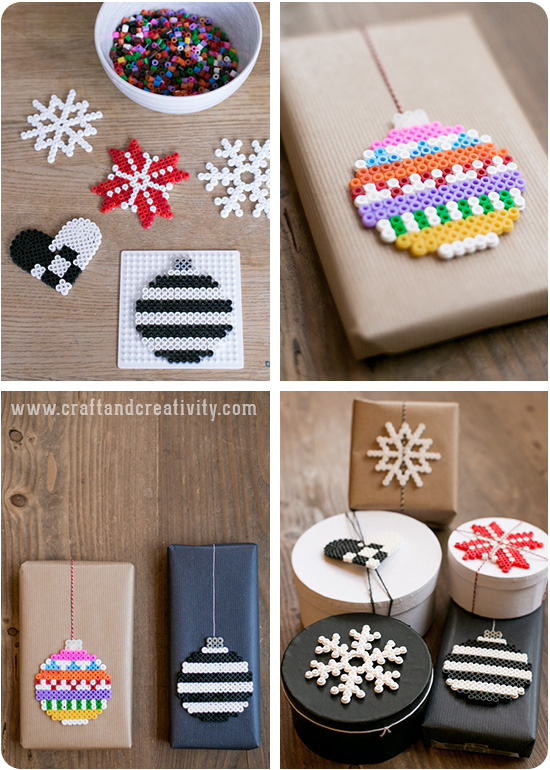 Jag använde fyrkantiga pärlplattor till julgranskulorna och till den röda julstjärnan, sexkantiga till snöflingorna och (förstås) en hjärtformad platta till hjärtat. Jag strök dem ganska hårt för att få pärlorna att smälta ordentligt och fästa vid varandra och då räcker det med att stryka bara på en sida. För att fästa dem på paketen använde jag häftkuddar.
———–
I used square pegboards for the Christmas baubles and the poinsettia, hexagonal pegboards for the snowflakes and (of course) a heart shaped pegboard for the heart. I ironed them thoroughly to make the beads melt together properly. That way I only had to iron one side. To make them stick to the gifts I used adhesive foam pads.