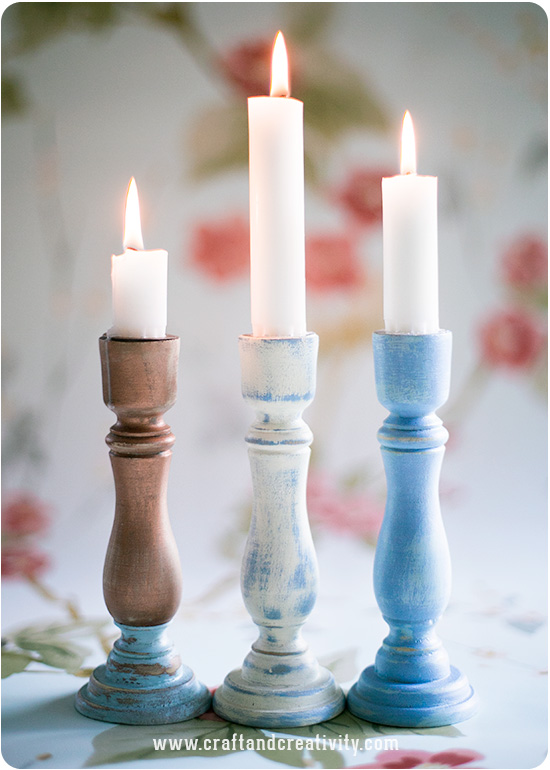 Med vintagefärg från t ex Martha Stewart Crafts® kan du ge nya föremål en vintagelook. Den lämpar sig även utmärkt till att göra om loppisfynd eftersom den inte kräver något förarbete och du behöver inte grundmåla innan. Färgen heter Vintage Decor Paint och är en kalkfärg (s k Chalk Paint) som ger en matt, sammetslen yta. Inte att förväxla med Chalkboard Paint som är griffeltavelfärg. Färgen kan appliceras i två lager med olika nyanser för att sedan slipas med sandpapper och då skapa en fint nött yta där båda nyanser kommer fram. När du är klar kan du vaxa ytan med Vintage Decor Wax för att få en mjuk och skyddande yta. För att testa lite olika effekter valde jag att måla tre likadana träljusstakar på tre olika sätt.
———
With vintage paint from Martha Martha Stewart Crafts® you can give new items a vintage look. It's also perfect on old furniture or flea market bargains, as it requires no prep paint. The paint is called Vintage Decor Paint  and is a chalk paint that creates a matte, chalk finish. It can be applied in two layers with two different colors and then be distressed with sandpaper to create a natural time worn look and feel. When you're done, you can seal the surface with Vintage Decor Wax for a velvet finish and added protection. Because I wanted to try some different effects, I chose to paint three identical wooden candle holders in three different ways.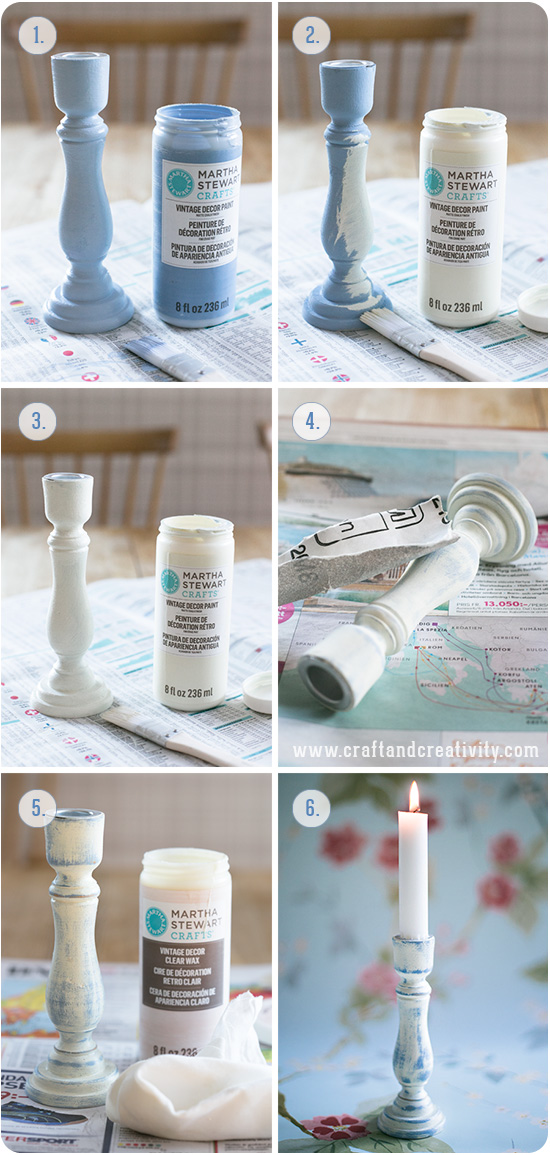 Du behöver: Ljusstakar, Vintage Decor Paint i valfria nyanser (välj bland 22 olika), Vintage Decor Wax, en pensel, sandpaper och en bit tyg eller trasa. Det finns även en speciell ergonomisk pensel som passar jättebra om du ska måla större ytor med Vintage Decor Paint och vax.
Ljusstake nr 1: Första lagret målade jag i nyansen Parisian Blue. Torktid: 1-2 tim.
Nästa lager färg målade jag i nyansen Ivory.
Efter båda lager färg lät jag ljusstaken torka i 24 tim.
Med ett ark sandpapper (jag använde kornstorlek 120) slipade jag ytan lätt för hand. Den underliggande blå färgen kommer fram olika mycket beroende på hur mycket man slipar och var.
Jag borstade av slipdammet och vaxade ljusstaken med Vintage Decor Clear Wax. Den finns även i en antikfärgad nyans. Jag applicerade vaxet med en bit av ett gammalt lakan. Det är bra om tyget/trasan inte luddar. En pensel går också bra.
Jag väntade 24 timmar för att sedan polera ytan med en ny bit tyg tills ytan blev silkeslen. Är det en yta som kommer att nötas, som t ex en stol så kan det vara bra att vaxa två gånger och även fylla på med vax efter 6-12 månader.
——–
You will need: Candle holders, Vintage Decor Paint in optional colors (22 available), Vintage Decor Wax, a brush, sandpaper and a piece of fabric or cloth. There is also a special ergonomic brush that is great if you want to paint larger areas with Vintage Decor Paint and wax.
Candle holder no 1: I painted the first layer in Parisan Blue. Drying time: 1-2 h. 
For the next coat of paint, I used Ivory. 
After both coats of paint I let the candle holder dry for 24 hours.
With a sheet of sandpaper (I used 120 grit) I distressed the surface softly by hand. The underlying blue color now starts to shine through. How much depends on how much you grind and where. 
I brushed away the dust and applied a thin layer of clear wax, using a lint-free piece of cloth. You could use a brush as well. 
I waited 24 hours and then polished the surface with a clean piece of cloth to get a velvet protective finish. If your painting a piece of furniture you might want to add two coats of wax and remember to wax again every 6 to 12 months.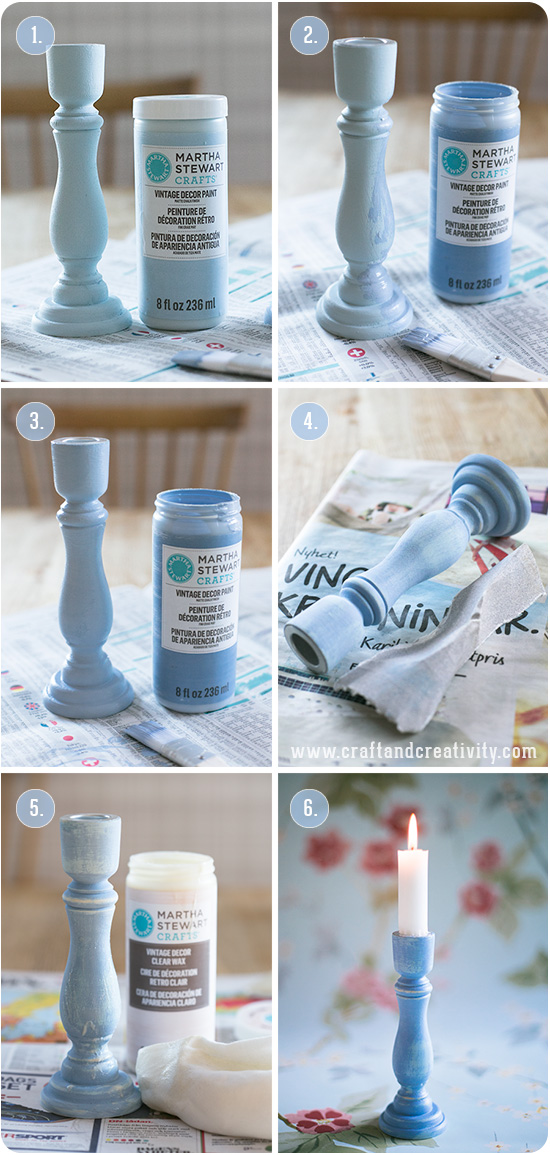 Med ljusstake nr 2 gjorde jag på exakt samma sätt som med den första men jag målade först ett lager med den ljusblå nyansen Blue Agave och sedan ett lager med nyansen Parisian Blue. På de ställen där jag slipade med sandpapper så tittade den ljusblå färgen fram.
————-
With candle holder no 2, I did everything in the same way as with the first one, except I painted the first layer with Blue Agave and the next layer with Parisian blue. This way the light blue color pops out on the areas where I distressed with sandpaper.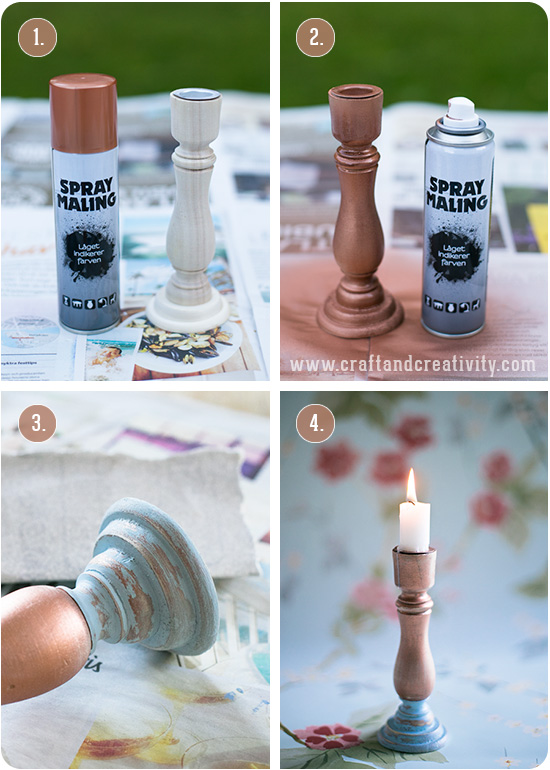 Ljusstake nr 3 varierade jag genom att först spraymåla den med kopparfärg och sedan måla ett lager med nyansen Blue Agave, men bara på ljusstakens fot. När färgen torkat 24 tim så slipade jag hela ljusstaken lätt med sandpapper. Även här använde jag genomskinlig vax som jag polerade upp ljusstaken med.
————-
Candle holder no 3 I varied a bit by first spray painting it with a copper paint and then painting the foot of the candle holder in the shade Blue Agave. After 24 hours I distressed the whole candle holder lightly with sandpaper. Again I used clear wax for polish.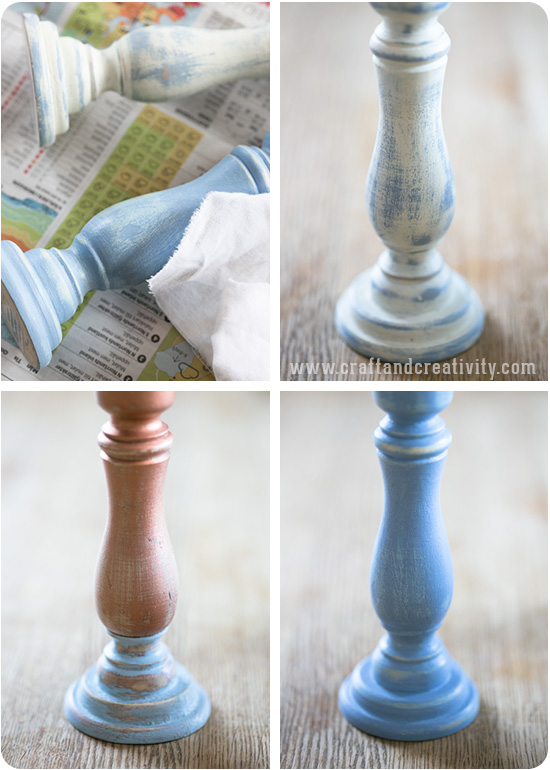 Här syns den slipade och polerade ytan mer i detalj. /
Here you can see a close-up of the distressed and polished surface.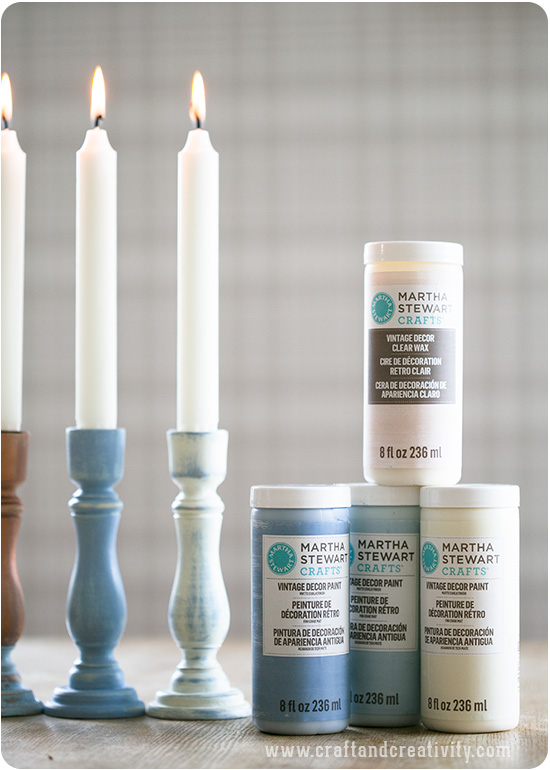 Klicka för att se en instruktionsfilm (amerikansk) som visar hur man kan måla en pinnstol med Martha Stewart Vintage Paint eller en kort film där Martha Stewart berättar om färgen. Jag är inte sponsrad av Martha Stewart. 🙂
——–
Click to view a video tutorial on how to paint a chair with Martha Stewart Vintage Paint or a short video where Martha Stewart introduces the paint. This is not a sponsored post.