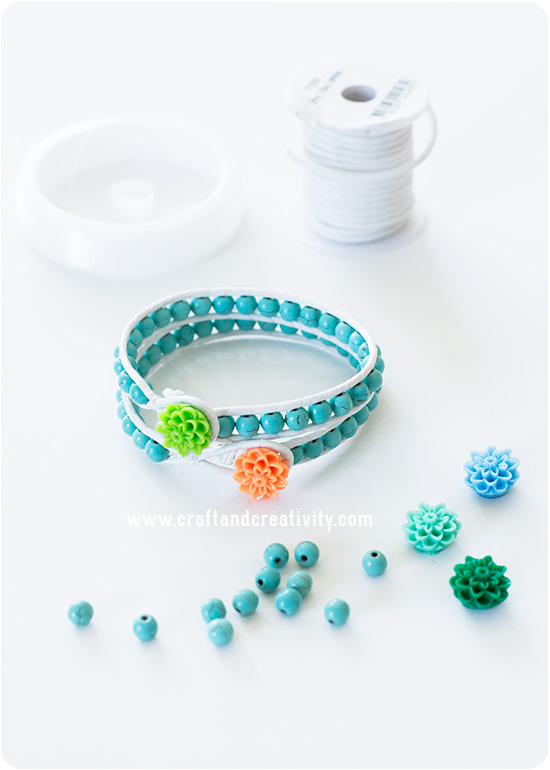 Dessa armband med lädersnöre och turkosa stenpärlor är tillverkade på liknande sätt som jag gjorde wraparmbanden i förra inlägget. Mina är enkelradiga men du kan göra armband som går flera gånger runt handleden om du vill. Som lås har jag använt söta resinpärlor i form av blommor.
———–
These leather bracelets with turquoise stone beads are made in a similar way as the wrap bracelets from my last post. Mine are single-row but you you can make bracelets that you can wrap several times around your wrist if you like. I used a pretty flower shaped bead instead of a traditional lock. 
Till ett armband behöver du: 80 cm lädersnöre som är 2 mm tjockt, ca 25-30 st stenpärlor som är 6 mm i diameter, 1 st blompärla av resin, 110 cm nylontråd/fiskelina (ej elastisk), en linjal och en sax. Min söta sax är en nytillverkad järnsax i gammal stil. En knytplatta (s k clipboard) underlättar arbetet när du tillverkar dina armband. Nål behövs inte eftersom nylontråden är så pass styv i sig själv.
————–
To make one bracelet you need: 80 cm (31″) 2 mm thick leather cord, approx 25-30 pc of stone beads that are 6 mm in diameter, 1 pc plastic flower bead (or similar), 110 cm (43″) non-elastic nylon thread, a ruler and a pair of scissors. A clipboard simplifies your work. When using nylon thread you don't need a needle.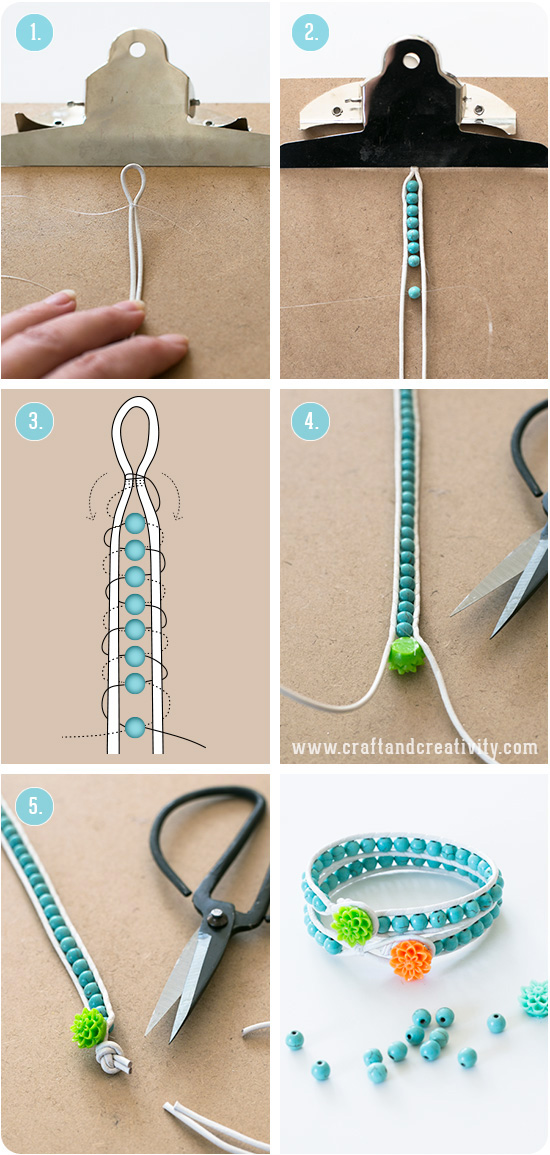 Gör så här: Klipp till en bit lädersnöre som är 80 cm och en bit nylontråd som är 110 cm. Vik både lädersnöret och nylontråden dubbelt. Linda mitten av nylontråden stramt några varv runt lädersnöret för att bilda en ögla (som är stor nog för att trä blompärlan igenom). Knyt en knut på nylontråden.
Fäst öglan under klämman på knytplattan och börja väva in pärlorna.
Väv med båda ändarna av nylontråden. Den vänstra nylontråden ska under den vänstra delen av lädersnöret, genom pärlan och över den högra delen av lädersnöret. Den högra nylontråden ska under den högra delen av lädersnöret, genom samma pärla och över den vänstra delen av lädersnöret, som illustrerat ovan. Fortsätt på samma sätt tills armbandet är så långt som du vill ha det. Se till att dra åt nylontråden allt eftersom för att få ett jämnt resultat.
Fäst blompärlan på samma sätt, genom att trä båda ändarna av nylonsnöre genom pärlan från motsatta håll. Vänd armbandet upp och ned och knyt en dubbelknut på undersidan.
Knyt lädersnöret och ta med nylontråden i samma knut. Klipp av ändarna. Nu är du klar! Svårare än så är det inte.
———
Do like this: Cut a 80 cm piece of leather cord and a 110 cm piece of nylon thread and fold them both in half. Wrap the middle of the nylon thread a few laps tightly around the leather cord to form a loop (which is large enough to go around the flower bead). Tie the nylon thread to secure it.

Place the loop under the clip of the clipboard and begin weaving the beads.

The left part of the nylon thread goes under the left part of the leather cord, through the the bead and over the right part of the leather cord. The right part of the nylon thread goes under the right part of the leather cord, through the same bead and over the left part of the leather cord, as illustrated above. Continue in this manner until the bracelet is as long as you want it. Make sure to tighten the nylon thread to get an even result.

Attach the flower bead in the same way as the stone beads – by threading both ends of the nylon thread through the bead from opposite directions. Turn the bracelet upside down and tie a double knot at the bottom. 

Tie a tight knot with two ends of the leather cord together with the nylon thread. Cut off the ends. Now your done! It's really quite easy.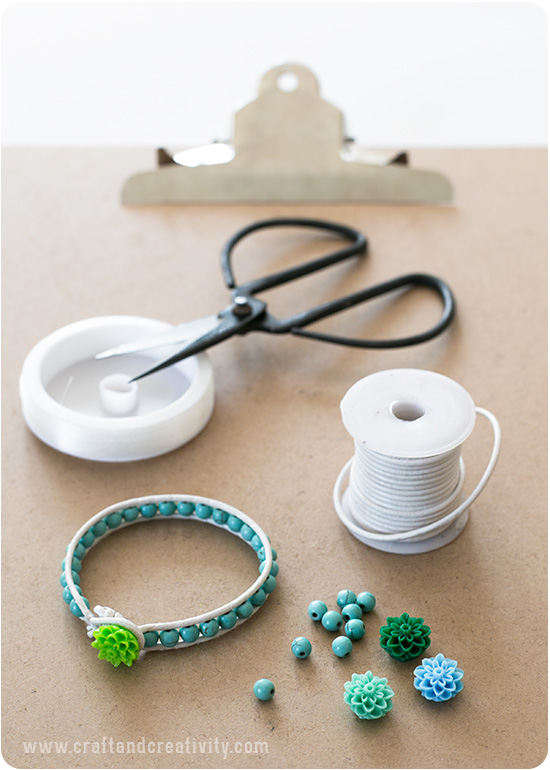 Du kan variera dina armband i det oändliga, t ex genom att använda tunnare lädersnöre och mindre pärlor.
———–
You can vary your bracelets in many different ways, for example by using thinner leather cord and smaller beads.