Att måla på stenar är ett roligt sommarpyssel. Vi använt färg från två olika märken som lämpar sig utmärkt för ändamålet. Både färgerna från Martha Stewarts Crafts och Plus Color fäster utmärkt på stenar. Vill du ha målade stenar utomhus så klarar färgen det också! Vi gjorde ett luffarschack av våra stenar och som avdelare lade vi 4 st blompinnar som ett rutmönster.
————
Painting on rocks is a fun summer craft! We used two different kinds of paint, both very well suited for this purpose, also for outdoor use. We turned our pebbles into a game of Tic Tac Toe with 4 pc of bamboo skewers as grid.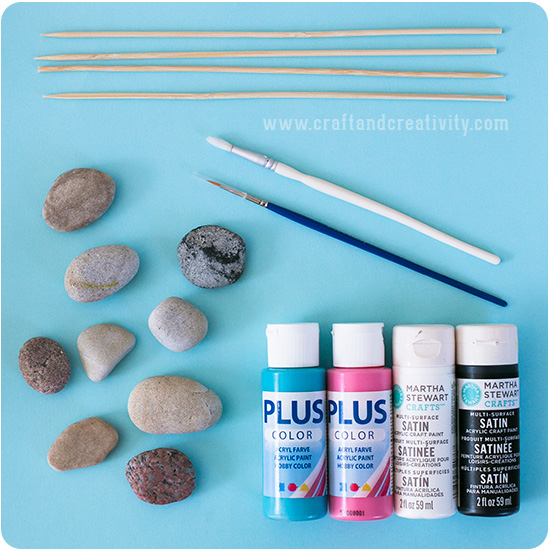 Du behöver: Små stenar (gå på skattjakt i naturen!), penslar och hobbyfärg. Vi använde som sagt Martha Stewarts satinfärger och två olika Plus Color färger. När det gäller penslarna så är det bra att ha en lite större pensel för att måla själva ytan och en tunnare pensel för att måla detaljer, t ex ögon.
———–
You will need: Pebbles/rocks (go on a treasure hunt outside!), brushes and acrylic paint. We used paint from Martha Stewart Crafts and Plus Color.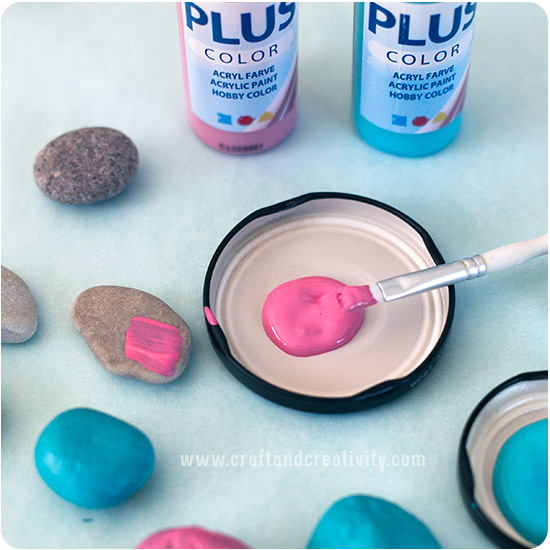 Måla stenarna ett lager, låt torka (ca 20 min) och måla ännu ett lager så täcker färgen bra! Som vanligt använde jag ett gammalt burklock som palett. Färgen kan du skrapa bort när den torkat innan du slänger locket i återvinningen eller använder det på nytt.
———
Paint two coats of paint and let dry for approx 20 minutes in between. As usual, I used an old jar lid as palette. You can scrape away the paint when dry and use the lid again.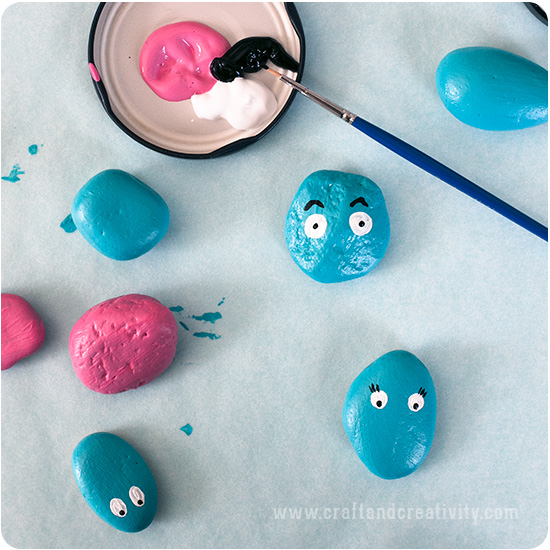 Låt andra lagret färg torka och måla ögon eller andra mönster.
———-
Let the paint dry and start painting the eyes or whatever pattern you like.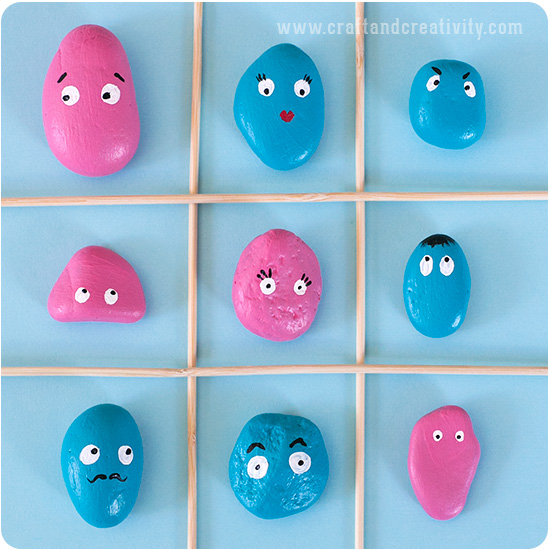 Dags att börja spela! Den som får tre i rad vinner.
——-
Time to start playing! The one who gets three in a row wins.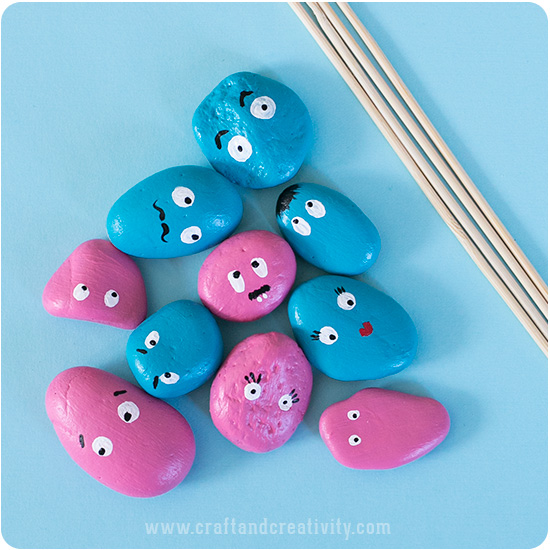 Både stenarna och pinnarna är enkla att ta med på resa om man vill. Du kan även rita upp rutmönstret med en penna och ett papper.
———-
Both the pebbles and the skewers are easy to bring if your going on a trip. You can also draw the grid with a pen and paper.