Det är något speciellt med luftballonger. Inte för att jag någonsin skulle våga åka i en, men de är verkligen vackra att titta på. Och som vanligt finns det ett uppsjö av inspiration på Etsy, allt från fina foton, väggdekaler och posters till mönster för att sticka en egen luftballong.
——
There is something special about hot air balloons. Not that I would ever dare to ride in one, but they are truly beautiful to look at. And as usual you can find a ton of inspiration at Etsy, everything from pretty photos, wall stickers and posters to knitting pattern for making your own hot air balloon.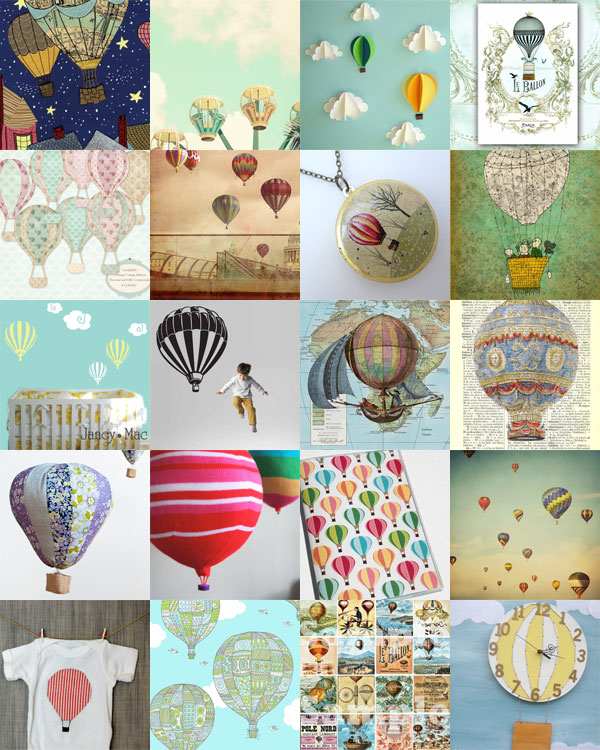 1. Colllage från Paper Taxi, 2. Fotografi från By the Winter, 3. Pappersväggkonst i 3D av Gosh & Golly, 4. Konsttryck av Cafe Baudalaire, 5. Digital clipart från Love Lui DIY, 6. Fotografi av Keri Bevan, 7. Medaljong från JP Beads, 8. Illustration från Orange Optimist, 9. Väggvinyl av Janey Mac, 10. Väggvinyl av Vinyl Wall Accents, 11. Illustration från Paper Gangster Vintage Prints, 12. Illustration från PrintLand, 13. Tre handsydda luftballonger från Madeleinte Sargent, 14. Stickmöster från Butterfly Love, 15. Passfodral från Two Polka Dots, 16. Fotografi av Eye Poetry, 17. Bebisbody från Dear David, 18. Illustration från Jen Skelley, 19. Digitala illustrationer från The House Across the Bay, 20. Väggklocka från Laurels Art.
Slutligen – en av mina favoritposters, Babar et les ballons (Allposters.se):
Finally – one of my favorite posters, Babar et les ballons (Allposters.com):