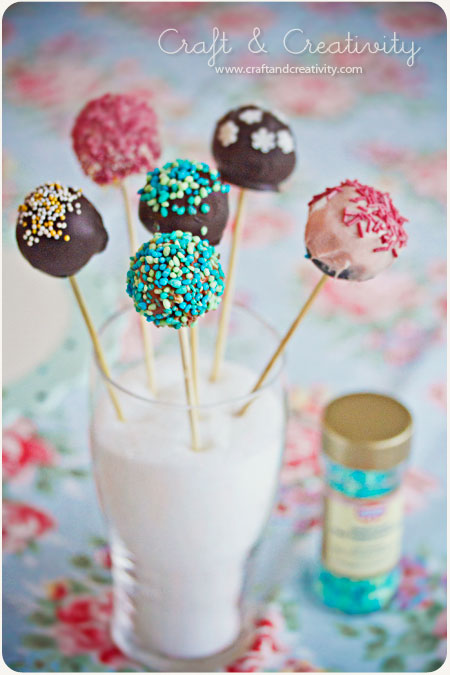 Sofia på Hildas gjorde så fina "cake pops" (kakklubbor) härom dagen. Jag har varit sugen på att testa göra sådana länge och nu fick jag extra inspiration.
Det var inte fullt så enkelt som jag hade tänkt mig. Eller så var jag för ivrig (mamma: om du läser det här… ja, jag vet att jag har sämst tålamod i världen). När man rullat bollarna bör man nog följa rekommendationerna och låta dem stelna ordentligt, typ i frysen i en halvtimme eller så. Annars ramlar bollarna av pinnarna kan jag meddela… och man står där med smält choklad och strössel överallt… Inte fullt lika entusiastisk som innan. 😉
Några bilder av mina misslyckade bakverk blev det aldrig… Kanske lika bra det.
Eller så gör man det enkelt för sig och köper marshmallows som man sätter på grillspett av trä och doppar i choklad och strössel. Sådana gjorde jag bl a till E:s kalas i somras.
Ett alternativ till att sätta klubborna i oasis-block (som verkar vara det vanligaste tipset) så kan man använda sig av strösocker i ett glas. Sockret kan man återanvända efteråt.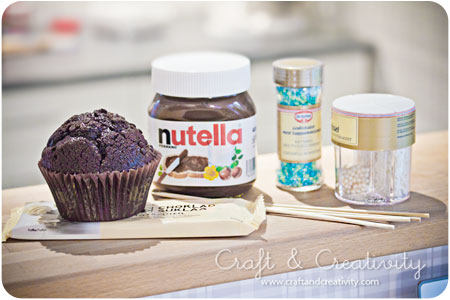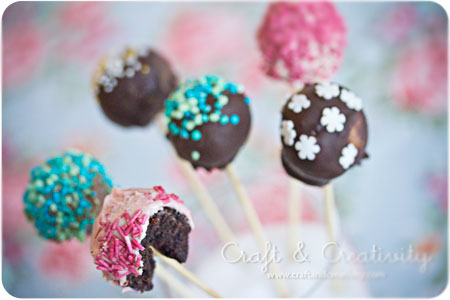 Sofia at Hildas made such pretty cake pops the other day. I've been wanting to make some for a while now and finally got the extra inspiration I needed. 
It wasn't quite as easy as I had hoped. Or maybe I was too eager (mum: if your reading this … yes, I know … I have the world's worst patience). When you've rolled your pops you probably should follow the recommendations and let them harden properly, like in the freezer for half an hour or so. Otherwise the pops will start falling of the the pins, let me tell you … and you'll stand there with melted chocolate and sprinkles everywhere … Not quite as enthusiastic as before. 😉
Or, make it easy for yourself and and buy marshmallows that you dip in melted chocolate and sprinkles. I made those for E's birthday party last summer.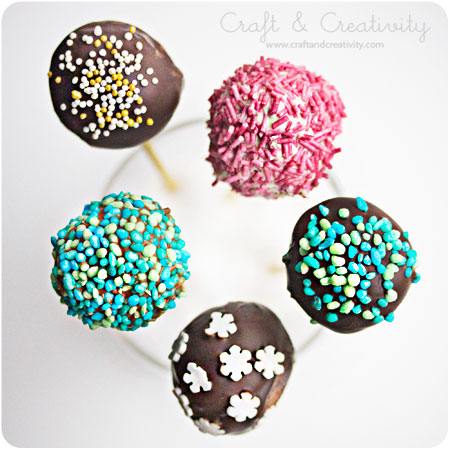 När jag ändå höll på gjorde jag några "cookie pops" också. Jag använde mig av Oreos som jag satte på en pinne, doppade i mjölkchoklad och pyntade med nonstop till näsa och pärlströssel till ögon.
——–
Since I was on a roll (haha), I made a bunch of cookie pops too. I took some Oreos and dipped them in milk chocolate and decorated them with a red chocolate dragée for nose and sprinkles for eyes.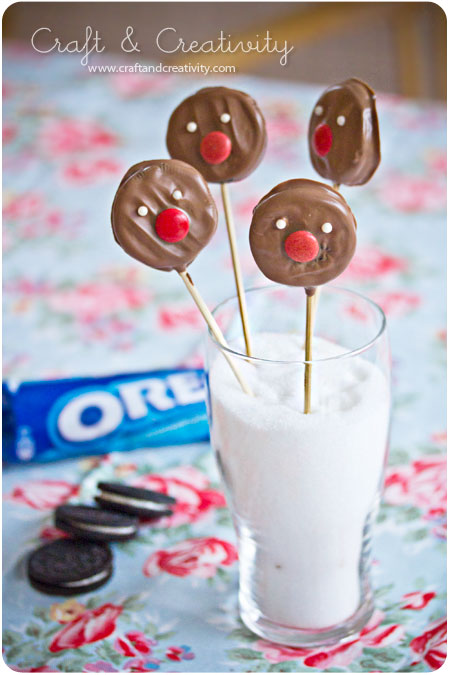 Hos Bakerella kan man hitta massor med cake pop inspiration: /
At Bakerella's you can find lots of cake pop inspiration: