Jag har fått så mycket positiv respons från er läsare den senaste tiden att jag är helt överväldigad. Därför vill jag skicka er ett stort varmt TACK! När jag startade bloggen för dryga två månader sedan kunde jag inte föreställa mig att den skulle nå så många så snabbt.
Att jag dessutom fått så mycket inspiration av er är verkligen en extra bonus! Det finns så fantastiskt många duktiga och kreativa människor där ute. Min "pyssel-att-göra-lista" är så lång nu så ni anar inte och det är enbart ett resultat av att ha läst era bloggar och blivit inspirerad.
Jag har pysslat i hela mitt liv. Kreativitet ligger i familjen och jag är uppvuxen i en släkt som alltid skapat, på det ena eller andra sättet. Min man säger att jag har rastlösa fingrar och det stämmer nog. Jag blir otålig när jag inte har något för händerna, vare sig det är handarbete, pyssel, en kamera eller kanske en bakslev. 🙂
Jag har turen att ha världens roligaste jobb där jag får arbeta med det jag tycker är roligast och mitt jobb som frilansande grafisk formgivare ger mig också friheten att styra min tid på ett sätt som jag inser inte alla är förunnat.
Alla pyssel inte är nya, en del gjorde jag för flera år sedan. Plötsligt en dag, här i höstas, när jag hade lite lugnt med uppdrag i företaget så fick jag för mig att skapa en blogg där jag samlar alla mina pyssel. Jag ville också lära mig mer om hur man bloggar, både rent tekniskt och även hur man når ut till sina besökare. Och på den vägen är det. Jag hoppas ni vill följa mig ett tag till för jag tycker det här är det roligaste som finns och jag har inga planer på att sluta än på länge!
Kram på er!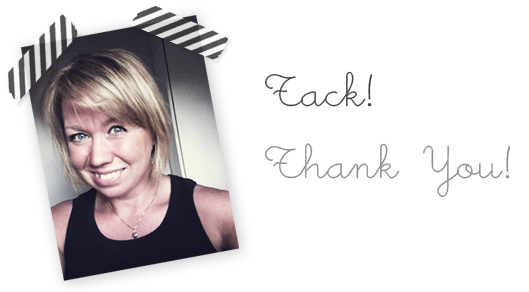 I have received so much positive feedback from you readers recently that I feel completely overwhelmed. Therefore, I would like to send you a great big THANK YOU! When I started my blog about two months ago, I could not imagine that it would reach out to so many so quickly.
And the fact that I also received so much inspiration from you all is really an added bonus! There are so many extremely talented and creative people out there. I have so many new craft projects I want to try now, merely by reading your blogs and getting inspired. 
I've been crafting all my life. Creativity runs in the family. My husband says I have restless fingers and thats probably true enough. I get impatient without any projects at hand, whether it's crafts, photographing, cooking or baking. 🙂
I am fortunate to have the world's best job where I can work with what I love and my job as a freelance graphic designer gives me the freedom to manage my time in a way that I realize not everyone can.
Not all crafts are new ones, some I made several years ago. Suddenly one day, this last fall, when the workflow was a bit low, I got the idea to start a blog where I could collect all my crafts. I also wanted to learn more about blogging, both technically and also how to reach out to people. And that's kind of it. I hope you want to keep following me, because I think this is so much fun and I just can't stop. 
xxx