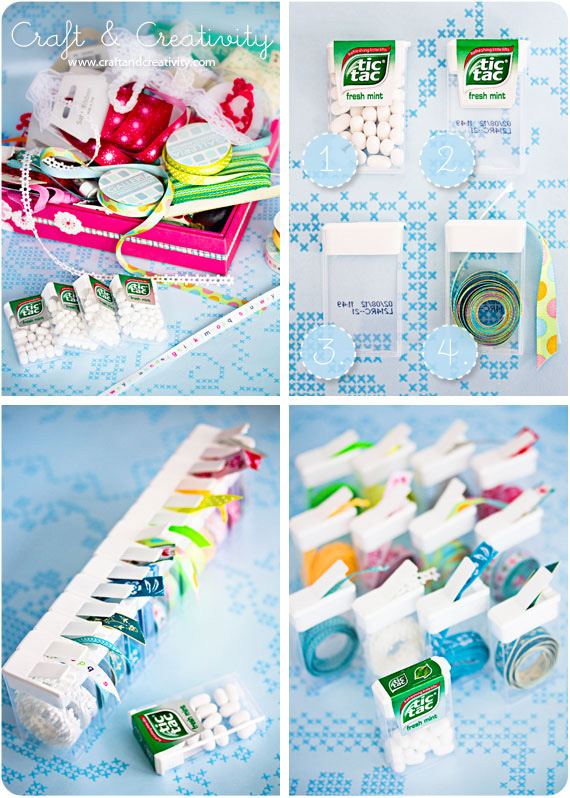 Fina tygband och spetsar är roligt att använda när man pysslar, syr eller slår in paket. Mina band har dock hittills legat huller om buller, hoptrasslade med varandra och i flera olika lådor. Svårt att få någon överblick.
Som så ofta innan hittade jag lösningen via en bild på Pinterest. Bilden ledde mig till en sida som heter Instructables (smart sida för övrigt!) och där fanns en beskrivning på hur man använder TicTac-behållare som praktisk förvaring för tygband. Genialt! Som tur är har jag en make som gillar minttabletter och på Lidl kom jag över ett gäng TicTac's riktigt billigt.
———–
Beautiful trims, ribbons and lace is fun to use when you're crafting, sewing or wrapping gifts. My trim stash has been a total mess up to now, all tangled together and no order at all. It's been hard to get a proper overview. 
As so often before I found the solution via an image on Pinterest. The picture led me to the site Instructables (a great source of inspiration, by the way!) and there I found a description on how to use TicTac containers for a smart ribbon storage solution. Ingenious! Luckily I have a husband who likes mints and I was able to lay my hands on a bunch of TicTac's really cheap at our local grocery store.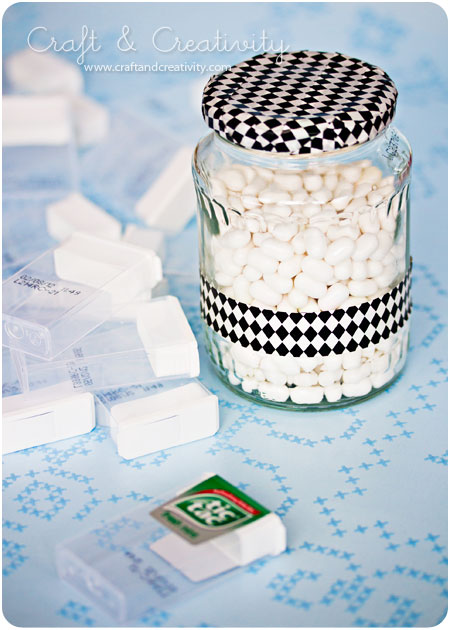 TicTac-tabletterna hällde jag över i en större burk som jag piffade till med lite washi tejp (inget får förbli opyntat, det förstår ni va?). 😉 /
I poured the TicTac tablets into a large jar and pimped the jar with some washi tape (nothing may remain unembellished, you get that right?). 😉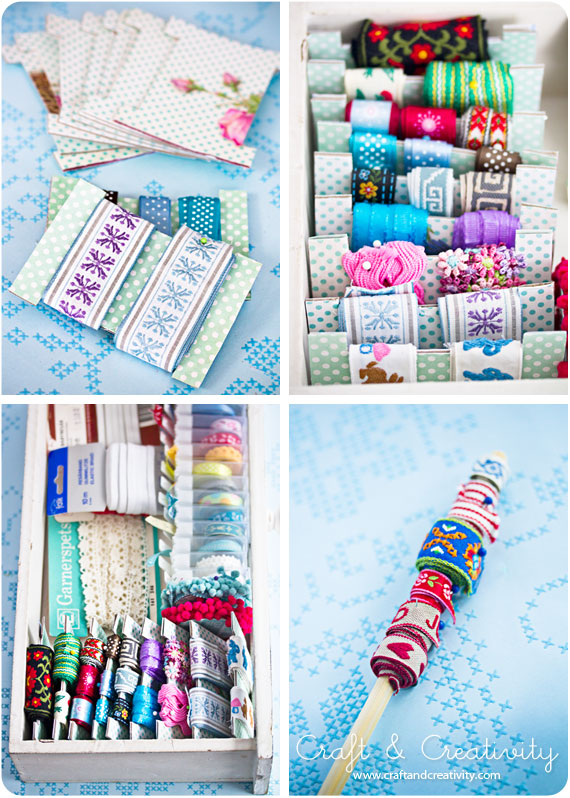 Nu är det ju så att TicTac-behållare är ganska smala och några band fick helt enkelt inte rum. Detta löste jag genom att klippa till kartongbitar som jag sedan virade mina breda band runt. Jag fäste ändarna med synålar. Småsnuttar av band lindade jag runt en kinapinne istället. /
It just so happens that TicTac containers are quite narrow and some of my trims simply didn't fit. I solved this by cutting out pieces of cardboard and wrapped the wider trims around them. I pinned down the ends with sewing needles. I wrapped tiny trim scraps around a chopstick instead.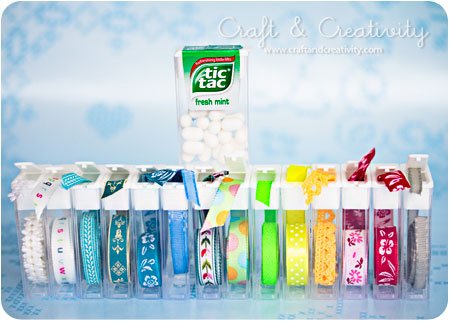 Resultatet blev både fint och överskådligt, tycker jag. Som bonus för att jag varit så duktig "fick" jag köpa lite nya band (och lite ny washi tejp) på Etsy… Nu väntar jag bara på leveransen. 🙂 /
I'm very happy with the result. And as a reward for doing such a good job, I treated myself to some new trims (and some new washi tape) from Etsy … Now I'm just waiting for the delivery. 🙂