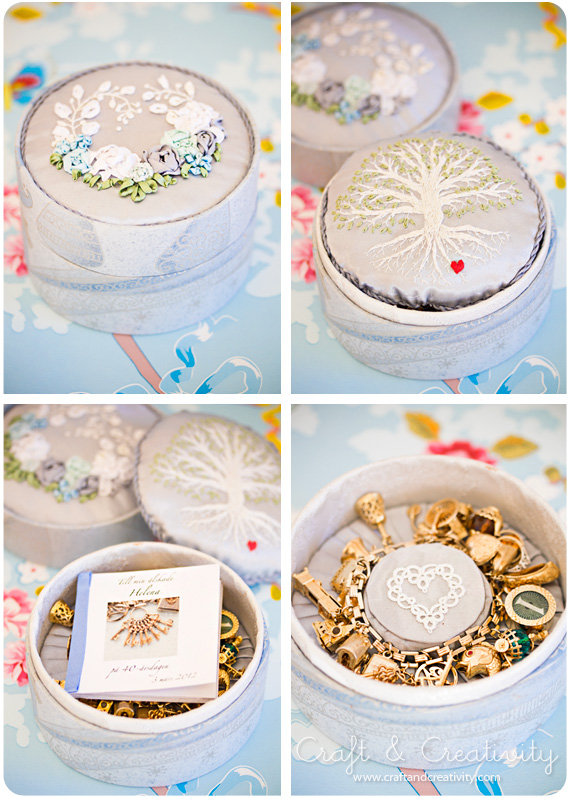 När jag fyllde 40 för ett par veckor sedan fick jag många fina presenter. Helt fantastiska presenter. En av gåvorna var något alldeles utöver det vanliga och jag har sällan blivit så rörd som när jag öppnade denna ask fylld med minnen. Först och främst är det en fantastisk ask, handgjord av min kreativa mamma. Locket är pyntat med sidenbandsbroderier i form av ett hjärta. När man lyfter på locket hittar man en liten kudde med ett broderat träd och ett hjärta bland rötterna. Under kudden finns en bok som beskriver presenten. Och själva presenten är ett guldarmband med berlocker.
Inte vilket armband som helst utan min älskade mormors armband som jag som barn ägnade otaliga timmar åt att studera i detalj. Köpt i London av min mormor och morfar på 70-talet. I år är det trettio år sedan min fina mormor gick bort, alltför tidigt. Jag har inte sett armbandet sedan dess. Men när jag plockade upp det ur asken var det som om det var igår. Jag mindes varenda en av de tjugo berlockerna och precis hur man öppnade dem. Förstår ni vilka minnen som flöt upp? Jag blir tårögd bara jag skriver om det.
——–
When I turned 40 a couple of weeks ago I received many great gifts. Really amazing gifts. One of the gifts was quite extraordinary and I was moved to tears when I opened this box of memories. First and foremost it's a fantastic box, handmade by my talented mother. The top of the box is embellished with silk ribbon embroidery in the form of a heart. When you open lift the lid you find a small pillow with an embroidered tree and a small red heart among the roots. Under the pillow is a tiny book that describes the gift. And the gift itself is a gold vintage charm bracelet. 
Not any bracelet but one that belonged to my beloved grandmother and one that I spent countless hours studying as a child. Bought in London in the 70's by my grandparents. This year makes thirty years since my grandmother passed away, much too early. I have not seen this bracelet since. But when I picked it up from the box it felt like it was yesterday. I remembered each and every one of the twenty charmes and new exactly how to open them. Imagine the memories that came flooding back. I get teary-eyed just by writing about it.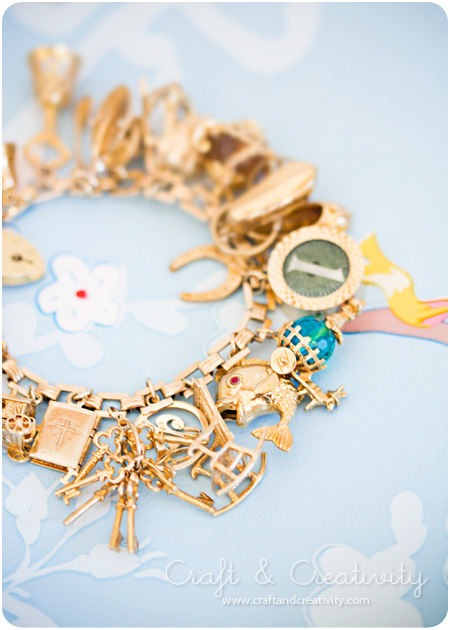 Nu är det mina döttrars tur att studera alla berlocker och förundras över detaljrikedomen. /
Now it's my daughters turn to study the charms and marvel at all the fantastic details.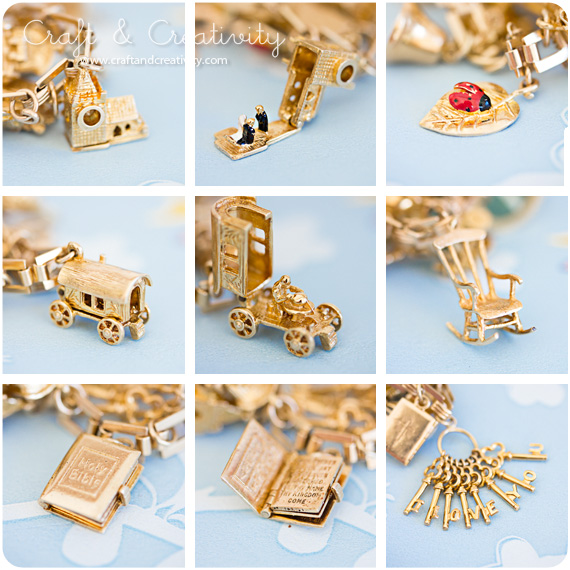 Många av berlockerna går som sagt att öppna. Bland annat en liten kyrka med ett brudpar inuti, en miniatyrbibel och åtta nycklar med bokstäver som bildar meningen "I LOVE YOU". Tack mamma, jag älskar dig! /
Many of the charms are openable. Among other things a small church with a wedding couple inside, a miniature Bible and eight keys with letters forming the phrase "I LOVE YOU". Thank you mom, I love you!