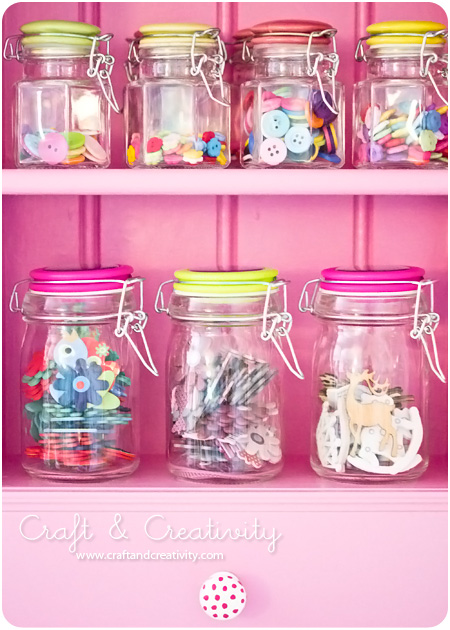 Jag nämnde häromdagen att jag målat om ett gammalt skåp. Ett skåp som jag tycker mycket om och som funnits i vår ägo i snart femton år. Men nu var det dags för en ansiktslyftning. En ny chockrosa yta. /
I mentioned the other day that I've repainted an old cabinet. A cabinet which I'm very fond of and that's been in our family for almost fifteen years. But now the time had come for a facelift. A new pink finish. 
Jag målade skåpet med ett lager grundfärg, lät färgen torka och avslutade med två lager halvblank vattenburen snickerifärg. Nyansen heter S1040-R30B och är riktigt knallrosa. /
I applied one coating of primer, let the paint dry and finished off with two coatings of  semigloss paint. The NCS code is S1040-R30B and it's a bright pink shade. 
Som en liten godisaffär, fast med pysselmaterial! /
Just like a miniature candy shop, but with craft supplies!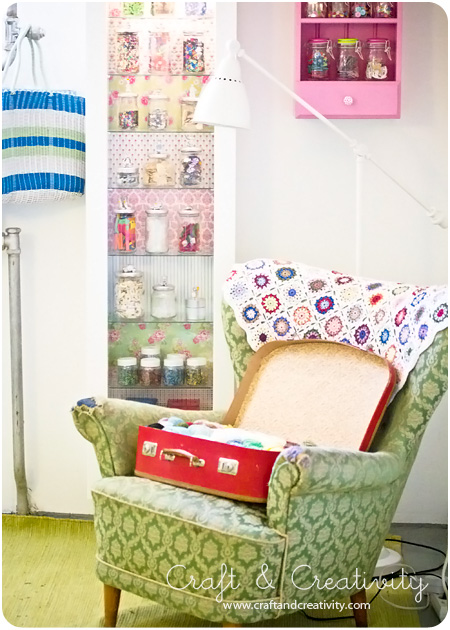 Nu hänger skåpet på plats i hobbyrummet. Skåpet till vänster har jag också gjort om. Ramen som var tidigare björk är nu vit och baksidan av skåpet har jag tapetserat med en mix av mönstrade papper. I resväskan förvarar jag mina garner, som jag visat tidigare. /
Now the cabinet hangs in it's place in the hobby room. The wall cabinet to the left has also had a remake. The framework, previously birch, is now white and I've covered the back of the cabinet with a mix of patterned paper scraps. The vintage suitcase in the armchair is filled with all my yarn, as shown before.