Jag såg några burkar med målat korsstygsmönster i en affär och fick idén att göra det själv och dessutom passa på och återvinna några av de gamla glasburkar som jag har liggande hemma i skåpen. /
I saw some cross stitch decorated jars at a local shop and decided to make my own and at the same way recycle some of those old glass jars I have in my cabinets.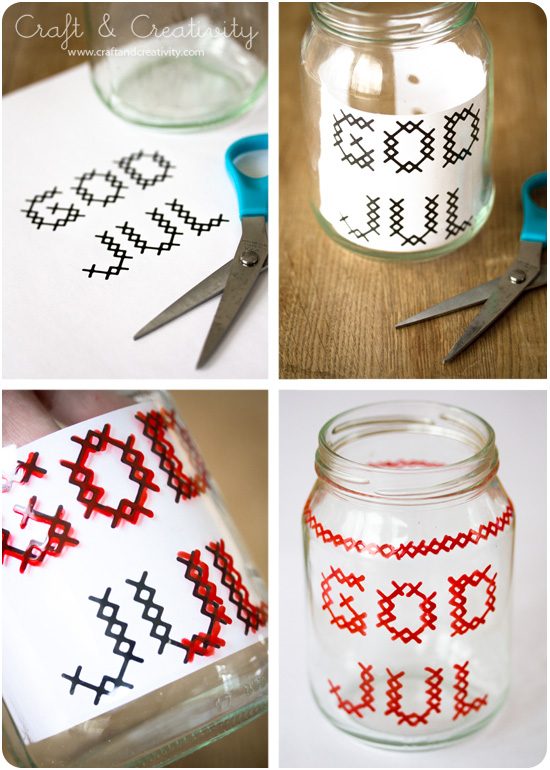 Jag skrev GOD JUL i datorn, skrev ut på skrivaren och klippte till pappersarket så det passade inuti burken. Sedan kalkerade jag med en röd tusch på utsidan av glaset. Typsnittet heter Costura och går att ladda ner gratis på Font Squirrel. Man kan använda glastuschpennor men jag använde Poster Hobby Marker som fäste väldigt bra. Bör dock inte diskas i maskin.
—-
I wrote GOD JUL (Swedish for Merry Christmas) on my computer, printed and trimmed the paper to fit inside the jar. I then traced the text with a red marker on the glass. The font is called Costura and can be downloaded for free at Font Squirrel. You can use regular glass & porcelain markers, but I used Poster Hobby Markers and they worked very well on glass. Not dishwasher-safe though. 
På några burkar ritade jag snöflingor med vit Hobby Marker. För att göra en lykta, virade jag ståltråd runt toppen av burken och gjorde en båge för upphängning. /
On some of the jars I drew snowflakes with a white Hobby Marker. To make a lantern, I twisted wire around the top and made a loop for hanging.