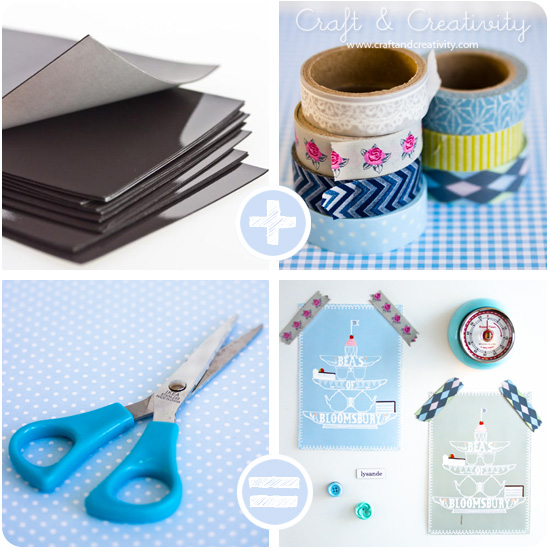 Du behöver: Magnetark, washitejp/papperstejp och en sax.
Gör så här: Avlägsna det vita skyddspapperet från magnetarket och tejpa på den självhäftande undersidan. Följ tejpens konturer och klipp runt.
———-
You will need: Adhesive magnetic sheets, washi tape / paper tape and scissors.
Do like this: Peel the paper backing off the magnetic sheets, and add your washi tape on the sticky side of the sheet. Cut around, while tracing the contours of the tape.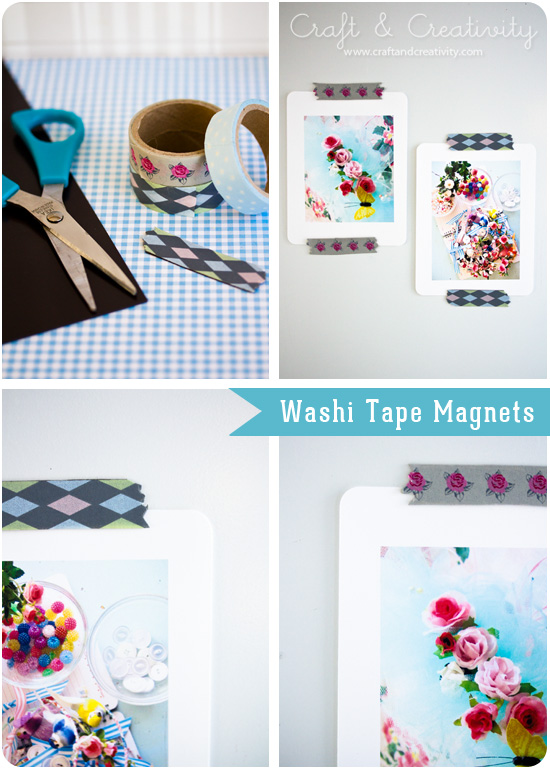 Om du vill att magneterna verkligen ska se ut som tejp kan du klippa kanterna lite ojämnt, för att efterlikna avriven tejp. Det här är nog bland de snabbaste pysslen jag gjort och nu ser vårt kylskåp mycket roligare ut!
———-
If you like your magnets to look more like tape, you can trim the edges unevenly, to imitate torn tape. This is probably one of the quickest craft I've made, and our fridge now looks a lot prettier! 
Eftersom magnetarken har en självhäftande undersida kan kan även använda vanligt papper och då är variationsmöjligheterna oändliga. Här har jag använt prickigt Color bar papper (100 g) i rosa och grönt. Vykorten ovan kommer från Bea's of Bloomsbury, Nest Pretty Things och Ryland Peters.
———-
Since the magnetic sheets are adhesive you can also use plain paper. The possibilities are endless. Here I've used polka dotted color bar paper, in pink and green. The postcards above comes from Bea's of Bloomsbury, Nest Pretty Things and Ryland Peters.