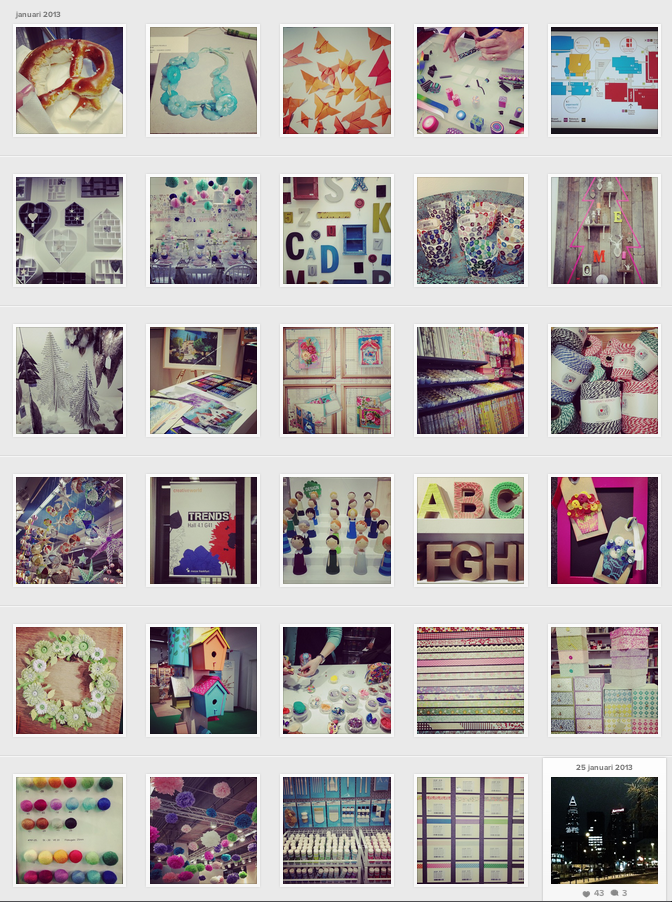 Sent igår kom jag hem från världens största pysselmässa i Frankfurt, Tyskland. Tre olika "världar" visas upp i 17 enorma mässhallar. Ca 3000 utställare och över 85 000 besökare! Vi höll mest till i Creativeworld men tog även en liten runda i Paperworld och Christmasworld. För att ta sig mellan hallarna gick man på långa rullband och ändå kändes sträckorna långa. Eller så åkte man buss mellan. Helt otroligt stort!
Under helgen har jag tagit bilder med telefonen (orkade inte bära på kameran…) som jag lagt upp på Instagram och ni som följer mig där har kanske sett ett par av dem. Ovan är ett axplock av det vi fick uppleva. Mässan är för branschfolk och man kunde inte handla på plats (tur det kanske för det hade blivit övervikt på planet) , däremot knyta kontakter, ta del av trender, lyssna på föreläsningar och skaffa inspiration. Den går av stapeln en gång om året.
Vi har hittat massor med roliga produkter som vi hoppas kunna erbjuda på Make & Create i framtiden och jag är fulladdad med inspiration för nya pyssel. 🙂
———-
Late yesterday evening, I came home from the world's largest craft fair in Frankfurt, Germany. Three different "worlds" presented in 17 huge exhibition halls. About 3000 exhibitors and over 85,000 visitors! We spent most of our time at Creativeworld, but also paid a visit to Paperworld and Christmasworld. When travelling between the halls you walked on long flat escalators and it still felt like it took forever to get from place to place. You could also go by shuttle buses. Unbelievable big!
Over the weekend, I took some pictures with my phone and posted them on Instagram. Those of you who follow me there might have seen a couple of them. Above is a selection of what we experienced at the fair. It is a trade fair and you could not buy anything at the site, but however, make business contacts, take note of trends, listen to lectures and get inspiration. It's held once a year.
We've found lots of fun products that we hope to offer at Make & Create in the future and I am certainly loaded with inspiration for new crafts. 🙂