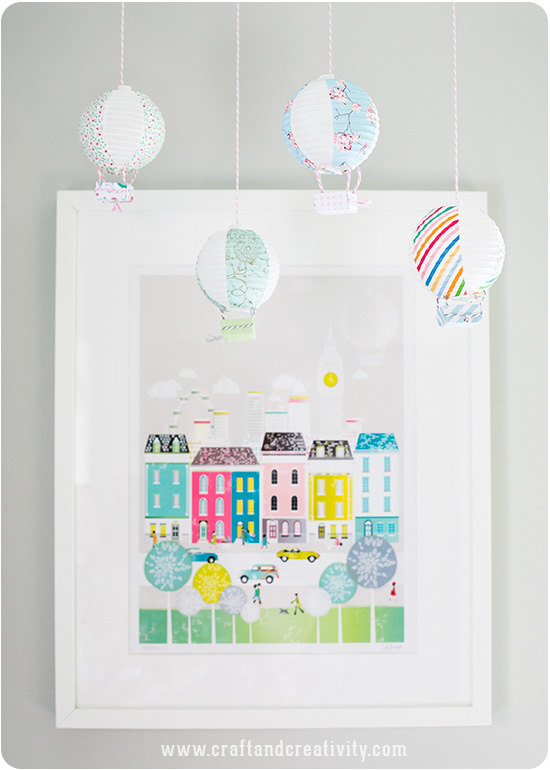 För drygt 1 1/2 år sedan gjorde jag luftballonger av rislampor och det var bland de roligaste pysslen jag någonsin gjort. Det är även ett av mina genom tiderna mest populära blogginlägg. Nu har jag gjort en mindre variant med små rislampor och de var minst lika roliga att göra! Denna gång blev det en 6 min lång videobeskrivning där jag visar både hur jag dekorerade lamporna och hur jag vek askarna som fungerar som korgar. Vet du redan hur du viker pappersaskar kan du hoppa över det partiet i filmen (från 1.50 till 3.50). London-tavlan ovan är en illustration från Laura Amiss, Etsy.
————-
Just over 1 1/2 years ago, I made hot air balloons out of paper lanterns and it was one of the most fun crafts I've ever made. It's also one of my most popular blog post ever. Recently I made a smaller version of these hot air balloons with miniature paper lanterns, and they were just as fun to make! This time I made a 6 min long video tutorial where I demonstrate how to decorate the lanterns and how to fold the paper boxes, used as baskets. If you already know how to fold paper boxes, you can skip the part from 1:50 to 3:50. The London illustration above is from Laura Amiss, Etsy.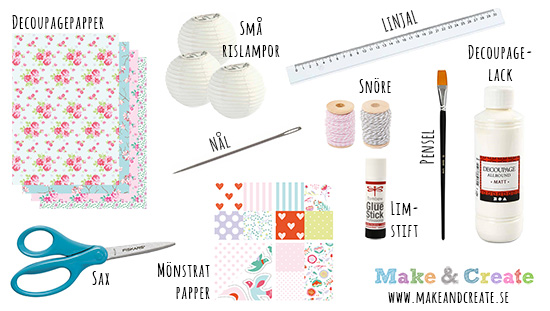 Du behöver: Decoupagepapper, små rislampor (7,5 cm i diameter, säljs i 10-pack), linjal, nål, snöre, pensel, decoupagelack, limstift, sax och ett 7,5×7,5 cm ark mönstrat papper till varje korg (120 g papper är lagom). Om du vill sätta rislamporna på en ljusslinga så behöver du en sådan också. Ljusslingor drivs antingen med el eller batteri och kan hittas billigt på t ex Ikea. Vill du slippa göra en egen mall för decoupagepappret så kan du ladda ner min mall här.
————–
You will need: Decoupage paper, small paper lanterns (7,5 cm = 3″) in diameter, a ruler, a needle, some twine, a paint brush, decoupage lacquer, a glue stick, a pair of scissors and a 7,5×7,5 cm (3″x3″) patterned paper/cardstock for each basket (I recommend 120 g paper). If you want to put your paper lanterns on a string of lights, you need one of those too. String lights are either run by battery or electricity, and can be found for a reasonable price at eg Ikea. If you like you can download my template for the decoupage paper, instead of making your own.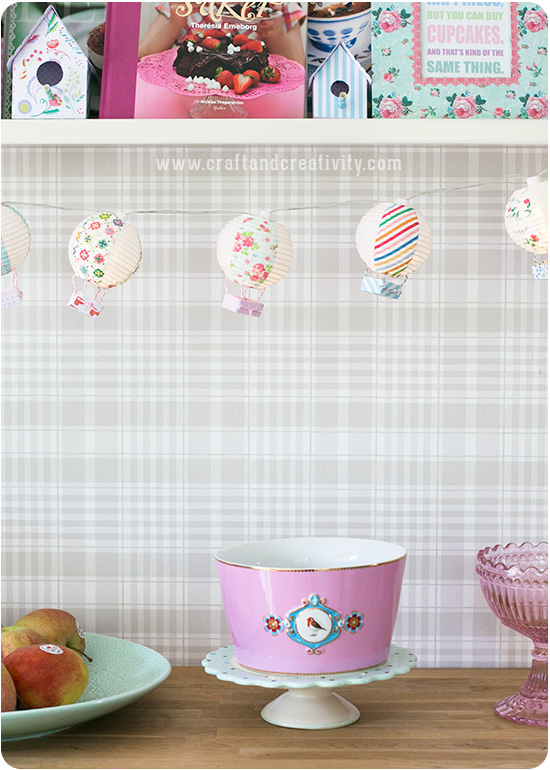 Luftballongerna är fina att ha som dekoration på ett kalas, som inredningsdetalj eller som mysiga nattlampor till barnen.
————-
The hot air balloons look great as party or interior decorations or as cozy night lights for the kids.