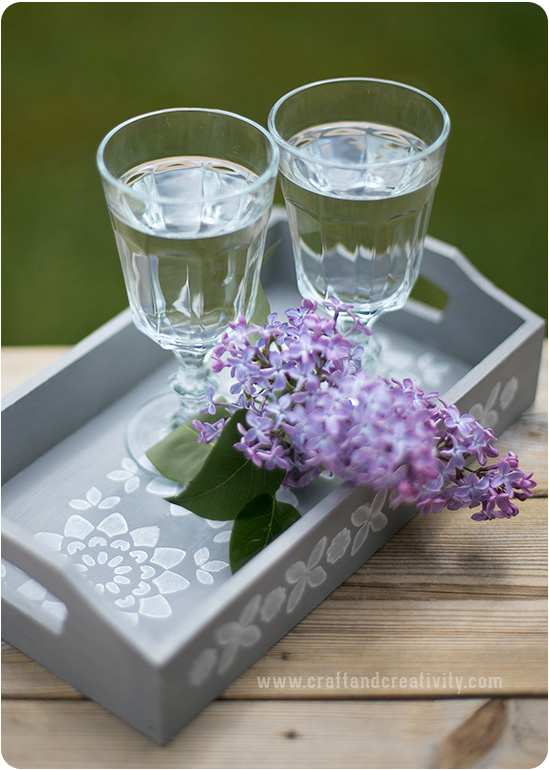 Att måla med kalkfärg har blivit populärt och det är många som gillar de dova nyanserna och den matta, fina ytan som du får när du målar med dessa vintage-färger. Här har jag målat en träbricka med Chalky Vintage-Look kalkfärg och gjort stenciltryck med samma färg i en annan nyans.
————–
Painting with chalk paint has become really popular and many of us like the muted colors and the chalk matte finish that you get when with this vintage paint. Here I've painted a wooden tray with Chalky Vintage-Look chalk paint and decorated it with a stencil painted pattern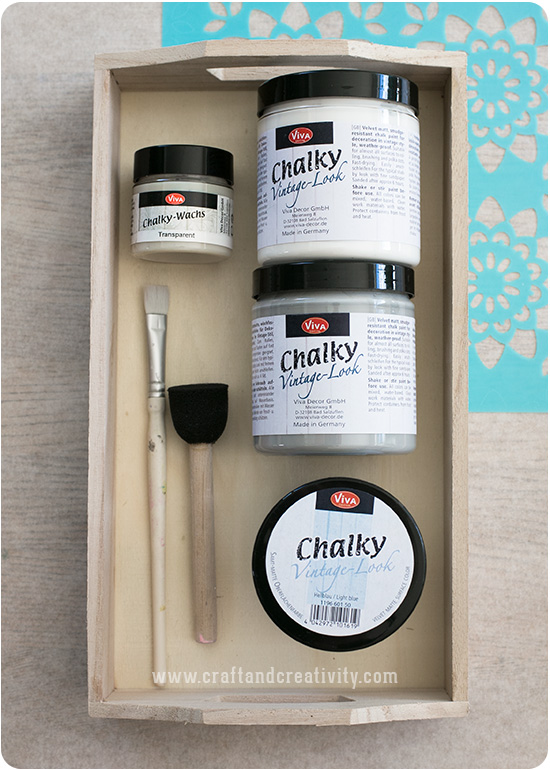 Du behöver: En träbricka, Chalky Vintage-Look kalkfärg (här i nyanserna 801 grå och 100 vit) eller annan kalkfärg, stenciler (dessa från Martha Stewart Crafts) en vanlig pensel och en skumstencilpensel. Vill du att ytan ska tåla fukt bättre så vaxar du ytan med transparent Chalky Vintage vax.
————-
You will need: A wooden tray, Chalky Vintage-Look paint (here in 801 grey and 100 white) or another chalk paint, stencils (these from Martha Stewart Crafts), a regular brush and a foam pouncer. Finish off with Chalky Vintage wax if you the tray to be extra water resistant. 
Gör så här: Måla brickan i två lager (färgen torkar på 1 timme). Ljusa färger kan behöva målas i fler lager för att bli täckande. Med Chalky Vintage-Look kalkfärg behöver du inte grundmåla innan.
Beroende på brickans storlek så kan du behöva klippa stencilerna för att passa ytan.
Placera stencilen på brickan och addera en kontrastfärg med skumpenseln. Håll stencilen stilla under tiden du målar eller tejpa fast den med maskeringstejp eller washitejp. Använd måttligt med färg och stryk gärna på färgen åt samma håll. Jag följde ådringen på trät.
Stencilmåla eventuellt även brickans kanter.
Låt torka i 1-2 timmar.
Stryk vax på ytan med en pensel om du vill att den ska tåla fukt bättre. Vaxet torkar på 1 timme.
———-
Do like this: Paint the tray with 1-2 coats (the paint dries in about 1 hour). Bright colors may need more coats. Chalky Vintage-Look doesn't require prep paint. 

Depending on the size of the trey you may need to trim the stencils to fit the surface.

Place the stencil on the tray and add a contrast color with a foam pouncer. Hold the stencil still during painting, or secure it with masking tape or washi tape. Use a moderate amount of paint and try to apply the paint in the same direction. I followed the grain of the wood.

If you like you can add stencil patterns to the sides as well.

Allow to dry for 1-2 hours.

Apply wax with a brush if you want it xxx. The wax dries in 1 hour.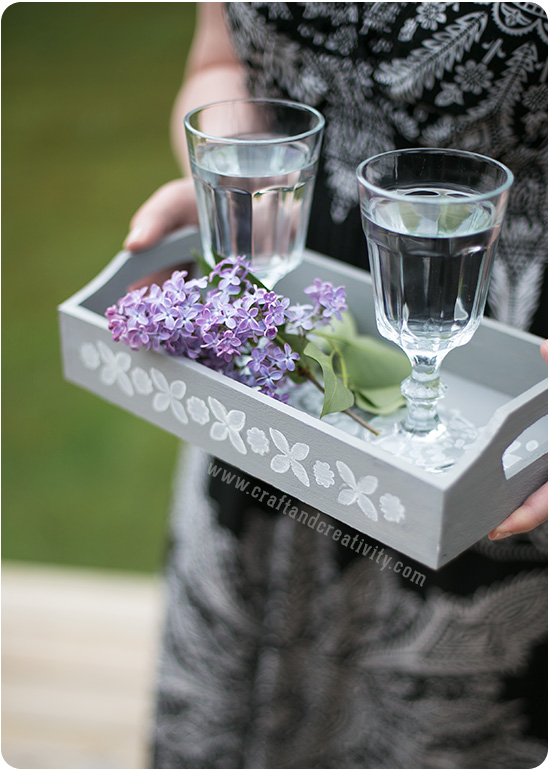 Min bricka är inte så stor men blir perfekt för att servera svalkande drycker i sommar.
————
My tray is quite small but is perfect for serving cool drinks in the summer.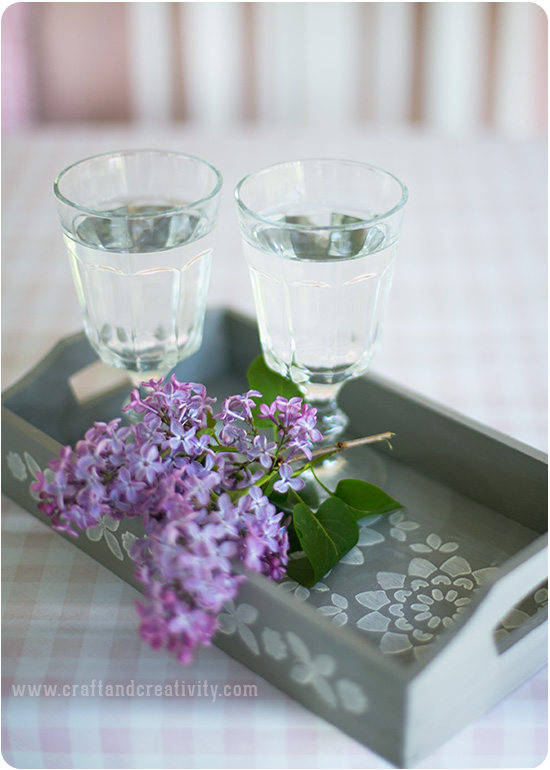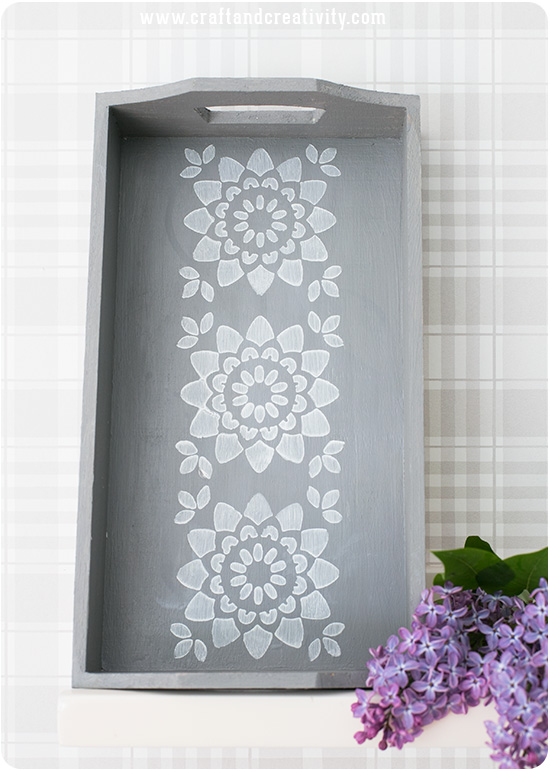 För den som vill att föremålen ska få en charmigt slitet utseende går det utmärkt att slipa ytan med finkorningt sandpapper efter målning. Jag valde inte att göra det med min bricka men om du vill se hur det kan se ut så har jag testat det med Martha Stewarts Vintage Decor kalkfärg när jag målade träljusstakar och en metallram.
————–
For those of you who like a shabby chick finish, this paint works great to distress with fine-grade sandpaper after painting. I chose not to with my tray, but if you want to see how this technique works you can take a look at the candle holders and the metal frame that I painted with Martha Stewart Vintage Decor paint.