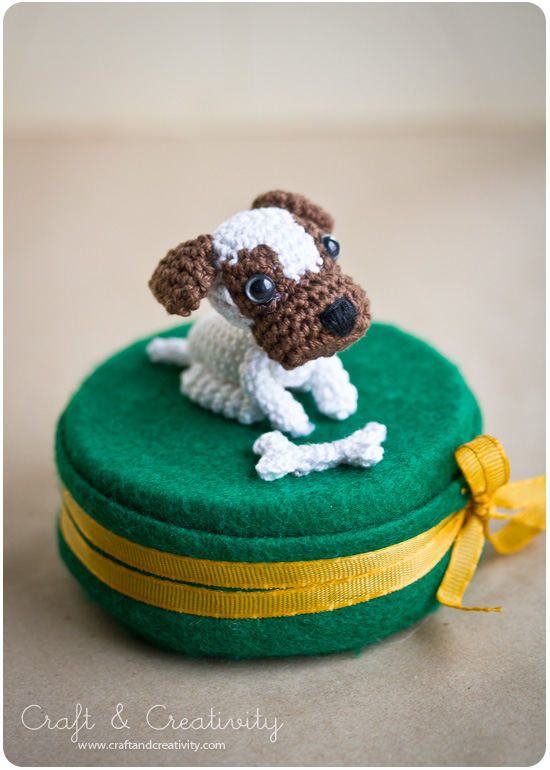 Jag spinner vidare på virk-temat en stund till. En av mina allra finaste julklappar var denna lilla mops, virkad av min mamma. Visst är han bedårande? Mopsen står på en återanvänd ost-ask (Castello Marquis), fylld med frigolit och täckt med filt.
———-
I stay with the crochet theme for a while longer. One of my most precious Christmas gifts was this little pug, crocheted by my mum. Isn't he adorable? The pug is mounted on a recycled cheese box (Castello Marquis), filled with styrofoam and covered with wool felt.
Jag önskade mig en liten mops efter att ha sett de virkade hundar som min mamma gjorde till min kusin som fyllde 40 på juldagen. Se dessa sötnosar nedan. Mönstren kommer från böckerna "Ami Ami dogs" 1 & 2 (den första finns översatt till svenska – "Amigurumihundar"). Förutom den vita lurviga hunden, det mönstret har mamma hittat på själv. Vill du läsa mer om mönster & material, så ta en titt på mammas fina blogg – Annie's Granny.
———-
I wished for a pug after seeing the crocheted dogs that my mum made for my cousin, who turned 40 on Christmas Day. Take a look at those cuties below. The patterns are from the books Ami Ami Dogs 1 & 2, by Mitsuki Hoshi. Except for the white furry dog, which is free-form crochet and my mum's own creation. If you like to read more about the patterns and material used, please pay a visit to my mum's blog – Annie's Granny.