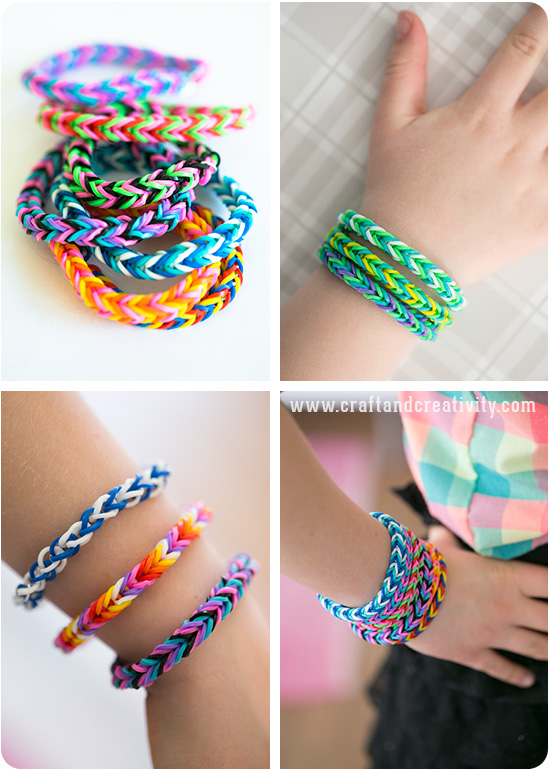 I USA och i stora delar av Europa har dessa armband av gummiband blivit enormt populära. Ni kanske redan har sett dem här i Sverige. Det finns många olika märken på marknaden och de kallas bland annat för "Rainbow loom, "Fun loom" och "Wonder loom". Jag och barnen har lärt oss några olika tekniker och vi tänkte börja med att visa er en enkel variant där man bara använder två pennor. Armbanden kan även skapas genom att använda t ex fingrarna, en sticklisa/påtdocka eller en stickring. Vi kan garantera att detta är ett jätteroligt pyssel och att det är svårt att sluta!
————-
Rubber bracelets like these have become very popular in the U.S. and in many parts of Europe. There are many brands on the market and they are a lot of names for them, for example Rainbow Loom, Fun Loom and Wonder Loom. Me and the kids have learned some different techniques and we thought we'd start by showing you a simple version, using only a pair of pencils. The bracelets can also be made on your fingers, a knitting spool, a board or a knitting loom. We can guarantee that this is a really fun craft that you can't get enough of!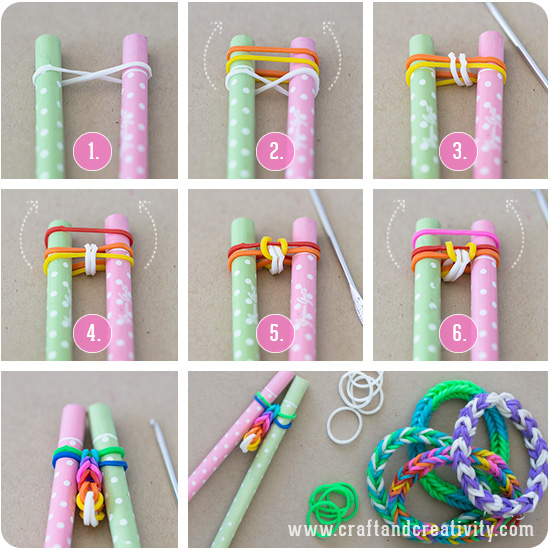 Denna enkla men fina variant av gummibandsarmband kan som sagt tillverkas genom att använda två pennor. Det första gummibandet trär du i kors över de båda pennorna.
Trä ytterligare två gummiband över pennorna (inte i kors från och med nu). Använd en virknål eller en krok (fingrarna går också men det är lite pilligare) och lyft det understa gummibandet över de andra två.
Nu ska ditt projekt se ut så här.
Trä ännu ett gummiband över pennorna och lyft det understa över de andra två.
Nu ska ditt projekt se ut så här.
Fortsätt på samma sätt och upprepa punkt nr 4 om och om igen tills armbandet är lagom långt att passa användarens handled. För att montera ihop armbandet krokar du fast början och slutet av armbandet på en o-ring eller en plastclips. Skillnaden på dessa två ser du längre ner.
—–
This simple but pretty version of rubber bracelets can be made on two pencils. Place the first rubber band over your pencils, crossed in the shape of an 8. 
Place two more rubber band over your pencils (not crossed from now on). Use a crochet needle or a hook and slip the bottom rubber band over the other two. 

Now your project should look like this. 

Place another rubber band over your pencils and slip the bottom one over the other two. 

Now your project should look like this. 

Continue in the same way and repeat step #4 over and over again, until your bracelet is long enough to fit around the wrist. To join the bracelet you need a jump ring or a plastic clip. The difference between these two will be visible a bit further down in this post.
För dig som gärna vill ha ytterligare vägledning har jag gjort en kort instruktionsfilm (min första!) som är 1 min och 30 sek lång.
———-
For those of you who would like further guidance, I have made a short video tutorial (my first!), which is 1 minute and 30 seconds long.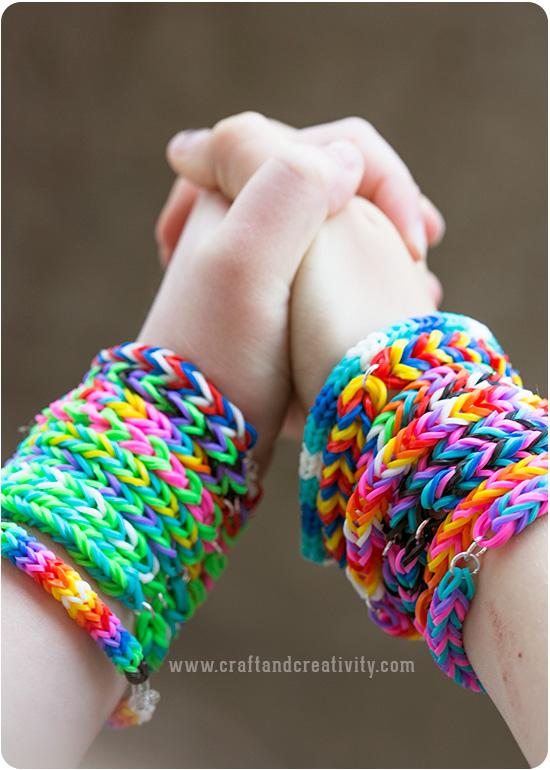 Min yngsta dotter är 6 år och hon lärde sig detta på ett kick. Jag skulle tro att även en 5-åring enkelt fixar att göra egna armband. Barnen och deras vänner har gjort mängder med armband av gummiband senaste veckan och de har experimenterat med olika mönster och tekniker. De har till och med tagit upp beställningar från vänners syskon och föräldrar. 🙂
————-
My youngest daughter is 6 years old and she learned this in no time at all. I would think that even a 5-year-old could make these bracelets without any problems. The kids and their friends have made loads of rubber band bracelets and they've been experimenting with different patterns and techniques. They have even taken orders from  their friends' siblings and parents. 🙂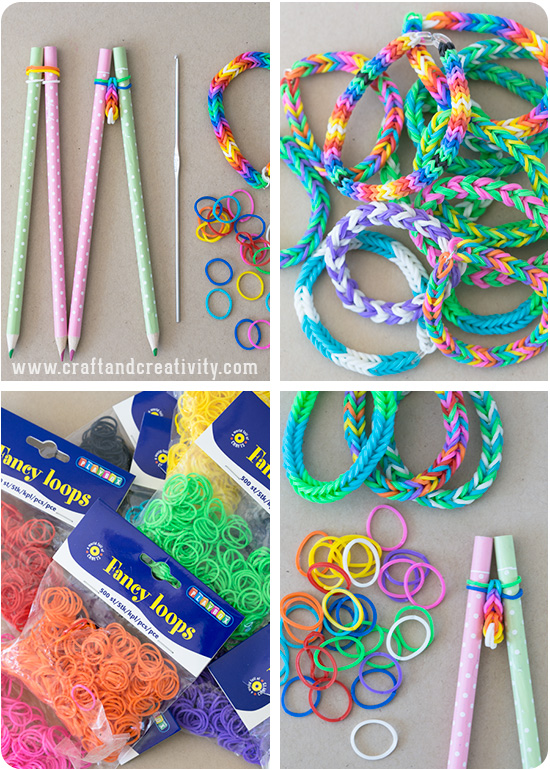 För att göra ett armband i denna fiskbensteknik går det åt ca 45-60 gummiband, beroende på längd på armband.
———-
To make this fishtail patterned bracelet you need about 45-60 rubber bands, depending on the length of the bracelet.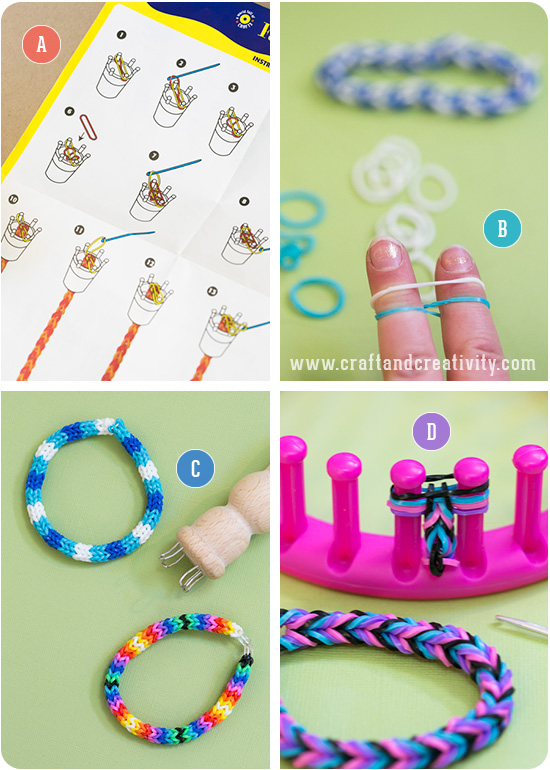 Här ser ni några andra tekniker som man kan använda för att göra armband av gummiband. A. Med påtdocka/sticklisa av plast som ingår i vårt pysselset tillsammans med instruktioner. B. På fingrarna och då kan man t ex använda samma fiskbensteknik som med pennorna. C. På pådocka/sticklisa av trä och här har vi använt en annan teknik där armbandet ser stickat ut. D. På en stickring och då kan man använda två eller fler piggar och bilda olika mönster. Barnen föredrar denna variant eftersom den är enkel att hålla i. Mer om dessa tekniker kommer dyka upp i framtida blogginlägg här på Craft & Creativity.
———-
Here you can see some other examples of techniques that you can use to make rubber brand bracelets. A. With a plastic knitting spool. B. On your fingers instead of on two pencils. C. On a wooden knitting spool and here we've used another technique which makes the bracelet look knitted. D. On a knitting loom where you can use two or more sticks to make different patterns. The kids prefer the knitting loom since it's easy to hold while working. More about these different techniques will come up in future blog posts here at Craft & Creativity.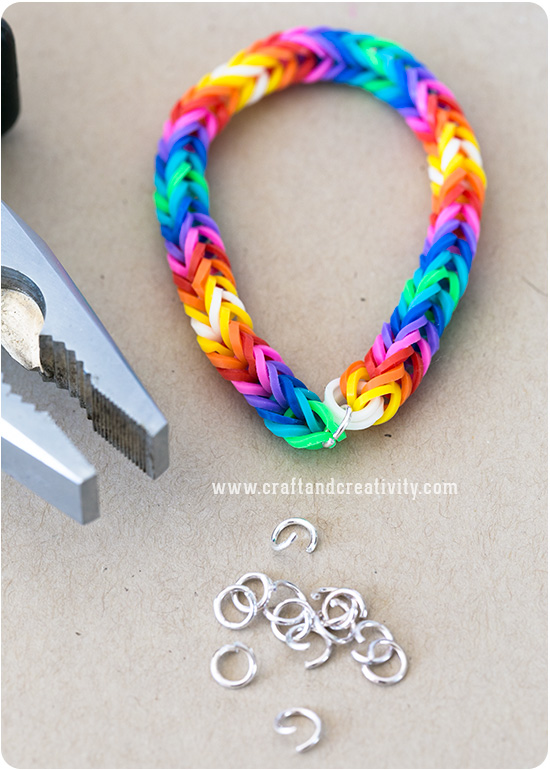 Eftersom armbanden blir elastiska behövs inget lås men däremot något som fäster ihop armbandet. Vi har testat två olika sätt, här med o-ringar i metall. Trä slutet och början av armbandet på o-ringen och kläm ihop o-ringen med en tång. Våra o-ringar är 5 mm i diameter men det funkar även med mindre.
————
Since the bracelets are elastic there's no need for a clasp, but you do need something to join the two ends. We tried two different ways, here using metal jump rings. Thread the beginning and the end of the bracelet on a jump ring and close it with a pair of pliers. We used 5 mm jump rings, but smaller ones work as well.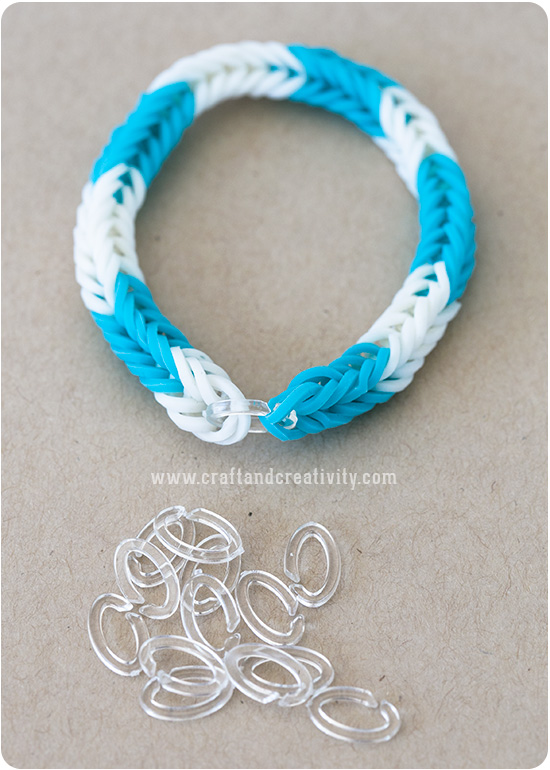 Det andra alternativet är att använda dessa clips i plast som är speciella för gummibandsarmband. Man trär dem på armbandet på samma sätt som o-ringarna och eftersom man inte behöver inte klämma ihop dem är de enklare att använda för barn.
————
The other way is to use plastic clips that are special made for rubber band bracelets. You thread them the same way as you do with jump rings but since you don't have to close them they are easier for children to use.