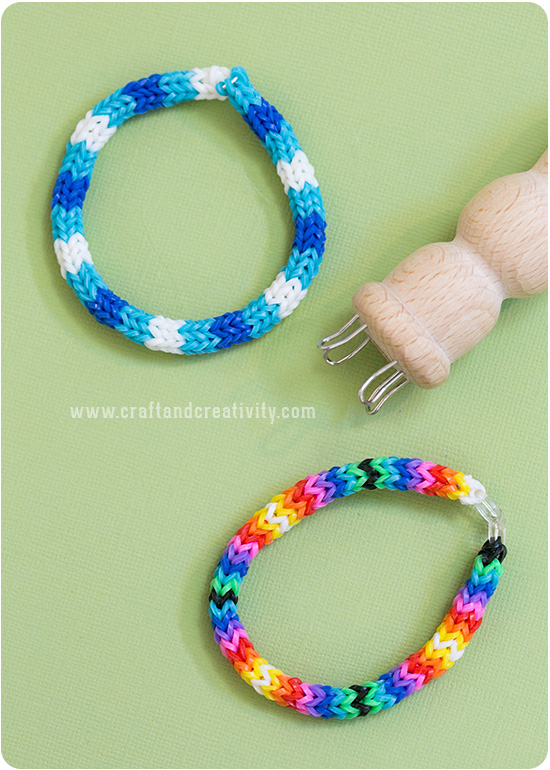 Trenden att göra armband av gummiband bara växer och det är lätt att förstå eftersom det är så roligt, enkelt och passar både stora & små. När jag lade ut min beskrivning hur man kan göra dessa armband med hjälp av endast två pennor så lovade jag att visa alternativa metoder. Här kommer en. Med en påtdocka/sticklisa kan man göra gummibandsarmband som ser stickade ut och nedan följer en steg-för-steg beskrivning med bilder. Gummibanden finns i flera märken, som t ex Rainbow loom, Fun loom och Wonder loom.
————–
The trend of making rubber band bracelets grows fast and it's easy to understand why since it's so easy and fun both for children and grown-ups. When I posted my tutorial on how to make these bracelets by using only two pencils I promised to show some alternative methods. Here comes one. With a knitting spool you can make rubber band bracelets with a knitted look. Take a look at my tutorial below. Rubber bands are available in many brands, such as Rainbow loom, Fun loom and Wonder loom.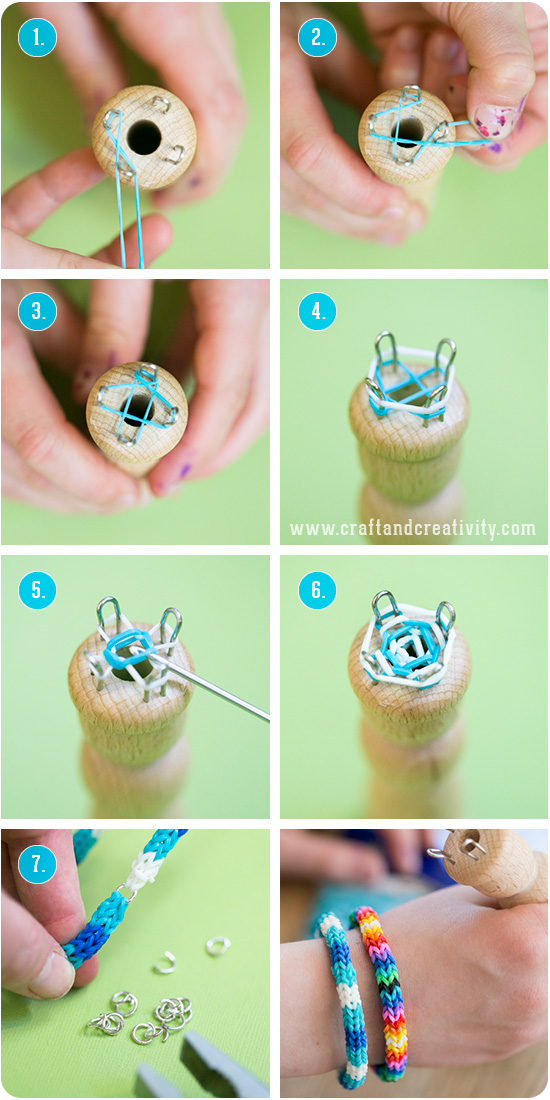 Det första gummibandet är det enda som är lite klurigt att trä på, sedan är det mycket enkelt. Trä gummibandet över första piggen på påtdockan, vrid runt gummibandet så att det formar en åtta och trä det runt nästa pigg.
Fortsätt på samma sätt med pigg tre och fyra.
Avsluta med en sista åtta och trä gummibandet över den första piggen. På den piggen har du nu två varv med gummiband, övriga piggar har bara ett varv.
Trä nästa gummiband runt alla fyra piggar tillsammans.
Gå varvet runt och lyft över lyft över det första (understa) gummibandet över det gummiband du satte på sist. Enklast går det om du använder en virknål eller en krok. På pigg nr 1 där du har två lager gummiband så lyfter du båda över det gummiband som du satte på sist.
Upprepa punkt 4-5 tills armbandet mäter så långt som du önskar det. Om armbandet fastnar lite inuti påtdockan så kan du sticka in virnålen/kroken från undersidan av påtdockan, kroka fast och dra lite i armbandet. Så småningom kommer armbandet kika fram ur hålet på undersidan av påtdockan.
Använd plastclips eller o-ringar för att fästa ihop armbandet. Beundra ditt verk!
——–
The first rubber band is the only one that's a bit tricky, after that it's very simple. Thread the rubber band over the first peg, turn the rubber band to form an eight and thread it around the next peg.

Continue in the same way with pegs three and four.

Finish off with another eight and thread it over the first peg. On this peg you now have two rows of rubber bands, while the other ones only have one.

Thread another rubber band around all four pegs together. 

Go full circle and lift the first (bottom) rubber band over the the second rubber band. It's easiest if you use a crochet hook or similar. You the first peg where the first rubber band is double you lift both rows over the second rubber band.

Repeat steps 4-5 until the bracelet is as long as you want it. If the bracelet gets stuck inside the knitting spool, you can stick the crochet hook upwards through the bottom of the knitting spool, hook and pull the bracelet down a bit. Eventually, the knitted bracelet will peek out through the hole of the bottom of the knitting spool. 

Use plastic clips or jump rings to join the ends to make the bracelet. Admire your work!