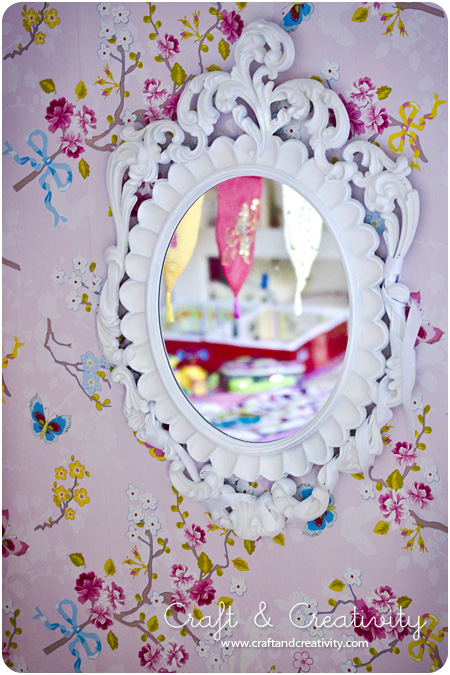 Spegeln köpte jag på loppis och spraymålade vit. Nu hänger den i äldsta dotterns rum. Tapeten kommer från Pip Studio.
Det här behöver du: 
– Tavel- eller spegelram, med fördel snirklig
– Spegel att sätta i ramen, befintlig eller se till att få en tillskuren på ett glasmästeri
– Sprayfärg, vit eller annan kulör
Gör så här: 
Ta loss spegel och baksida från ramen. Tvätta ramen med målarsoda eller liknande. När det är dags att måla, håll gärna till utomhus. Så slipper du lukten och att du av misstag får färg på möbler och dylikt. Skaka burken. Spraya flera tunna lager från ca 30 cm avstånd. Låt torka. Sätt i spegel och bakstycke och montera ihop från baksidan.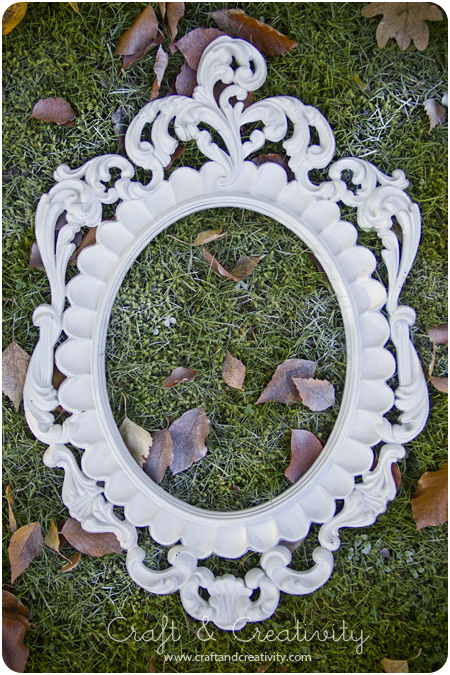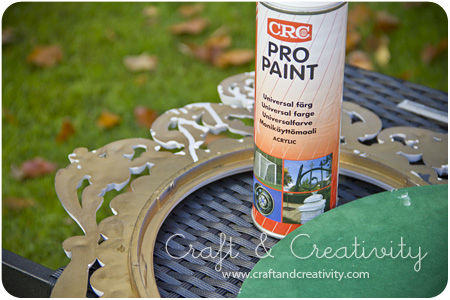 I bought this mirror at flea market and spray painted it white. Now it hangs on the wall in my oldest daughter's room. The wallpaper is from Pip Studio.
What you need:
– Ornated mirror or picture frame
– Mirror to place in the frame, existing or customized from the glazier
– Spray paint, white or other color
How-to:
Remove the mirror and the back from the frame. Clean the frame with paint soda or something similar. When it's time to paint, it's best to be outdoors. Simply to avoid the smell and/or accidentally getting paint on your furniture. Shake the can. Spray several thin layers and hold the can about 30 cm from the frame. Allow to dry. Insert the mirror and mount at the back.