Lite ögongodis nu när det är fredag och allt. Lekfullt & Färgglatt är temat.
——
A little bit of eye candy now that's it's Friday and all. The common theme is Playful & Colorful.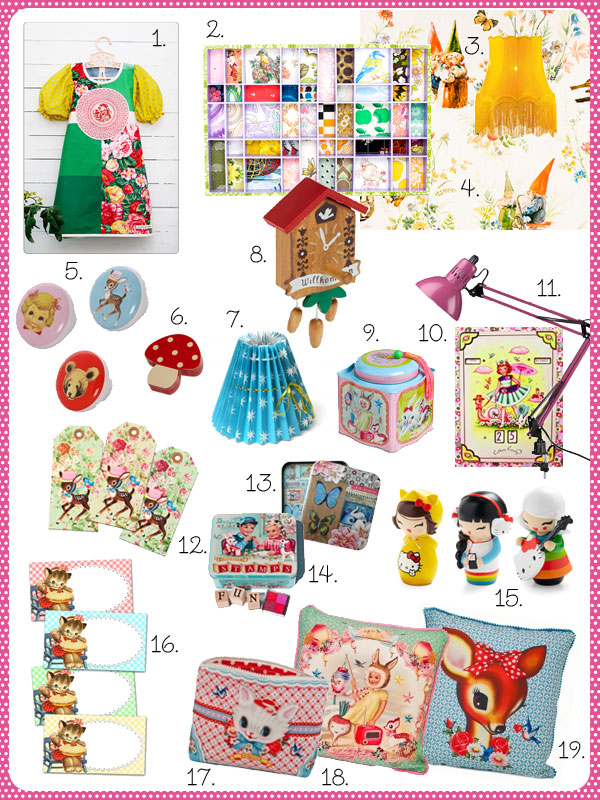 1. Klänning från Retro Villa, 2. Småprylshylla från Retro Villa, 3. Mosterlampa från LampGustav, 4. Tomtetapet från Retro Villa, 5. Retroknoppar från Retro Villa, 6. Flugsvamps-dörrknopp från ModCloth, 7. Papperslampa från Rie Elise Larsen, 8. Gökurs-kylskåpsmagnet från ModCloth, 9. Plåtburk från ModCloth, 10. Kalender från Wu & Wu, 11. Skrivbordslampa från Crate&Barrel, 12. Söta bambi-etiketter från Free Pretty Things for You, 13. Plåtask med klistermärken från Pip Studio, 14. Alfabetstämplar från Wu & Wu, 15. Dockor från ModCloth, 16. Gratis nedladdningsbara etiketter från Shabbyblogs, 17. Kattunge-sminkväska från Wu & Wu, 18. Kudde från Wu & Wu, 19. Rådjurskudde från Wu & Wu.