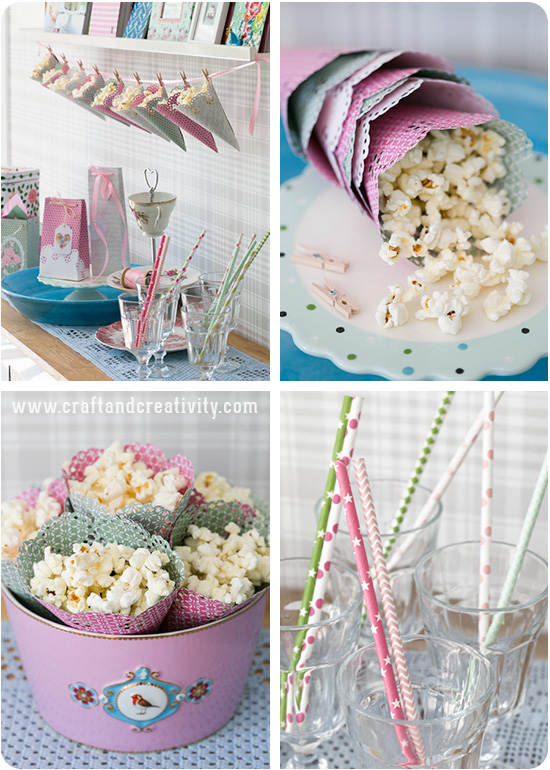 Popcorn brukar vara populärt på kalas och jag tänkte visa er hur man gör söta popcornstrutar med hjälp av en cirkelstans (Circle border punch) från Martha Stewart Crafts®. Jag och barnen knöt ett satinband runt en tavellist och fäste strutarna på bandet med hjälp av miniklädnypor (25 mm). Papperssugrören kommer också från Make & Create, där du får 4 förpackningar för 100 kr.
———–
Popcorn is a popular snack at parties and I thought I'd show you how to make cute popcorn cones using a circle border punch from Martha Stewart Crafts®. Me and my daughters tied a satin ribbon around a picture ledge and used miniature clothes pins to hang the popcorn cones.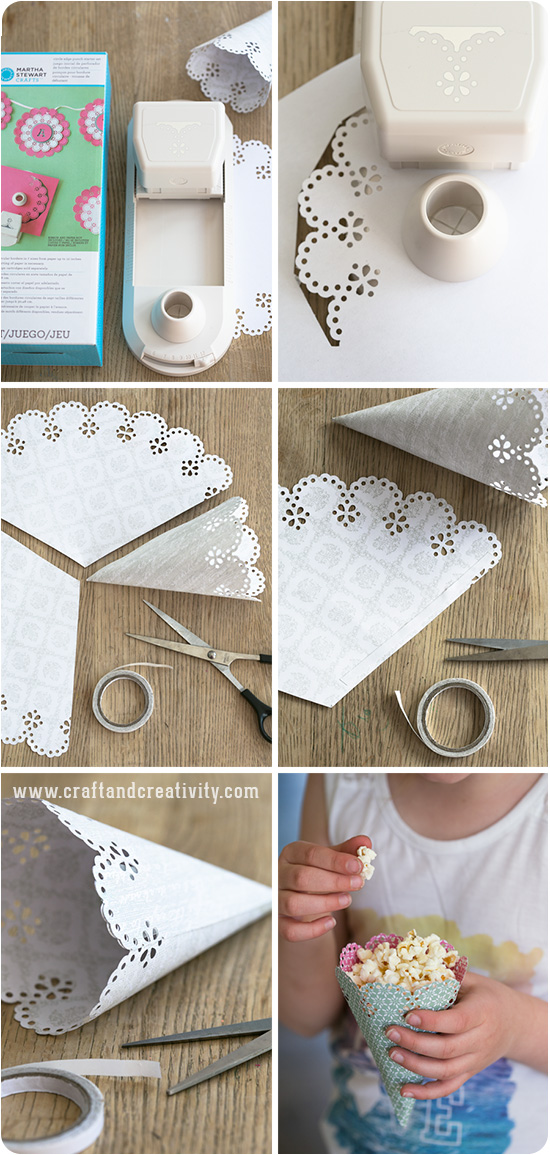 För att få ett fint mönster runt kanten på strutarna behöver du som sagt en speciell kantstans för cirklar. I startkitet från Martha Stewart Crafts ingår det kantmönster som ni ser här och det finns även andra mönster att köpa till. Förutom själva stansen behöver du fina papper och dubbelhäftande tejp. Jag använde designpapper ur kollektionen Skagen från Vivi Gade Design (art nr 10438 och 5516). Du behöver inte trimma papperet innan du stansar utan stansen gör hela jobbet själv. Ratta enkelt in vilken storlek du ha, placera pappret under det magnetiska roterande handtaget och börja stansa. För varje båge vrider du handtaget ett snäpp och stansar igen. När du är klar delar du papperet i tre lika stora delar som kommer bilda tre separata strutar. Sätt en bit självhäftande tejp längst med ena kanten, rulla ihop struten och tejpa ihop så att den yttersta bågarna överlappar varandra – som på bilden.
———
To get a pretty pattern around the edge of the cones you will need a circle punch board. The pattern I used is included in the starting kit, but you can also use other interchangeable border punches that are sold separately. Besides the punch itself you will need patterned or plain paper and double-sided adhesive tape. I used a design paper from Vivi Gade Design. You don't have to trim the paper before punching, the punch does all the work. Set the punch to the size you want, place the paper under the magnetic rotating handle and start punching. For each arc, turn the handle one snap and punch again. When finished, cut the paper into three equal parts that will form three separate cones. Use double-sided adhesive tape to tape along one of the sides, roll the paper into a cone and tape it together so that the outermost two arcs overlap – as seen above.   
En kort instruktionsfilm för dig som vill se hur man använder stansen: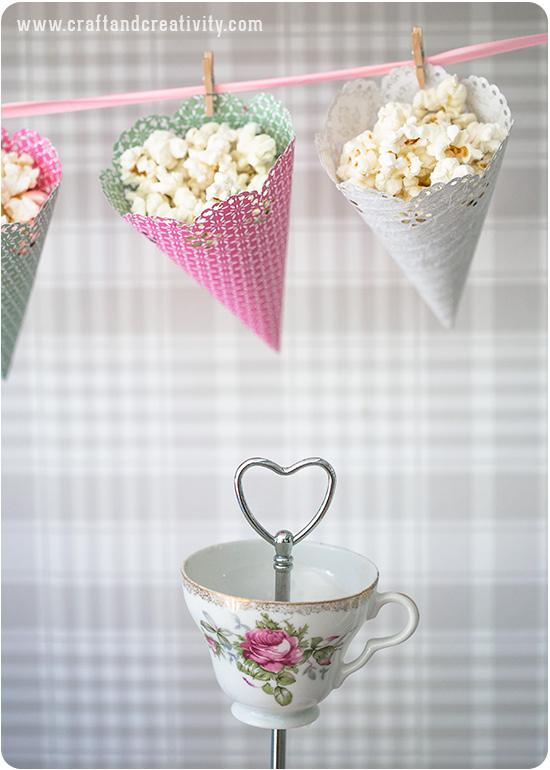 Utöver att göra popcornstrutar kan du göra egna tårtpapper, dekorationer till kort & paket, fina kragar till muffins och mycket mer. Beskrivning (på engelska) med bilder följer med förpackningen. Stansen passar för papper mellan 15-30,5 cm (6-12″). Jag valde största storleken, vilket ger 15 cm långa strutar.
————
In addition to making popcorn cones, you can make your own cake-paper/doilies, card decorations, cup cake liners and much more. A tutorial with pictures is includes in the start kit. The punch works for paper between 6-12″ (15-30,5 cm). I chose the largest size, which gave me 6″ (15 cm) tall cones.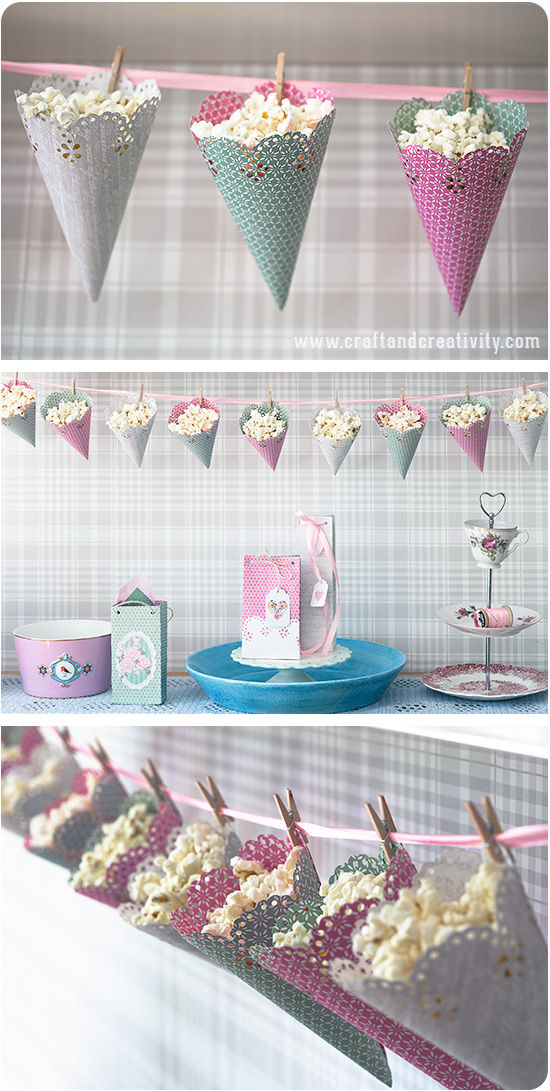 De matchande presentpåsarna som skymtar ovan har jag gjort med en Gift bag punch board och mer om det kommer i ett annat inlägg. Här ser ni tydligt hur vi fäst popcornstrutarna i satinbandet med hjälp av miniklädnypor. När man blir sugen så lossar man helt enkelt på en klädnypa och mumsar loss! Våningsfatet har jag gjort själv med kakfatsdelar från Make & Create.
———–
I made the matching gift bags with a Gift bag punch board and I'll show you them more closely another day. Here you can also see how we pinned the popcorn cones to the satin ribbon. All ready to eat!