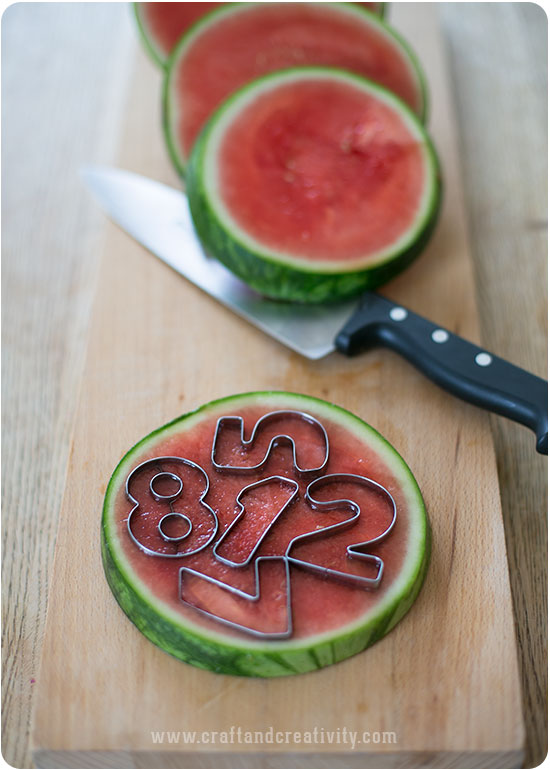 Allt som är gott behöver som bekant inte vara godis. Jag har svårt att tänka mig något godare än läskande melonbitar en varm sommardag! Extra lockande blir det om man skär ut melonen i roliga former med hjälp av kakformar. Här har jag använt sifferstansar som är ca 5 cm höga.
————-
Fruit can be a great substitute for candy. I can't imagine anything more refreshing than pieces of melon on a hot summer day! It looks even more tempting if you cut the melon in fun shapes with a cookie cutter. Here I've used number shaped cookie cutters that are about 5 cm (2″) high.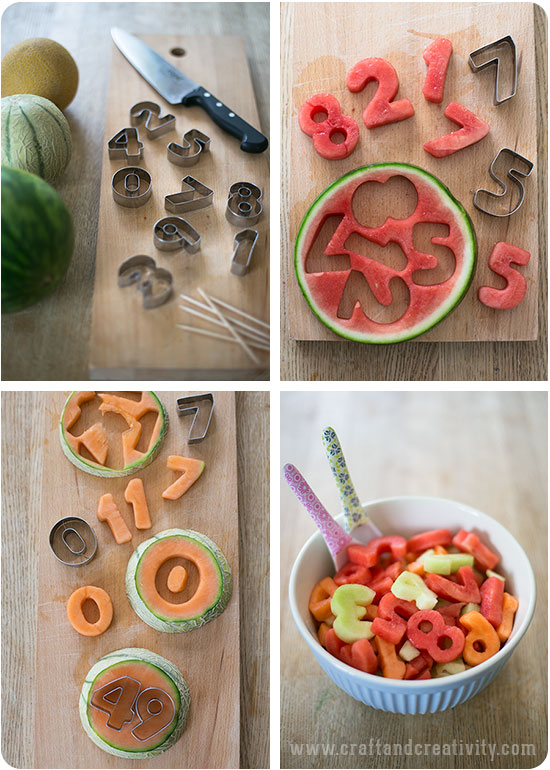 Du behöver: Kakformar, olika sorters melon, en skärbräda och en kniv.
Gör så här: Dela melonerna i ca 1,5 cm tjocka skivor och börja stansa. Kärnfri vattenmelon är enklast att jobba med. Nätmelon, galiamelon och honungsmelon fungerar också bra, men eftersom de har kärnor i mitten gäller det att köpa relativt stora meloner för att få plats att stansa runt hålet som blir när du tagit bort kärnorna. De bitar som blir över kan du göra en sallad av eller smaska på under tiden som du jobbar.
————–
You will need: Cookie cutters, different kinds of melon, a cutting board and a knife. 
Do like this: Cut the melons in approximately 1.5 cm (0.6″) thick slices and start punching. Seedless watermelons are easiest to work with. Cantaloupe, Galia melon and honeydew melon also works well, but since they have seeds in the middle you need to get hold of relatively big melons. You can use the left overs to make a salad or eat them while you work.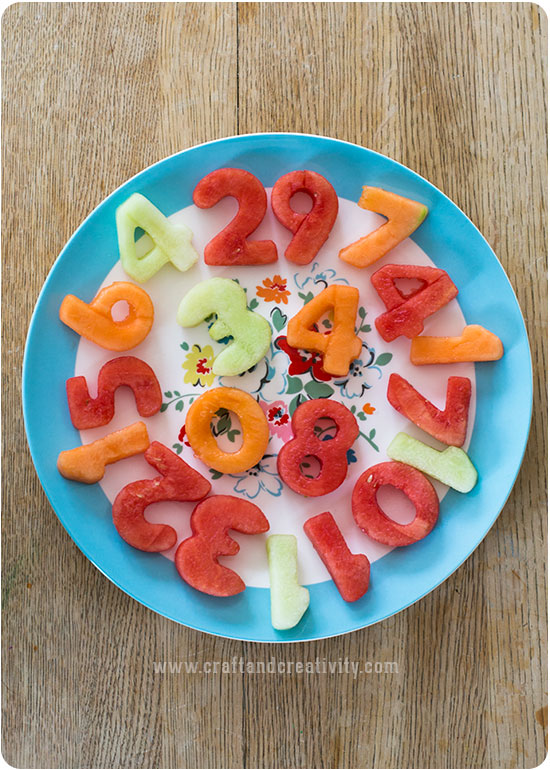 En av fördelarna med frukt är att de dessutom är naturligt glutenfria och innehåller varken laktos eller mjölkprotein. Dessa snacks passar därför extra bra att servera på ett barnkalas eller en fest där du vet att någon eller några av gästerna har t ex celiaki (glutenintolerans).
————
One of the great things with fruit and vegetables is that they are naturally gluten-free and contains neither lactose or milk protein. These snacks are therefore great for parties where you know that one or several of the guests are gluten, lactose or milk protein intolerant.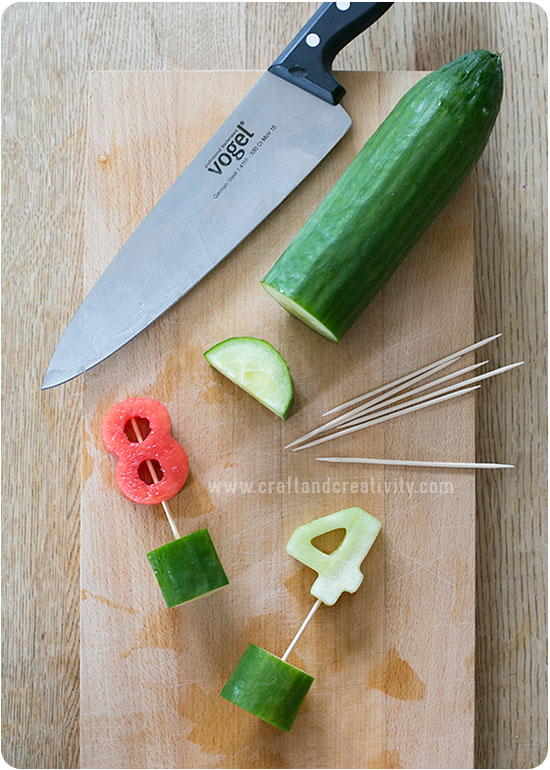 Serveringsförslag: Skiva en gurka i tjocka skivor och dela skivorna i fyra delar. Stick tandpetare i gurkbitarna och sätt melonsiffrorna på toppen.
————-
Serving suggestions: Slice a cucumber in thick slices and cut each slice into quarters. Stick toothpicks into the cucumber quarters and place the melon numbers on top.